With the tremendous amount of different binoculars you will find online, I understand having those mixed emotions for fear that you'll end up investing in the wrong one.
It's even more challenging when you're looking for exceptional products within a specific price range.
Therefore...
To diversify your choices and ensure that you will end up with an excellent deal, we reviewed several of the best binoculars under $300.
We have outlined features and a comprehensive buying guide, so keep reading to find out how Vortex Optics Crossfire HD Binoculars made it to the top of our list. 
Product
Details

1. Vortex Optics Crossfire HD Binoculars

Premium Features

Fully Multi-Coated
Focusing Knob
Rubber Armor
Weather Resistant
Rugged
Ergonomic

Check Current Price

2. Adasion 12x42 Binoculars

High-Powered Lens

Great FOV
Excellent Clarity
Easy-Focus
Phone Adaptable
Everyday Use

Check Current Price

3. Adorrgon 12x42 Powerful Binoculars

Enhanced Light Gathering

Shock Absorbent
Foldable Eyepieces
Sleek
Lightweight
Anti-Skid Grip

Check Current Price

4. Nikon Aculon A211 22x50 Binoculars

Adjustable Magnification

Renowned Brand
Multi-Coated
Anti-Reflective
User-Friendly

Check Current Price

5. Aurosports 10x25 Binoculars

Great In Low-Light

Foldable
Compact
Affordable
No Night Vision

Check Current Price
Best Binoculars Under $300 Reviewed
1. Vortex Optics Crossfire HD Binoculars – Best Binoculars Overall
The Vortex Optics Crossfire HD Binoculars defies the common misconception that you are least likely to have optimal performance for a value price. The HD optical system has fully multi-coated lenses and is vigorous enough even for distant viewing, yielding excellent resolution, enhanced sharpness, and impressive low-light performance. 
It features a green rubber cover with a focusing knob between the eyepieces and the objective lenses, giving you comfortable eye relief distance to cover your subjects conveniently. Keep in mind that eye relief is an important factor when it comes to binoculars.
Talking about "comfort," with just a few dollars more, you'll get the Vortex Optics Glasspak Binocular Harness which keeps your binocs protected from the elements and accidental drops, plus the adjustable straps give a comfortable fit. It's not exactly a neck strap you can hang around your neck, but it does a lot more.
The ergonomic design also makes provision to use it comfortably during hours of observation.
With reference to overall construction, this pair of binoculars seemed like a reliable choice for something durable and long-lasting. The high-quality rubber armor coating offers improved weather-proof performance that can endure constantly changing weather. The durable rubber-armored coating offers more protection from accidental slips and drops plus it provides a more tactile feel, especially under certain weather conditions. 
So, if you were scanning some cheap binos at retail stores, you will be ultimately in awe to see that you can still get quality binoculars for a little bit higher price.
Pros
Fully multi-coated lenses

12x magnification

Minimal chromatic aberration

Comfortable eye relief

Sturdy construction

Waterproof and fog proof

Rubber armor

Adjustable eyecups

Binocular harness for added security
Cons
A little heavy around the neck
Takeaway
The rubberized casing is a must-have feature for binoculars so you can hold it more comfortably. You will love how it offers a better visual, although if you mostly go to deciduous forests, you should stick with 8×42. 
For all its remarkable features, you can't beat these binoculars' value, which is why it landed the best overall product on our list.
---
2. Adasion 12x42 Binoculars – Best Value
For those looking for the best hunting binoculars under $300, Adasion 12x42 Binoculars is such an excellent deal because it allows you to view an image clearly, even from a distance. 
The binocular pair is suitable for all ages and even comes with a phone adapter, setting it apart from other binocular models. This feature helps you capture breathtaking photos or videos while adjusting the unit.
Additionally, it has large eyepieces with 12x magnification for an excellent scope with optimal light permeability.
Suppose you enjoy zooming in while bird watching; getting a pair of these binos will be the perfect way to start. With BAK-4 prism glass and better lighting transmission, especially in dim-lit environments, these binoculars guarantee outstanding clarity and crisper images every time.
This device is fog-proof and water-resistant, enhancing its reliability in inconsistent weather conditions. However, using a tripod might be necessary to keep it fixated and to hold it comfortably, even if you do some bird watching all day.
Pros
High-powered magnification

Good value for everyday use

Phone adapter for capturing spectacular sceneries

Durable construction

Outstanding image clarity

Remarkable light transmission

42mm objective lenses for a better field of view

Easy to focus
Cons
Hard to use adapter piece

Not waterproof

Needs a tripod
Takeaway
If having a large eyepiece is essential for you to get a realistic view, then Adasion is the best 10x42 binoculars under $300 that you might need. It has exceptional zooming capacity for much clearer details, and even includes a phone adapter, the binos offer an excellent value for the price.
---
3. Adorrgon 12x42 Binoculars – Best Budget-Friendly
Just because it is an infamous brand doesn't mean that it won't make it to our list of the best binoculars under $300. 
Adorrgon 12x42 Powerful Binoculars has 12x powerful magnification, capable of focusing on subjects at least a thousand yard away. This device offers a noteworthy performance for such an affordable cost, and it's perfect for bird watching from a distance or for hunting.
It may not be comparable to all the high-end brands' features, but this pair of adjustable binoculars offers convenient usage and works beautifully even in low-light environments. 
The multicoated lenses provide enhanced light-gathering capacity, perfect for bird viewing at dusk or even at dawn.
While the absence of a waterproof and fog-proof feature might be a deal-breaker for some, the binoculars are shock absorbent and break-resistant, which is why it's still something you can't miss. 
Moreover, the binoculars' lightweight design and anti-slip exterior allow a secure grip even without a textured handle.
Pros
12x magnification

42mm objective lens with bright and clear HD view

Sleek and lightweight design

Durable construction

Shock absorbent and break-resistant

Rubberized casing for an anti-skid grip and added protection

Foldable eyepieces

Great to use even in low light conditions
Cons
Too large for kids

Not waterproof
Takeaway
It's hard to ignore a pair of binoculars featuring a tenfold zoom as powerful as this one from Adorrgon. 
It has impressive versatility and performance despite its compact size and even sports a roof prism technology for a brilliant viewing adventure. The binoculars are also pretty straightforward to use since you can focus them fast and hassle-free.
---
4. Nikon Aculon A211 22x50 Binocs — Best Binoculars for Versatility
Besides being a trusted brand in cameras, Nikon is also a respected name for binoculars. The Nikon Aculon A211 22x50 Binoculars is proof that you can have a good pair of binoculars that cost less. 
It comes with a knob at its center, so you can hold them up without losing your subject as you bring it into focus.
Unlike other binoculars, Aculon uses Porro prism, which is more common and costs less than those using roof prism. It is among the best hunting binoculars under $300, popular with those who are into wildlife and bird watching, hunting, and hiking.
On top of that, this pair of binos is perfect for multi-purpose applications since it comes with adjustable magnification, allowing you to change it from 10x to 22x quickly. 
With these binoculars' versatility, it remains to have uncompromised performance even in a challenging and hostile environment, even with its short eye relief.
Pros
Extremely versatile

Adjustable 10-22x zoom magnification

Large objective lenses

Sharper, brighter images

Broader viewing area

Compact and lightweight design

Durable rubber coating

Multicoated, anti-reflective lenses

Sharp and clear view

Easy to use
Cons
Short eye relief

Not repellant to water and fog

Some experiences image distortion around the edges
Takeaway
Nikon offers high-level magnification perfect for those who enjoy more extensive views. 
Using an adjustable neck strap can prevent some complaints about blurring and distortion around the edges. Still, overall, you will love its straightforward use and how it's reasonably priced to meet any budget.
---
5. Aurosports 10x25 Binoculars – Best Viewing Experience
Aurosports 10x25 Binoculars is among the best binoculars under $300 for many different purposes, especially if you enjoy watching nature in a low-light environment. 
With their compact and lightweight construction, these binocs are excellent for seeing your kid play sports, bird watching, or hunting.
It focuses on your subject in spectacular detail, even when you're using it from a distance.
The foldable binocular pair takes advantage of the BAK4 prism technology, which may not work well in total darkness but works spectacularly in night vision or conditions with poor lighting. 
Its 25mm objective lens that comes with lens caps will deliver a full HD view, astounding light transmittal, and luminosity. You will be delighted how seeing your subjects will seem like they're only a few inches away from them. 
Even if Aurosports is a relatively new brand trying to make its way into the market, its fast-rising popularity is hardly surprising because of the binos' quality and price.
Pros
Affordable price

Very handy

BAK4 prism lenses for a clearer image

Sturdy construction

10x magnification with 25mm objective lens

Comes complete with lens caps
Cons
No night vision

Not ideal for distant viewing about 400 meters away or so
Takeaway
When you start checking out for binoculars under $300 reviews, this brand may not always come up in your online searches since it is a reasonably new name in the industry. 
However, it delivers a superior viewing experience exceeding its price tag, making it something you might want to review when looking for high-performing, compact, and affordable binos.
---
Tips To Consider Before Buying Your Binoculars
Understanding how choosing the right pair of binoculars can enhance your outdoor experience will make you reconsider some essential factors you would mostly overlook. Here are some of the most crucial factors you should take into account before purchasing your best budget binoculars:
Price Range
High-end binoculars offer impeccable images, but nowadays, some of the best high-quality spotting scopes also come in very reasonable packages. With that in mind, you may now look for the ideal pair of best binoculars under $200 or $300 that will fit your interests and match your budget at the same time.
Magnification Capacity
That number you always see before the "x" in binocular descriptions is crucial because it determines how clear your images will look from a distant view. 
Knowing how much magnification you need depends on your intended use, but remember that it significantly impacts your overall viewing experience.
Objective Lens
The objective lens is the second number you will see after the magnification with varying sizes that are crucial factors to consider when purchasing binoculars. 
It's especially relevant when you think about using your binoculars in low-light conditions since they determine the quantity of light entering the binoculars.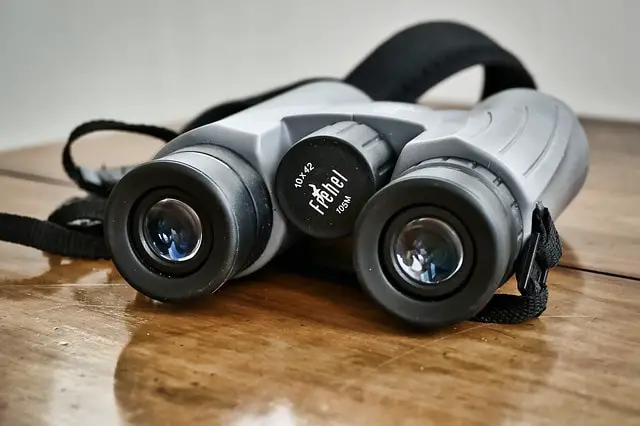 Eye Relief
The eye relief factor is vital when you're using your binoculars with eyeglasses. Eye relief refers to having eyepiece lenses at a comfortable distance from your eyes. 
You can opt to look for binoculars with retractable eyecups to indulge the needs of those wearing glasses while using the binoculars.
Lens Quality
Lens coatings do a lot more than just provide protection; it also minimizes undesired glare and reflections. Quality coatings also contribute to having an improved light transmission and contrast. 
When your lens has an excellent coating, it will assure you of having top-grade optical performance and long-lasting durability.
Understanding The Type Of Binoculars You Need
Binoculars come in many different styles and designs nowadays. But before you take the next few steps in choosing the best bird watching binoculars under $300, you might want to take a look first at the significance of its various categories.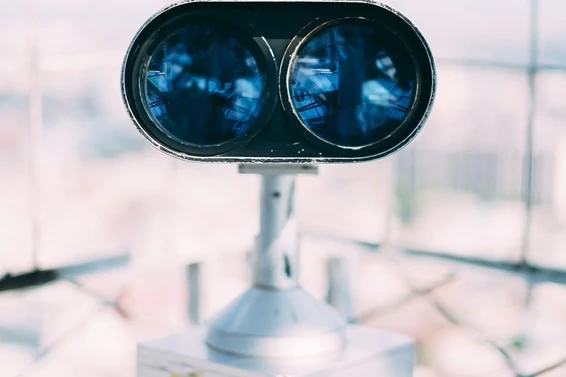 However, aside from knowing the different binocular types, it's also best to learn about what binoculars you will need for various activities. 
For now, here are the varying binocular types:
Roof Prism
The roof prism technology features binoculars with a roof-shaped surface that gathers scattered light into an optical path. This process requires high technology to ensure that the light transmits towards the eyepiece for excellent magnification and brighter images. 
It is more costly than other binoculars, but it is fitting for wildlife viewing and birdwatching.
Porro Prism
The Porro prism technology uses an N-shaped bend to transport images towards the eyepiece for better depth perception. You can count on it to give you a sharp, magnified image of your subject, although you might always need to focus by moving your eyepiece. 
It is also less compact than binoculars utilizing roof prism technology.
Final Thoughts
Coming up with the best binoculars under $300 to review is challenging, given the number of outstanding features that most reputable brands offer nowadays.
Nevertheless, Vortex Optics Crossfire HD Binoculars stood out as the best overall product because of the unmatched combination of being tough as nails and providing an exceptional image quality.
Additionally, with Adasion 12x42 Binoculars' powerful magnification for the price, we had no doubts about hailing it as the product having the best value. With these binoculars in crisp focus, it's time to take that exhilarating wildlife adventure or that trip to spectate the marvel of the southern sky.