Bluebirds are these small, lovable songbirds. You would want them to stay in your backyard when they come flying in. 
To make that happen...
One of the most popular and proven effective ways to do this is to provide them with their favorite food served on one of the best bluebird mealworm feeders.
There'll be a ton of choices in the market for sure, but finding the one most suited for you can be tedious.
It's taken care of now because... In this review, we have 5 of the best bluebird feeders to help you shortlist your choices. And the Window Bird Feeder made it to the top of my list for its features that you'll discover below.
Keep on reading! 
Product
Details

1. Window Bird Feeder

Great Viewing Experience

Easy Assembly
Removable Tray
Padded Perch
Large Capacity
3 Extra Suction Cups
Top Cover Against Rain

Check Price On Amazon

2. Perky-Pet Bluebird Mealworm Feeder

No-Mess, No-Waste

3.5 Lbs. Mealworm
Small Feeding Slots
Inverted Cone Bottom
Removable Lid

Check Price On Amazon

3. Mosaic Birds M337-200-09 Feeder

Eco-Friendly

Recycled Glass
Feeder/Bath In One
No Fuss Cleanup
Fragile

Check Price On Amazon

4. Mosaic Birds M045-200 Hummble Feeder

Spacious Perch

Glass Bowl
Rust Proof
Large Capacity
Variety Of Colors

Check Price On Amazon

5. Droll Yankees CUTE Chickadee Feeder

Clear Dome Cover

Keeps Out Bullies
Large Bowl
Brass Rod
4.5" Diameter

Check Price On Amazon
The 5 Best Bluebird Feeders Reviewed
1. Window Bird Feeder - Best Overall
Since the Window Bird Feeder has clear acrylic, you can turn your favorite seat towards the window and watch bluebirds all day long. This feature also makes it a gift item for your family members who love bird watching. 
The clear view will also show you when to refill mealworms, and you can spot any predators that disturb bluebirds.
This feeder sticks to the window securely using suction cups, and the higher it is, the lower the chance of predators like raccoons and squirrels.
Pros
It has three extra suction cups.

It is easy to assemble.

It is a large feeder that can hold up to four cups of bird feed.

The tray is removable for easy refilling.

It has a cover to protect your avian friends from elements like rain.

It has a padded grip where bluebirds can perch.

It has drainage holes.
Cons
If the suction cups are not firm on the window, the feeder may fall.
Takeaway
With this feeder, you can watch birds from your bedroom window on a lazy Sunday morning. Its size allows it to host many bluebirds at once. It is also easy to maintain because the mulch under your bedroom window will save you the trouble of clearing mealworms.
---
2. Perky-Pet Bluebird Mealworm Feeder - Best Value
If you are tired of bully birds chasing away bluebirds, Perky-Pet Bluebird Mealworm Feeder has a small feeding slot that only tiny beaks can use. There is a fixed roof over the feeding slots to keep the mealworms dry during the rainy season. Since it has an airtight container, the mealworms remain fresh.
Its simple design comprises a clear tube with a removable lid making it easy to clean; hence, it is durable.
The plastic reservoir can hold 3.5 oz. of mealworms, so it feeds about a dozen bluebirds for up to five days.
The plastic tube also makes refilling easy because you can see the level of mealworms. The bottom is an inverted cone that slides mealworms to the side near the feeding slots to avoid accumulation in the middle of the reservoir.
Pros
It has feeding slots to reduce the messes on the ground under the feeder.

It is the best budget option because the feeding slots eliminate wastage.
Cons
The feeding slots might be too small for bluebirds.
Takeaway
This Perky-Pet promises an uninterrupted view of bluebirds. You will enjoy the view of curious bluebirds wiggling mealworms through the tiny slots.
---
3. Mosaic Birds M337-200-09 - Most Simplistic
Mosaic Birds M337-200-09's 20 oz glass bowl can feed many bluebirds in a day. Additionally, many birds can perch on the 6.75-inch rim of the glass-bowl at once. Since glass is rust-resistant, this feeder will last longer, and the bowl is easy to clean due to its detachable design. 
Another great feature that differentiates Mosaic Birds M337-200-09 feeder is the recycled glass because it makes it eco-friendly.
Its multi-purpose dish serves as a feeder and a bath.

It is easy to clean.

It is sturdy against the wind and other forces.
Cons
When washed often, the paint may come off.

Glass is fragile.
Takeaway
I know this would be a good fit for my backyard because it serves as a feeder and a bath. There is no water source nearby, so I know bluebirds will appreciate it.
---
4. Mosaic Birds M045-200 Hummble - Most Sturdy
Mosaic Birds M045-200 Hummble feeder has a glass bowl with a capacity of 3.4 ounces, so you will not refill it often. Additionally, it has a three-inch opening to accommodate more bluebirds. 
You'll also enjoy the extended edge of the bowl because more bluebirds will perch on it. If flocks of bluebirds frequent your place, I'd suggest you get a few more of these and connect them vertically. 
No maintenance issues, too, because this glass bowl feeder is easy to detach for cleaning up.
The powder coating on the metal frame makes it rust-resistant to serve you for a long time. The durability also doubles because there are no plastic components in this feeder.
Pros
It has no drainage holes; therefore, mealworms won't be able to wiggle out.

It has a large room for birds to perch around the bowl and above it on the metallic-frame.

It offers an unobstructed view of bluebirds.

It comes in a variety of colors.
Cons
It has no drainage holes, so you should not hang it on a rainy day.
Takeaway
Nice, unobstructed view, easy maintenance, and it comes with a variety of colors to choose from to complement colors in your backyard; what else is there not to like with Mosaic Birds M045-200 Hummble bird feeder?.
---
5. Droll Yankees CUTE Chickadee - Most Stylish
This elegantly designed Droll Yankees CUTE Chickadee has a 6-inch dome that shields bluebirds from elements like rain and snow.
This dome may also prevent large bully birds from eating all the mealworms because they cannot fit inside.
The feeding bowl is 4.5 inches in diameter, which is enough space to feed several birds at once. The dome hangs from a 9.5-inch rod made of brass, and you can adjust the dome's height as you like. It has an O-ring to keep the rain out of the rod.
Polycarbonate is a transparent material; hence, you can see what the birds are up to when they perch on this feeder. This polycarbonate material also attracts bluebirds because they can spot the mealworms from a distance.
Pros
It has drainage holes to keep the mealworms fresh.

It offers an uninterrupted view of the bluebirds because of its clear dome.

It has a large bowl to feed several birds at once.

Birds can perch on the edge of the bowl when it rains.
Cons
If the bands that hold the dome over the dish are loose, it may slide down and trap a bird.
Takeaway
As its name suggests, the Droll Yankees CUTE Chickadee is a cute, stylish feeder. Nonetheless, its aesthetic value does not reduce its efficiency in feeding bluebirds from its large glass bowl.
---
How To Choose The Best Bluebird Feeder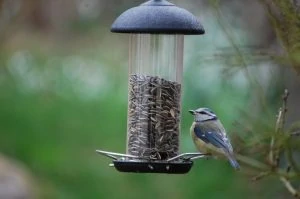 With so many products in the market, you need a checklist before you go shopping. Your priorities should include:
Capacity
Manufacturers state the capacity of every feeder in pounds or ounces. If you go for abluebird feeder with a small bowl capacity, you'll have to refill it often. For that reason, compare several brands to find a bowl capacity that can feed many bluebirds at once.
Functionality
Sturdiness and type of installation are two factors mentioned in almost all bluebird feeder reviews. A sturdy bird feeder can hold the weight of many birds without toppling over. You also need to know where to hang or mount it because some bluebird feeders hang on a window only.
The location also determines the level of protection from predators. If you hang it on a tree, cats and squirrels should not reach it. Look for a product specified as squirrel-proof. 
You should place it strategically to attract bluebirds without allowing other birds to eat all the mealworms. For example, the hole on a birdhouse should be one and a half inches in diameter not to attract starlings.
Extra Features
To draw more bluebirds, you can go for a feeder with a bath. Water hydrates birds, and they like to bathe in it. When you buy such a bird feeder, place it in a safe location to protect wet bluebirds from predators both on the ground and in the air.
Frequently Asked Questions

Q: What Do Bluebirds Eat?
A: About 80% of their food comprises insects like beetles and spiders, and 20% comes from plants like raspberries. In your feeder, you can entice bluebirds with raisins and other fruits. During the cold season, you can make bird suet, which combines high-fat foods. The Michigan Bluebird Society has a suet recipe you can make at home using lard, peanut butter, sugar, oatmeal, wheat flour, cornmeal, and raisins.
The most popular food in bluebird feeders is mealworms, which are larvae of a beetle. I found this factsheet by the North American Bluebird Society very informative. It explains that mealworms should be supplementary because they deplete calcium and can weaken the bones of bluebirds. 
So it is advisable to coat mealworms with calcium carbonate to prevent this calcium deficiency. If you go for dried mealworms, pour some vegetable oil or water on them to make them more palatable and digestible to bluebirds and other birds, too.
Q: Why Use Mealworms In A Feeder?
A: Mealworms offer additional nutrients when food is scarce for many bird species. By providing them with this type of food, you might be saving dozens of bluebirds from starvation right there from your bluebird feeder. 
Also, providing mealworms to bluebirds will help the females take care of their eggs without leaving the nest for more extended periods. Mealworms require a feeder because when you put live mealworms on the ground, large birds will eat them, or the mealworms will burrow in the soil.
Although not included in this review, Erva Bluebird Feeder is also a great bluebird feeder. One of its features is the mealworm feeder that's built into it. We will have a full review of the Erva bluebird feeder pretty soon!
Q: How Can I Attract Bluebirds?
A:  You may have to relocate your bluebird feeders if you suspect their locations are hindering bluebirds from visiting. If they still don't show up, consider growing a few plants that bluebirds love. 
I had trouble drawing more bluebirds to my feeder, and it was frustrating because the mealworms remained untouched for several days. I waited for a week and moved my bluebird feeder from the deck to a tree in the backyard where bluebirds could see it.
You should also note that bluebirds avoid the feeder if they risk frequent attacks by bully birds. The National Wildlife Federation proposes strategies like selective feeding by offering bird food suitable to bluebirds to keep away bully birds. Additionally, choose a feeder with a perch that can only hold the weight of bluebirds and other small birds.
So before we get to more  questions, let's watch this short video about how to attract bluebirds into your yard:
---
Q: Where Should I Hang My Bluebird Feeder?
A: Before you buy a bluebird feeder or any feeder for other bird species, have an idea where you want to hang it because some designs, such as the Window Bird Feeder, are for specific locations. 
Experts suggest that a birdhouse should be in a place where they can access ease in an open area with sufficient shade. Avoid hanging it in places with vegetation sprayed with insecticides.
Mount it on a galvanized pipe instead of a wooden stick to protect bluebirds from predators like snakes and cats. If you don't have such predators prying on bluebirds, you can hang the feeder on a fence post. 
The birdfeeder should be 5 feet from the ground. The location should also be convenient for you to refill the mealworms irrespective of the weather outside; whether it rains or shines, you should reach the feeder.
Hanging a feeder in open areas with scattered vegetation cover but near trees where bluebirds can perch will be more effective.
And if you get flocks of bluebirds in your area, you can hang several feeders at different heights and a few meters apart to reduce the risk of diseases if some of them are sick somehow.
The bird feeders should be about 3.5 meters away from vegetation cover to offer an unobstructed view for the birds.
Q: After How Long Should I Clean My Feeder?
A: Clean the feeder at least twice a month using hot water and a disinfectant in a ratio of 9:1. Wash it for about three minutes and then air it to dry. Remove any bird food trapped in the drainage holes as soon as you notice there is a blockage. 
That is another reason why you should buy a feeder made of plastic, glass, or steel because these materials are easy to clean.
Q: Are Window Bird Feeders Safe?
A: Yes, you can mount your feeder on a window. Collisions occur as birds leave a bird feeder, so mount it close to the window or on it to reduce the momentum of bluebirds as they fly away. 
The distance between your birdfeeder and the window should not exceed three meters. Mount it in the middle of the window to avoid reflections of the backyard because these cause collisions.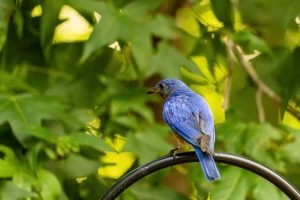 FYI: Make your reading more engaging by knowing about hummingbirds in Texas!
Conclusion
The best overall bluebird feeder for me is the Window Bird Feeder for its combination of aesthetic value and functionality. Unlike the Perky-Pet, which has two feeding slots on opposite sides, the Window Bird Feeder has a large feeding capacity to accommodate several birds at once. 
Additionally, the Window Bird Feeder brings the birds right outside your home, unlike the other feeders that must hang on a tree in the backyard. This bird feeder serves as a very purposeful bluebird feeder IMO.
My next favorite is the Perky-Pet because this birdfeeder promises value for your money and you can install and maintain it easily. Additionally, it gives you control over the number of mealworms consumed in a day because of its small feeding slots.