Nothing is more soothing and joyful than waking up to the soul-soothing sounds of chirping birds by your bedroom window!
Listening to these sweet songs, as any bird lover will attest, can be one of the most ecstatic experiences of one's life. And naturalists have long stressed their impact on mental peace.
Thus... 
It is the perfect wake-up sound to start your day with.
If you wish to captivate such joy in your life, then read on to explore some of the best window mounted bird feeders that are sure to bring the feathery beings to your place.
My personal favorite from the lot is the Pet Fusion Tranquility Window Bird Feeder, however, you'll find the other options to be just as impressive.
Best Window Bird Feeder Reviews
Stick-on window bird feeders demand only minimal space in your home; all you need is a window offering sufficient shade, a welcoming ambiance, and a smart bird feeder to welcome the birds to your place.
Without any further delay, here are some of the best suction cup bird feeders for windows available in the market:
1. Pet Fusion Tranquility Window Bird Feeder - Best Overall
When listing high-quality window bird feeders, no one can deny the exclusive Pet Fusion Tranquility feeder its place on the list. Its crystal clear view is, by itself, enough to justify the price tag. 
Pet Fusion window bird feeder is made of durable, weather-resistant, and UV-protectant coated acrylic.
This amazing bird feeder comes with three super-strong suction cups that allow exceptional mount on any height.
These suction cups are attached to three steel hooks that offer additional help, thus making it a perfect bird feeder attached to the window.
The high feed capacity is another protruding reason why this feeder is top on the list.
With more volume, you won't need to spend much time refilling the feeder. Plus, it will allow two or three birds to feed at a time. The comfortable rubber perch providers a comfortable cushion for the birds as they sit and feed.
Besides its roomy style, the installation process is also a lot simple.
All you need to do is attach suction cups outside the window and mount the feeder to the cups using steel hooks. And when it comes to cleaning or refilling, just remove the feeder and do what's needed. As per my experience, it is just a five-minute drill.
The unique style gives you leverage to hang the feeder anywhere, prefer a higher position. Make sure that it is easily accessible to you and the birds, all the while situated at a safe distance from squirrels and other unwanted visitors.
Pros
Made of all-weather, durable acrylic material

Strong suction cups present for mounting

Features a removable tray for easy cleaning

Comfortable rubber perch

Easy installation, cleaning, and refilling
Cons
The acrylic can come down crashing if the suction cups fail
Verdict
If you're looking for a resilient and easy to install bird feeder, then the Pet Fusion Tranquility is as good an option as any, plus the rubber perch makes it comfy for the birds.
---
2. Wind & Weather 1-Way Mirror Feeder - Best View
This simple yet eye-catching bird feeder weighs up to 1.96 pounds with a dimension of 12 x 4.75 x 6.25 inches.
If you are looking for something practical and simple, the One Way Mirror Bird Feeder is the best option. With clear acrylic plastic construction, this feeder offers all the durability you need.
Despite the simple construction, this feeder can serve up to four cups of seed (volume-wise) at a time.
It is ideal for welcoming cardinals, finches, bluebirds, etc.
The see-through acrylic and one-way mirror combo allow you to enjoy the birds' beauty without interrupting their feeding time. Its suction cups are also much more durable, strong enough to withstand rough weather.
By far, it is the easiest bird feeder to clean because of the removable tray.
Simply take out the tray, discard the leftovers, wipe the surface with a wet towel and serve fresh seeds!
Moreover, the design keeps the rain out of the feeder's food, except for storms with heavy winds.
The compact design is deceptively spacious enough to house two to four birds at a time.
Pros
Easily removable feeder trays

Made of highly durable material

Features a rubber perch

Weatherproof

User-friendly and easy to clean
Cons
Can serve a limited amount of birds at a time

The suctions cups can come in the way of looking at the birds while eating
Verdict
Durability and all-weather resilience make the One Way Mirror Bird Feeder an amazing product. But if you are willing to serve a large number of birds at a time, look further on our list of best bird feeders.
---
3. DF OMER Window Bird Feeder - Most Durable
This feeder from DF OMER comes with too many amazing features, durability at the top, to not appeal to any bird lover. The uninterrupted view is a major perk, which goes perfectly with a simple design.
This bird feeder features heavy-duty construction of premium, crystal-clear acrylic material. Here again, you can enjoy four super-strong suction cups that can keep the feeder attached to the window for a long time.
For bird lovers, it is the most reliable feeder with a large bird perch.
The weather-resistant design also includes an extended roof, weatherproof shelter, and tiny holes to drain water. With the extremely transparent material, you can easily see the birds eating on a rainy day – thanks to the overhanging roof.
In the meantime, it allows an easy refill without needing to remove the entire feeder.
All you need to do is take the sliding tray out and refill it with nuts and seeds. This tray comes with two separate compartments. Plus, the drainage system keeps the seeds dry and won't allow any moisture in the panel.
Another unique feature is the easily clear perch where birds can sit and eat.
This bird-friendly construction also helps in keeping the cats, squirrels, and other animals away.
Pros
Can keep cats, squirrels, and other animals away

It gives a clear view

Weatherproof

The plastic rod feature allows easy perching

Heavy-duty acrylic

Consist of 4 cup seed capacity
Cons
The suction cups are not as sturdy as compared to other options in the market
Verdict
The DF Omer Waterproof Bird Feeder offers much-needed safety to your feathery visitors, and you get to see them, win-win.
---
4. Perky Pet Window Bird Feeder House - Best Design
With a 6 x 3.5 x 6 construction, this House feeder has made it my personal top five outdoor bird feeders that allow you to connect to nature. The ultra-clear material offers an uninterrupted view with the unbeatable opportunity of watching all types of birds at your convenience.
The separate compartments allow you to serve different types of seeds.
Three suction cups give a firm hold for a long time.
The sliding seed tray is another prominent feature of these feeders. It allows you to refill the tray without removing the feeder from the wall. The removable tray simplifies maintenance, cleaning, and refills.
This special design also makes it impossible for squirrels and raccoons to feed on the seed. The inclined roof prevents snow from building up on the top, which will otherwise add more weight to the feeder, a common reason why most feeders fall.
The feeder prevents condensation between the glass window and acrylic feeder because of the big viewing window.
It also features a sliding tray which makes refilling and cleaning easier.
Pros
It comes with holes that allow clear vision as birds feed

Durable and weatherproof

Attractive design

An inclined roof protects the feed from raccoons/squirrels

The pitched roof prevents snow build-up in winters

Removable seed tray
Cons
The transparent perch can confuse the birds about where to land
Verdict
The attractive design, three suction cups, and clear vision make the Perky Pet Window Bird Feeder worth your investment.
---
5. Nature's Way Window Feeder - Best For Hummingbirds
If you are a fan of the tiny hummingbirds, then this feeder, with its compact design, is your best friend.
Nature's Way Bird Window Hummingbird Feeder can hold up to 8 ounces of nectar.
The size is around 8 x 2.5 x 9 in. The compact size also makes it a perfect option for sleek and small windows. Three feeding areas attract more birds while the built-in perch allows them to rest their wings while feeding.
The eye-catching design plays a significant role in attracting hummingbirds.
The non-obstructive design provides enough space for birds to perch as you watch them feeding. Another worth-mentioning feature is the high-quality, reliable duo of suction cups that hold the feeder in place for a long time.
Pros
Affordable price

Can accommodate three hummingbirds at a time

Colorful design, perfect for attracting hummingbirds

Easy to clean

Drip and leak-proof

Features an embossed flower style that diverts rain from the nectar inside
Cons
Suction cup installation is difficult

You need to take it out for cleaning or refilling
Verdict
The ant moat feature, attractive appearance, and easy-to-clean design make Nature's Way an admirable bird feeder.
---
Tips On Choosing The Right Window Bird Feeder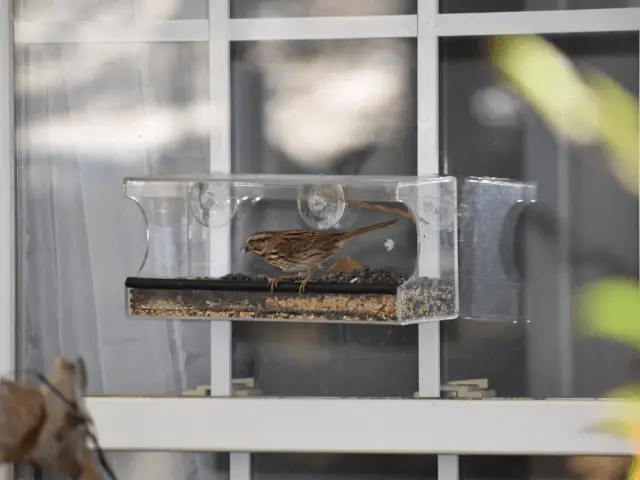 Whether it be early morning or a stressful evening following a long day at work, the sounds of chirping birds at night or morning bring peace to anyone's mind.
And, indeed a bird feeder is a great way to view colorful birds and listen to their sweet melodies, all from the comfort of your home.
However, choosing the right bird feeder type for a window can be way more difficult than you think, especially if you are buying it for the first time.
Here are some important features that you must consider while making a purchase:
Suction Cups
The suction cups or installation methods are the first things to consider. Generally, a suction cup will hold the feeder's entire weight, plus that of the feed, water, and birds. So it has to be strong enough to bear all the weight.
Plus, if it detaches or slides down quickly, the feeder will fall.
The best suction cup feeder for windows will have highly durable and easy-stick suction cups.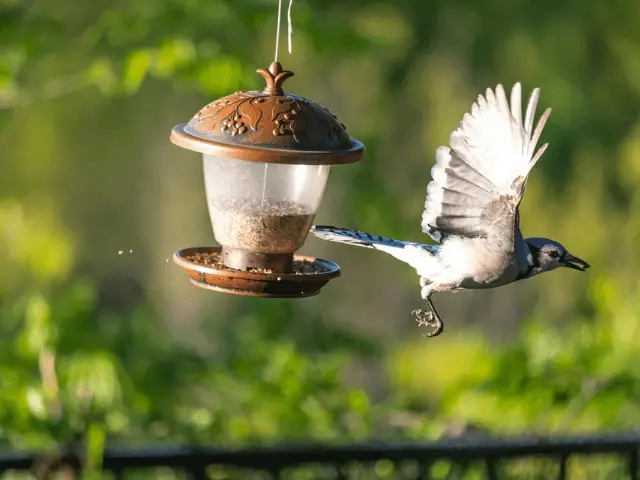 Weather Resistance
These feeders will be staying outside, which means they will be dealing with scorching sun and cold weather. So it would help if you looked for a design that can protect the feed and the birds in extreme weather conditions.
Likewise, it is important to place the feeder in a bit of shade, if possible.
Material Transparency
What will be using a window bird feeder if you cannot see the birds feeding in? Therefore you should look for a feeder with clear material.
This will allow you to enjoy the scene better.
Durability
Here, you might need to focus on the thickness of the product.
The thicker it is, the longer it will last. For an acrylic or plastic feeder, the ideal thickness is about 3 to 5 millimeters.
Frequently Asked Questions
Here are the answers to some of the most commonly asked questions in this area:
Are window bird feeders safe?
Yes, they are safe as long as you install them properly and keep them clean. I suggest that you replenish the water and see the supply daily. Moreover, weekly cleaning is important to protect against certain diseases like Salmonella, Psittacosis, Bird Flu, Lyme disease, or Aspergillosis.
How can I attract birds to my feeder?
This can be a challenging task to deal with, especially if you are new to the game. However, there are some tricks you can do to make the feeder a welcoming place for birds. First of all, you need to install the feeder away from cats, bees, and squirrels.
Always remember that birds don't like to mix with other animals. Also, they need to complete privacy while eating. Cats are the prime threat to birds and deter them from coming to the feeder.
Another trick here is to keep the feeder clean and provide the birds with fresh, clean water and seeds. You can make a routine to clean and replace the seeds and water daily.
But if you are looking forward to seeing certain specific bird species, serve the seed they like to eat. To do that efficiently, you will need to upgrade your knowledge of types of bird seeds.
Or you can check what birds are readily available in your locality and serve the type of seeds they like to eat.
Before winding things up, here's a super-helpful YouTube video for attracting more birds:
The Endnote
Feeding birds is a step in the right direction regarding bird conservation, so go for it, and more power to you!
As for the feeders, although every product has unique features that deliver us a specific set of pros and cons, I would personally recommend buying the Pet Fusion Tranquility Window Bird Feeder.
I liked using the product for its durability, ease of use, and the clear view of birds as they feed and chirp outside my window.
This feeder has also successfully passed the test of time and maintained its look and feel even after dealing with extremely harsh weather conditions throughout the year.
So, I find it a reliable and lasting investment for every bird lover and me!
But remember to install the feeder at a reasonable height – away from cats, bees, raccoons, and squirrels; your birds won't like mixing up with any of them.
That's all from my side, let's hear from you in the comments section below!