The Cardinals are some of the most beautiful birds native to North America. There's nothing quite like waking up to the singing of these birds in your backyard. 
That's why...
In this article, I review some of the best bird feeders for Cardinals that will keep them coming to your backyard for years. Just set the stage with a sturdy, attractive bird feeder like the Perky-Pet No/No Cardinal bird feeder and enjoy nature's best from the comfort of your backyard.
5 Best Bird Feeders For Cardinals Review
1. Perky-Pet No/No Cardinal Bird Feeder – The Best Overall
The Perky-Pet in red is one of the best bird feeders for cardinals, not just because it makes a stylish, vibrant addition to your backyard, but because it is a hardy feeder. 
The No/No feeder also attracts cardinals and comfortably allows them to perch. This feeder also has a sufficient feeding area for up to 15 birds.
When choosing a bird feeder, I am particular about easy refilling and cleaning. 
The No/No cardinal bird feeder offers easy refill options with a large lid that is very easy to open.
With this feeder, you also never have to worry about wasted bird feed because it has a huge bottom tray to catch any falling seeds. It also helps that the large overhang prevents the seeds from getting wet.
During the rainy season, the large mesh surface will let out any water that gets inside the feeder, which quickly dries out the seeds. The feeder holds up to 2.5 lbs of feed so you don't have to worry about refilling it throughout the day.
Pros
Zinc-plated finish makes the feeder rust-resistance

All-metal body makes it a durable feeder

Vibrant color adds excellent aesthetics to your backyard

Squirrel-proof

Low-maintenance
Cons
The large tray might encourage larger birds to perch
Takeaway
Overall, the No/No Cardinal feeder, so named because it uses no plastic and no wood, gives you the most bang for your buck. The feeder is low maintenance and will last years. This is the overall best bird feeder for cardinals that tops my list.
The only downside I found with this cardinal feeder is that it might encourage larger birds to perch. Cardinals are rather shy and do not like to feed in crowds. You can remedy this by using safflower seeds that are not very popular with the bigger birds.
---
2. Woodlink Absolute Ii Bird Feeder - Best Value For Money
The Woodlink Absolute Ii Bird Feeder bird feeder is impressive in construction and durability. This feeder is also squirrel-proof and deters other birds such as starlings from perching. I was particularly impressed with this feeder because it holds up to 12 lbs of feed at a time and features troughs on both sides. 
If you live in an area that is prone to squirrels, you know just how hard they'll work to get to the seeds in a feeder. They'll stop at nothing, including chewing at any plastic parts to bring it down. 
This feeder is designed from powdered steel so you can be sure it will stay squirrel-free.
Another advantage of this feeder is that the troughs lock if larger birds or squirrels try to perch on it. Impressive, right? This ensures the feed lasts longer and your beloved cardinals have no competition for food, which will keep them coming back.
Pros
Durable

Double-sided troughs keep feed on the feeder

Large holding capacity

Roof shape protects seeds from rain

The lock mechanism on the troughs keeps squirrels and large birds at bay

Easy to refill
Cons
Costs more than the average feeder

Small notches in the brackets can injure the birds
Takeaway
The Woodlink II is definitely one of my favorite feeders in this category. From its massive seed holding capacity, durability, and anti-squirrel locking mechanism, this bird feeder is an excellent choice.
The only downside for me is the price point which may lock out many bird lovers. However, it certainly gives you value for money. I have already started saving up for mine.
---
3. Twinkle Star Wild Bird Feeder - Best Budget Option
The Twinkle Star Wild Bird Feeder bird feeder doubles up as an ornate garden hanging that will add to your yard's aesthetics. It is made from clear plastic which allows you to take in the full view of the birds from any angle.
I like that it comes fully assembled so it's ready to use. It is also really easy to fill and clean with a clever twist lock that keeps the lid firmly closed. Another plus for the Twinkle Star is that it has no holes, so all the feed inside stays nice and dry no matter the weather.
You can also see the seed-level whenever you look at it, so it's quite easy to keep tabs on when to refill.
The feeder holds up to 2.15 lbs of feed. The antique copper finish style contrasts nicely with the bright red cardinals making it an excellent choice for an oriental-themed backyard.
Pros
Clear glass allows a 360-degree view of the birds

Easy to clean and refill

Ornate design can be used as a backyard decor item

Seeds stay protected from the elements

Fairly priced
Cons
Seeds in the feeder may get moldy due to the lack of air

Not squirrel-free
Takeaway
The Twinkle Star is a fairly priced feeder and I would highly recommend it to a beginner. A major issue I noticed with the feeder is the bottom tray offers no protection against snow or rain.
Overall, I highly recommend this feeder for avid bird lovers in drier areas. You can always swap it out for another when it starts to rain. The metal parts may also get rusty but this can be easily fixed with regular oiling. 
---
4. Perky-Pet Panorama - Best Tube Feeder for Cardinals
Cardinals are suited for tray-style feeding and the Perky-Pet Panorama offers them exactly that. 
This Perky Pet feeder comes with a closed tube and 360-degree tray where the bird's feed is dispensed. 
The bottom perch is also designed for small birds so the cardinals will not be chased off by the bigger birds.
Like the Twinkle Star, this feeder also offers you unparalleled views. 
The Panorama features a sizeable overhang that protects seeds on the tray and shields the birds as they feed.
For me, this makes it the perfect year-round feeder.
The Panorama can only hold up to 2lbs of feed. If you live in an area with lots of cardinals, you may want to consider a feeder with a bigger holding capacity. The powder-coated copper feeder is also one of the more durable bird feeders I have had the pleasure of reviewing this year.
Pros
Fairly priced

Ornate design makes it an attractive hanging for your garden

Large feeding tray

Sure-lock lid keeps out predators

Easy to clean and refill
Cons
Metal parts prone to rust

Not ideal for wet conditions
Takeaway
The Panorama offers panoramic views at an affordable price. The even seed-dispense mechanism is also useful for keeping the tray full throughout feeding time. This is one of the best bird feeders for cardinals that is intentionally designed to keep away from the competition.
However, if you live in a particularly wet area, the open tray does not offer any protection which might lead to clogging.
---
5. Brome Squirrel Buster - Best Squirrel Proof
The Brome Squirrel Buster is a cardinal-friendly tube feeder that keeps away large bully birds and squirrels. Along with a lifetime guarantee, this feeder is also chew-proof and requires no tools to assemble or open for refilling and cleaning
One thing with Brome bird feeders, they are durable and give you value for your money in a variety of ways. I like that this feeder has an innovative seed ventilation system and keeps the feed fresher for longer. This helps you save money spent on replacing moldy feed.
As you already know, tube feeders are not the most ideal cardinal bird feeders. 
However...
Brome has made a simple adjustment by adding a small cardinal ring where the birds can perch and have easy access to the feed.
If you use chunky bird feed, it is important to note that the dispensing ports are quite narrow. The feed may get stuck and lead to clogging. However, you can choose smaller seeds for this cardinal feeder or grind your feed into smaller chunks.
Pros
Durable

Chew-proof

Easy to refill

Seed ventilation system keeps bird food fresh

Squirrel proof feeder
Cons
Costly

Chunky feed can cause clogging

Might be difficult to clean
Takeaway
If you are in the market for a durable feeder, the Squirrel Buster comes with a lifetime guarantee. One of the best feeders for cardinals, the Brome is impenetrable by squirrels and the thoughtful rings keep away the larger birds. I would choose this cardinal feeder if I was looking to splurge.
---
How to Attract Cardinals
Commonly referred to as the Beatles of the avian world, cardinals are, in contrast, extremely shy. You can invest in the best feeder for cardinals but, you still have to know how to attract Cardinals to your backyard. 
Here are some useful tips to bring these birds to your yard:
Serve Their Favorite Feed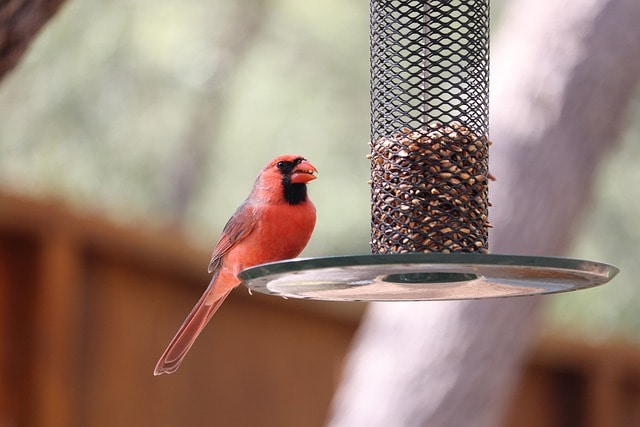 Cardinals are ground feeders that often scavenge on seeds, fruits, and insects. Some of the favorite bird seeds for Cardinals are safflower and black oil sunflower seeds. 
Black oil sunflower seeds are more affordable but other birds love them too. If you want to attract cardinals only, I recommend striped sunflower seeds.
Safflower seeds also keep away the larger bully birds. I also like to use a mix of suet, cracked corn, shelled peanuts, and fresh berries when I have them.
Create a Cardinal-Friendly Environment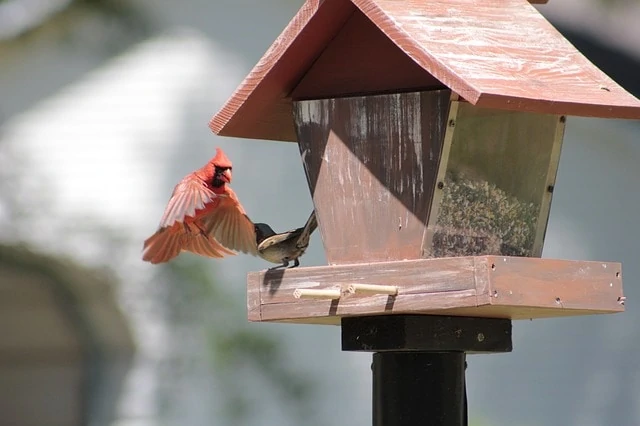 Creating a safe space where the cardinals feel at home will also keep these birds coming back all year-round. These bird houses for Cardinals are a great place to start. You can make a cardinal-friendly space by placing feeders away from the windows to prevent them from fighting with their reflection.
I also recommend adding a refreshing bird bath and planting trees, bushes, and shrubs where the cardinals can hide and have a comfortable habitat. If you live in a cold area, heat the birdbath to keep them warm.
Be Punctual
One of the meanings behind seeing a Cardinal stems from how they are known for punctuality and are usually among the first to arrive at a feeder every morning. Make sure you fill the feeders after they have fed in the evening or as early as you can before sunrise. With plenty of food, these birds will soon be singing in your backyard at the same time every day.
Did you know that mated cardinals share song phrases? You can find more cool facts about these beautiful birds here. Meanwhile, if you haven't heard the melodic tune of a cardinal, I recommend checking out this video:
Final Thoughts
With the Perky-Pet No/No Bird Feeder, you can keep cardinals coming back to your backyard all year. The Perky-Pet is perfect for attracting these shy birds and its vibrant color makes it the perfect addition to your home's aesthetics.
This feeder is low-maintenance, holds lots of feed, and is built for durability. The tray also holds enough feed and features small holes that drain water to keep the feed fresh. This cardinal feeder was built with cardinals in mind. Its vibrant color even matches the birds' plumage.
I highly recommend the Perky-Pet No/No Bird Feeder to keep your backyard filled with bright red hues and melodic tunes from the cardinals.