Hummers are beautiful birds to watch. With their fervently flapping wings, exquisite plumage, and sweet melody, they are truly fascinating. 
Do hummingbirds hum?
Summer is a great time to find out if they do when you start attracting these beautiful birds to your yard.
Welcome these beautiful birds to your yard any time of the year with one of the best hummingbird feeders on the market.
We've selected some of the top-rated choices available to help you narrow it down.
For me, the More Birds Hummingbird Feeder is the perfect, low-maintenance unit for both novice and experienced birders.
Read on, and I'll tell you why it got to the top of my list. 🙂
5 Of The Best Hummingbird Feeders Reviewed
1. More Birds Ruby Hummingbird Feeder - Best Overall
This easy-to-clean hummingbird feeder is a favorite for hummingbirds. The More Birds Ruby Feeder holds up to 10 ounces of nectar which means you get to feed more birds at a go. I like this feeder because it stays sealed, so you don't need to worry about leaks.
The simply-designed feeder is also easy to open with a removable base for easy refilling. Also, this is one of the best hummingbird bottle feeders designed.
More Birds also has other stylish designs to choose from, but I highly recommend this feeder for its simplicity.
Another favorite feature for me on the More Birds Ruby Hummingbird feeder is the built-in moat that traps ants should they try to get into the reservoir.
The flower-shaped feeding ports are also an impressive feature that works well for hummers.
These ports are designed without the yellow guard, which is effective at keeping away the bees.
Pros
Designed from BPA-free plastic

Does not leak

Easy to refill

Ant-moat
Cons
Tiny ports may be hard to clean
Takeaway
This bottle hummingbird feeder is excellent value for money. The ant moat is an incredibly nifty feature because it keeps insects out of the nectar.
I also like that the feeder is easy to maintain in terms of cleanliness and refilling. Plus, the feeder holds up to 10 ounces of feed, so I don't have to worry about refilling it throughout the day.
---
2. First Nature Hummingbird Feeder - Best Plastic Feeder
This brightly colored feeder from First Nature is perfect for attracting hummingbirds. It can accommodate up to 10 of these birds at a time with its 32-ounce capacity.
This feeder is easy to empty and refill with a two-part base that allows you to clean the small feeding ports thoroughly.
Another advantage with this feeder is the leak-proof feature which is excellent for conserving feed.
First Nature feeders are usually well constructed, and this one is true to form. The feeder is sturdy, with a built-in hook. It's easy to see why this unit ranks high among the top hummingbird feeders in reviews.
Although the feeder does not come with an ant moat, you can quickly remedy this by using a fishing wire to hang it. The ants cannot walk the line, which effectively keeps them out.
I noticed the feeding ports are a bit large, which may encourage bees to crawl through, but...
You can quickly fix that by attaching a fishing line on the hole's underside, which cuts the gap in half, making it too small for the bees.
Pros
Simple to use

Multiple feeding ports

Perching area for the birds

Leakproof
Cons
Not machine-washable

No ant moat
Takeaway
Overall, the First Nature feeder holds its own among the top-rated hummingbird feeders. The feeder is sturdy, long-lasting, and features an impressive holding capacity of 32 ounces. This feeder is also easy to maintain and refill.
---
3. Juegoal Dish Hummingbird Feeder - Best Dish Feeder
This dish hummingbird feeder holds 12 ounces of nectar while feeding up to 8 birds at a time. Juegoal is one of the top-rated hummingbird feeders because of its simple but effective design.
I am surprised that the Juegoal dish feeder accommodates a built-in ant/insect moat for such a small unit.
The hummers will also enjoy perching on the rest-ring.
This feeder doesn't have any yellow rings around the feeding ports, which also works well at keeping the bees away.
The detachable Maggift cover is a clever addition since it makes the feeder easy to open, empty, clean, or refill. My favorite feature with dish feeders is that they allow you to take in the full view of all the birds, which may not always be possible with standard upright feeders.
This feeder also comes with a hanging rod, so you can hang it anywhere in your backyard or mount the unit on a pole. You don't have to worry about the feeder tipping over because the rod keeps it balanced. I think it also helps that hummers are very light birds.
Pros:
Reasonably priced

Built-in ant/insect moat

Easy to empty, clean, and refill

Leakproof

12-ounce capacity
Cons
Takeaway
The Juegoal hummingbird feeder is an excellent choice for birders on a budget. This durable feeder is relatively stress-free, packing quite a few features for such a small unit.
I also love this feeder's versatility. Once the hummingbird season is over, simply remove the cover, fill the reservoir with birdseed, then welcome your other feathery guests.
---
4. Lujii Hand Blown Glass Feeder - Best Decorative
The Lujii is a colorful glass feeder which is very attractive to hummingbirds. Its elaborate patterns mimic flowers in bloom drawing in the curious hummers. The beautifully-crafted, brightly-colored hummingbird feeder is also hand-made by skilled artisans.
This feeder is made with a combination of glass and metal which should last a lifetime if well cared for.
The feeder is one of my favorites, not just because of its looks but also its large 36-ounce capacity.
The Lujii glass feeder is designed with ease of access in mind for both birds and birders. This optimally designed feeder allows you to operate it with ease by unscrewing the bottle from the base. The five feeder ports also feature perching rings where the hummers can rest as they feed.
Pros
Stunning anti-aging design

Large capacity of up to 36 oz

In-built ant moat
Cons
Takeaway
This feeder is impressive to friends, family, but most importantly, your feathered visitors. This hand-blown glass feeder is the perfect pick for birders who like to make an impression. It also comes in various colors and makes for a great gift for fellow bird lovers.
Overall, the functional hummingbird feeder is easy to maintain with a sizable capacity. I would choose the Lujii Hand Blown Glass if I wanted to splurge on a useful statement piece.
---
5. Juegoal Window Hummer Feeder - Best Window Feeder
Juegoal has outdone itself yet again with this lightweight window feeder that allows you to get up close and personal with your feathered friends.
It is excellent for those of you who love to have a close-up view of the hummers.
However, the feeder only features three feeding ports, which limit the number of feeders.
It is an excellent low-maintenance feeder for birders in areas with few birds. The feeder only holds 8 ounces of nectar, so you might have to check the levels regularly to keep your visitors coming.
I like that you don't have to use an ant moat with this feeder because it's crafted for easy operation whether you need to clean or quickly refill it for an evening feed. 
The suction-cup mounting bracket allows you to place the feeder anywhere on your window while the solid build keeps away invaders of the crawling kind.
This window-mounted feeder is relatively low maintenance. Since the feeder comes in a simple dish design, it is also leak-proof, which keeps insects away, leaving your windows clean.
Pros
Simple window-mount design

Low maintenance

8oz capacity
Cons
Only features 3 feeding ports
Takeaway
This window-mounted feeder is perfect for bird-lovers who enjoy an unobstructed view of the hummers. Another advantage is that it is relatively easy to mount, clean, and refill.
The only setback with this feeder is the low nectar capacity and the few ports. If charms of hummingbirds frequent your area, consider using the Juegoal window-mounted feeder alongside larger feeders in the main yard.
---
Choosing The Best Hummingbird Feeder
Consider the following factors:
Maintenance
Hummingbird feeders must be easy to open for easy cleaning and refilling. Keeping in mind that nectar is prone to molding in hot weather, it is essential to choose an easy-to-operate feeder. Consider feeders that come with easily removable parts.
Size
Contrary to popular belief, bigger isn't always better, especially when it comes to hummingbird feeders. Nectar only lasts up to 3-4 days, so no matter your feeder's size, you still have to empty it for a weekly wash.
Choose a medium-sized feeder for areas with sparse hummingbird populations. The most popular feeders are between 16-32 ounces for sites with larger hummingbird populations.
Color
In the hummingbird feeder review above, you'll notice most of the featured feeders are red. Hummingbirds are especially attracted to bright red flowers.
Choose a feeder with bright red or yellow splashes around the feeding ports.
In my experience, I have found there's no reason to fill the feeder with red-dyed nectar as natural nectar is mostly colorless. Once the birds are attracted to the unit, feeding comes naturally.
Bee Guards
Bees love nectar, so, naturally, they are attracted to your feeders too. Bee guards prevent the invaders from feeding on the nectar by creating an air space. Not to worry, the hummers can still reach the nectar even with the bee guards in place.
Most of my bottle feeders attract more bees than the dish feeders, so I regularly go for bottle feeders that come with a bee guard. Should you choose to buy one, remember to check whether the unit comes with a guard.
Ant Moat
Most crawling insects, especially ants, get attracted to the sugary nectar in your feeder, so choose a feeder with an ant moat to keep ants out of your hummer feeder. When filled with water, this small reservoir prevents insects from invading the feeder, where they can contaminate the nectar.
If the hummingbird feeder you ever choose does not come with a moat, you can buy one separately.
Different Types Of Hummingbird Feeders
Hummingbird feeders come in different designs. By saying that, I remember a friend telling me, "This is the world's best hummingbird feeder!" just because he loved the color and design of his hummer feeder. (LOL!)
These include:
Dish/Saucer Feeders
Dish feeders come in a bowl-shaped design featuring a few ports and a hanger. In my experience, dish feeders are usually easier to mount. You can hang them anywhere there's a pole or a railing. The feeders can also be window-mounted if they come with suction brackets.
These feeders are also easy to operate. On the downside, dish feeders come with a smaller capacity, so they require frequent refilling. In areas with more birds, consider the refilling frequency before choosing a dish feeder.
Window Feeders
Window feeders fall under dish feeders because they have a similar design. It's is one of my favorite types of feeders because they give you a close-up of your feathered visitors. I would recommend a window feeder for homes with little outdoor movement throughout the day.
Bottle Feeders
Also known as tube or vacuum feeders, bottle feeders come with a larger capacity than both dish and window feeders. They also allow you to check nectar levels with ease. Typically, bottle feeders have a reservoir above the feeding ports.
A common challenge with most bottle feeders is that they are not easy to clean. I use a brush to get into the bottle. However, when buying new feeders or getting gifts for friends or family, you can avoid this drawback by choosing one with a broader opening or removable parts.
Remember to look out for bottle feeders with a rubber gasket at the bottom part to prevent leakage.
Which One Is The Best Hummer Feeder Material?
Glass
Glass feeders are durable, and some can last for years with proper care. Another advantage of glass feeders is they do not warp, crack or fade when exposed to heat or sunlight.
Glass feeders are also easier to clean than plastic feeders. However, glass feeders may not survive a fall.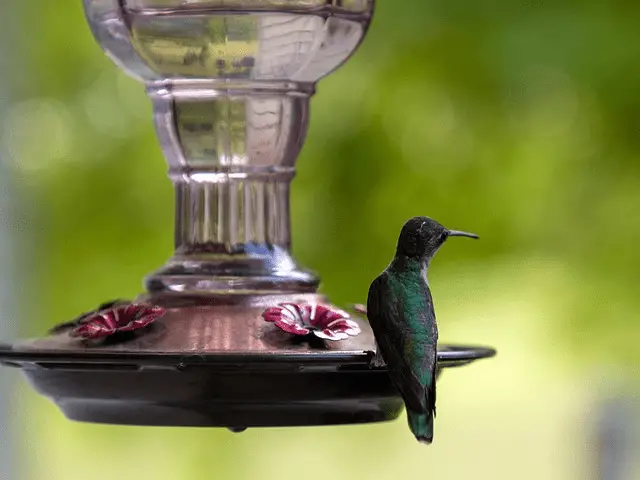 Plastic
Plastic feeders are more affordable and less fragile than glass feeders. Should you opt for a plastic feeder, consider one made from BPA-free material which is safer for the hummers and the environment.
Ensure the plastic feeder is also UV resistant to prevent warping or cracking when exposed to sunlight.
I value function over form, so I recommend going for sturdy, durable materials. Whether you are looking for features such as capacity, ease of operation, or a feeder that adds to your yard's aesthetic value, choose what works for your needs.
Where To Hang Your Hummingbird Feeder
Now that you have chosen the perfect design and filled it up with nectar, where is the ideal place to hang your hummingbird feeder?
First, consider the safety of the birds. Placing the feeder at least 4-5 feet off the ground will ensure the hummers are safe from cats and other predators. You can find out more about hummingbird predators here.
Hummingbirds are usually aggressive towards other birds. However, they are shy about staying out in the open when it is not feeding time. Position your hummingbird feeder close to an area with trees or shrubbery where the hummers can take cover.
Read also: How Do Hummingbirds Sleep?
You can also place the feeder 10-15 feet away from coverage to provide quick cover when the birds feel vulnerable. Hummingbirds also have a high metabolism, so the trees and shrubbery provide a place to relax between feeding times.
Use nature to draw the birds by placing the feeders close to flowers that produce nectar. It allows the hummers to notice when your feeders are ready for them.
Remember to set your feeder in a spot with shade, as direct sunlight will quickly spoil the nectar.
Ensure you have a clear view of the feeders so you can see the nectar levels and keep an eye out for predators. Check out this video of a hummingbird feeding frenzy to get ideas on where to place your bird feeders.
What Not To Do
Do Not Use Honey In Your Nectar
Honey goes bad when diluted in water. Adding honey to your nectar recipe will make it spoil faster, which is harmful to hummingbirds.
Do Not Leave The Nectar In The Feeder For Too Long
Nectar spoils within 3-4 days. For birders in sparsely populated areas, consider using less feed to avoid wastage and cleaning out the feeder frequently.
Do Not Use Dark Colored Feeders
As earlier discussed, hummingbirds are attracted to bright colors. Using dark-colored feeders will make it challenging to attract these birds to your backyard.
Do Not Rely On One Feeder
Hummingbirds are aggressive and territorial towards other birds, including fellow hummers. Ensure you provide several feeders to attract more birds and allow each hummingbird to feed.
Do Not Forget Your Window Protectors
When using a window hummingbird feeder, ensure you use window protectors. You can opt for plastic sheets or decorative sheets with brightly colored artistic swirls and flowers.
Window protectors prevent birds from smashing into the windows and fighting their reflections which could lead to injury.
Check out this article to find out what to do if you find an injured hummingbird.
FAQs About Hummingbird Feeders
How Do The Hummingbirds Find The Feeder?
Hummingbirds are attracted to brightly colored feeders. Use feeders with bright shades of red, yellow, and orange. You can also help guide the birds to your feeder by placing them near natural pollen and nectar sources. Placing a hummingbird bird bath nearby provides another reason for them to visit your yard over your neighbors.
When Is The Best Time To Put Hummingbird Feeders Out?
Hummingbirds can be found year-round in some parts of the country. In the northern parts of the U.S., you can take out your feeders toward the end of April or early May. In the southern regions, hummingbirds arrive around mid-February.
How Do I Make Nectar For My Hummingbird Feeder?
Nectar is easy to make at home. Simply combine 1 part sugar with four parts water. I recommend warming the solution for a few minutes on your stove to slow down fermentation, then pouring it into your feeder once cooled.
How Do I Keep Bees Out Of My Feeder?
If you find that your feeder is constantly swarmed by bees, move it to a different location. The hummingbirds will find it, but it is unlikely that the bees will relocate. Consider providing an alternative feeding attraction for the bees.
For ant problems, use a fishing line to hang the feeder. Ants cannot walk the line, which effectively keeps them out. You can also use a copper hanger, which repels ants.
Invest in a leak-proof feeder, and remember to clean it regularly to keep bees and ants away.
In Conclusion
Now, it will be easier for you to find a reasonably priced hummingbird feeder that meets all your needs. Just remember; choose functionality over form.
From my review of the top-rated hummingbird feeders, the More Birds Ruby serves all my needs. It is an easy to clean, durable, stylish, and an affordable glass hummingbird feeder.
No matter which feeder you choose, leaving the nectar too long can lead to birds' health problems, so don't - that's my friendly reminder. Remember to wash your feeder and maintain them properly to keep the hummers humming!