With their beautiful yellow, orange, and red-purplish plumage, finches are one of the best ways to brighten up your backyard.
Keeping a high-quality finch feeder will keep these charming birds coming back to your yard regularly.
So...
In this article, I have compiled some of the best finch feeders for 2021. Whether you are a seasoned bird lover or a newbie, you will find the best finch feeder that suits your needs here.
And I recommend a sturdy feeder such as the Brome 1016 Squirrel Buster Finch Feeder for its durability, reduced wastage, and innovative, technologically advanced design. That's why it got to the top of my list!
I'll let you know more, below...
Best 5 Finch Feeders Reviewed
1. Brome 1016 Squirrel Buster Finch Feeder- Best Overall
Buying this finch feeder guarantees you lifetime care from Brome. The squirrel-proof bird feeder comes with a lifetime guarantee. 
You never have to replace your bird feeder ever again. In case of any problems, just call the nice folks at Brome and they'll get it sorted out for you.
This bird feeder comes with major technological advancements that I am sure all bird lovers will appreciate. 
The coolest feature for me is the Seed Ventilation System that lets out heat and humidity while permitting fresh air into the feeder keeping the feed fresher for longer and ultimately attracting more birds.
The Brome 1016 is also UV stabilized so no matter how long you keep in the sun, the feeder will always look new. I also love that the overall product design attracts finches and is completely chew proof and squirrel-proof
This product is fantastic for you if you are looking for a long-lasting feeder. An additional plus is that Bromer stands behind their products. You only buy it once, and you are sorted for a lifetime.
Pros
Lifetime guarantee

Durable

All parts can be dismantled by hand

Chew proof and squirrel proof
Cons
Exclusive thistle seed feeder

Non-adjustable
Takeaway
I highly recommend this if you are looking for a finch feeder that will give you value for your money. The technology is light years ahead of regular feeders and you will save money on bird feed with the Seed Ventilation System.
---
2. Stokes Select Finch Bird Feeder- Value for Money
The folks at Stokes understand bird feeders and put a lot of thought into their designs. This product is not only easy to use and pleasing to look at, but it is also designed for a variety of birds. However, the intricate design makes it the perfect feeder for finches.
If like me, you prefer using Nyjer seeds to feed the finches in your backyard, you'll notice the Stokes feeder has perfectly matched holes. The seeds are held in the feeder to prevent spillage while making it easy for the finches to feed.
This feeder is also durable and very easy to clean with a wide, removable lid and base. 
I noticed this bird feeder can only hold half a pound of feed, which for me means regular refilling throughout the day. On the upside, the feeder is quickly emptied so there is unlikely to be any molding.
While I prefer a feeder with a larger capacity, I would choose the Stokes feeder for its value in comparison to its price.
Pros
Light and durable

Easy to clean

Excellent drainage
Cons
Small holding capacity

Small top cover may not keep the rain out of the feeder
Takeaway
This is an excellent feeder if you are at home throughout the day and don't mind refilling it regularly. It is also an excellent choice if you live in an area with a variety of small birds. Stokes also supports bird conservation by donating part of their earnings, so you'll be contributing to a good cause.
---
3. Droll Yankees
DROCJTHM15Y - Best Built
This bird feeder is designed from a plastic tube with perches for smaller birds that need more support. The Droll Yankees DROCJTHM15Y feeder comes with 6 perches and has tiny holes that fit the finches' small beaks.
Droll Yankees is well-known for quality products and this feeder is no different. The product comes with a lifetime warranty and is squirrel-proof. It also comes with a transparent metal tube with small slits that reduce wastage.
The feeder is designed to be used as a thistle feeder, which may pose a problem if you live in a wet area. 
In wet conditions, thistle feed absorbs water and grows moldy. I have used this type of feeder before and it is quite common to find the bottom half of the seeds spoiled and stuck together due to moisture. 
Droll Yankees feeders feature a narrow tube so sometimes it can be difficult to wash out the seeds stuck in the bottom. You can easily solve this issue by using Feeder Fresh which absorbs any water that finds its way into the feeder.
Another drawback with the Droll Yankees feeder is it can only hold up to 6 finches at a time, so if you are looking to accommodate more birds, you may want to consider a larger feeder. The perches also pass through the tube which further complicates cleaning.
Pros
Lifetime squirrel damage warranty

Long-lasting

Made in the US
Cons
Can only hold 6 finches at a time

Can be difficult to clean

Wasted Bird Feed
Takeaway
Overall the Droll Yankees is one of the top finch feeders with a lifetime squirrel damage warranty. The limited perches can also be resolved by choosing one of the company's other models such as the Droll Yankee 36 with up to 20 feeding ports.
---
4. Perky-Pet Straight-Sided Finch Bird Feeder- Longest Lasting
This Perky-Pet all-metal finch feeder offers excellent value for your money. If you are on a budget, this feeder gives multiple benefits and exceptional durability which is a plus. 
The feeder is designed for a smaller variety of finches such as yellow finches which add vibrance to your backyard. It can also serve as a golden finch feeder.
An additional benefit of The Perky-Pet Feeder is its large holding capacity carrying up to 1.5 lbs of thistle seed so you don't have to keep refilling it. 
The mesh design also reduces waste by allowing smaller birds to peck and pull at only what they need.
This product is easy to open at the top and bottom, so it is very easy to clean. 
As a bird lover, I understand the pain that comes with pulling seeds stuck in small holes and crevices. Thankfully, Perky-Pet had this in mind so you never have to worry about this particular problem.
The only downside I noticed with this product is the narrow saucer at the bottom of the feeder that allows seeds to slip on the ground. 
You can remedy this by adding a small plant saucer. Another necessary modification would be to punch some small holes on the saucer to drain water when it rains.
Pros
Made of metal for improved durability

Evenseed Technology allows even distribution of seeds

The small, circular base allows small birds to perch

Easy to open and clean
Cons
Small opening so you may need a funnel to fill the feeder

Small top which results in reduced protection from the sun and rain
Takeaway
This is an excellent choice if you're on a budget and need a robust, durable feeder. If you live in an area prone to attract larger birds such as doves and woodpeckers, avoid modifying the small bottom tray to prevent perching.
---
5. Woodlink NAWLNT- Best Budget Feeder
This Woodlink feeder is an excellent alternative to sock feeders which don't usually last long. It comes ready to hang so no assembly is required. 
All you need to do is fill it up and place it in your backyard. The feeder also has little holes at the base that you can use to drill it into a tree stump.
I was also quite impressed with the quality of this feeder at its price point. It holds about a pound of feed and finches seem to love its attractive design. You will certainly enjoy watching them hover around the feeder.
Pros
Finches love the colorful design

Affordable

Excellent quality
Cons
Seed loss

Small lid does not prevent water damage
Takeaway
This feeder gives you great quality at an affordable rate. The seed loss problem can also be resolved by using the small holes at the bottom to attach a catch tray. 
Overall, I would go for this feeder if I lived in a semi-arid area where there is not much moisture throughout the year.
---
How To Choose The Best Finch Feeder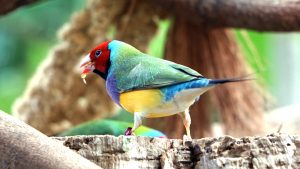 What  Are The Types Of Finch Feeders Available?
There are a variety of finch feeders available in the market. You can choose from:
Sock Feeders
These are cheap and attract the most finches. They are also easy to fill and clean. However, they do not last long. A sock feeder can easily get ripped by a squirrel and the birds will eventually rip holes into it.
Tube Feeders
This type of feeder allows you to control the number of birds that can perch on them and usually have small feeding holes. Unfortunately, they can be difficult to clean. Seeds tend to get clumped at the bottom so if you choose this type of feeder, consider one that comes with a cleaner or get one that has a removable base.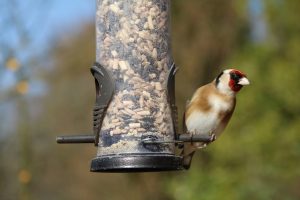 Mesh Feeders
These are typically made from metal mesh and can feed more birds at a time than most feeders. They are also one of my favorite types of feeders because they are easy to clean and have little wastage.
Rotating Port Finch Feeders
Also called an upside-down finch feeder, this type of feeder is designed with the feeding ports below the perches. Out in the wild, finches eat while hanging upside down and this is the most natural, least stressful position for them to feed.
What To Look For In A Finch Feeder?
Durability
When buying a feeder, consider one that will last and serve you the longest. I usually go for a combination of durability and least wastage because Nyjer can be quite costly. I would also recommend going for a powder-coated bird feeder with a wide lid and base because these tend to last longer and catch any seeds that drop down so you can put them back in the feeder.
Efficiency
Consider getting a feeder that is easy to clean and refill. More companies are now designing bird feeders that open at both ends to make work easier for you. When I first started, I had to bring out the screwdriver each time I wanted to clean my bird feeder which was time-consuming and very frustrating.
Size
If you live in an area with few finches, buy a small feeder. A bigger feeder means more feed and therefore more wastage if there are no birds to eat it. 
When In doubt, Go for Yellow
Finches love yellow, it could be how they attract each other going by the color of their feathers. However, there is no real way to prove this, all I know is I have more finches when I hang yellow feeders.
What Feed Should I Use?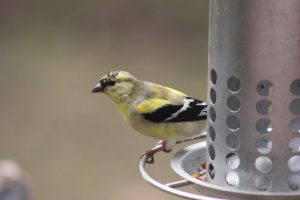 If you have already chosen the best finch feeder for your needs. The next step is choosing the bird feed. Typically, birds like to eat seeds. Finches love Sunflower seeds and Nyjer Seeds commonly referred to as thistle.
If you want to attract finches exclusively, I recommend using Nyjer seed.
Sunflower seeds attract a variety of birds so you may end up with bigger birds such as woodpeckers chasing away the smaller finches as they compete to feed.
Using sunflower seeds also encourages the larger birds to perch as they feed, which could break your feeder. If you choose to use sunflower seeds, ensure you get the variety with the husks already removed.
You can also mix your Nyjer seed with millet and flax to increase nutritional value and for variety. You can also find out more information on what finches like to eat online.
How Will I Attract The Finches?
Apart from using a bird feeder, you will also need to create a good habitat that is as close to their natural habitat as possible. You can easily achieve this by planting trees and shrubs where the finches can build their nests and perch after feeding.
I have always found planting fruit trees, tall thistles, and willows to be a winning combination in attracting these beautiful birds. Ensure the feeders have plenty of fresh seeds and you will always have finches in your backyard.
Can I Make A DIY Finch Feeder?
Why not? For the avid DIYer making bird feeders can be an interesting and rewarding project. You can purchase new parts for your DIY finch feeder or use recycled materials such as plastic bottles or an old jersey to make a sock feeder.
Depending on the type of seed you plan on using, ensure you make appropriate holes to prevent wastage. Check out this video to learn more about DIY Finch Feeders.
---
Wrapping Up
The Brome 1016 Squirrel Buster Finch Feeder is the clear winner here. It is one of the best finch feeders that provide an eco-friendly alternative to the diminished foraging opportunities for this beautiful species of birds.
One other great thing about Brome is it is highly efficient with its modern technology that prevents seeds from turning moldy giving the birds fresh feed for longer. And obviously, it keeps squirrels at bay!
Now, the Stokes Select Finch Feeder is great if you're on a budget because of its durability, ease of use, and minimal wastage. No matter which feeder you choose, remember to clean it often to keep the finches healthy.
Let me know which one you picked! Happy birdwatching! 🙂