The first time I shopped for a woodpecker feeder, I nearly went crazy trying to take a pick amongst the tons of specifications and styles to consider. 
But...
You don't have to go through any of that now that we have narrowed down the top choices for you.
You can now enjoy watching those crowned beauties tap away like they own the place as soon as you make up your mind which one is the best woodpecker feeder for you. 
Don't let me just influence your decision with my personal favorite, the Squirrel Buster Plus Squirrel-proof Bird Feeder by Brome - Keep reading so you'd find the most suitable for your outdoor setup. 😉
The 5 Best Woodpecker Feeders Reviewed
1. Brome Squirrel Buster Plus Bird Feeder - Best Overall
Brome Squirrel Buster Plus is exactly as its name suggests, making it the best option for a squirrel-proof woodpecker feeder. 
It comes with 6 feeding ports, a 5.1-pound seed capacity, and adjustable functions that make it easy to mount or dismantle without any tool assistance. 
What I love most about this product is how seriously it takes its job as a squirrel buster.
The moment a squirrel climbs onto the feeder, the seed port immediately forces shut, barring access to seed. 
Made of RoxResin, it's chew-proof and durable. Also, the feeder has an in-built seed ventilation system that keeps the food fresh and attractive to the wild birds for longer periods. 
Its adjustable spring mechanism allows you to regulate what kind of birds can hop on the feeder according to their sizes.
Despite its fluid mechanisms, it is quite easy to operate and maintain. All you need to do is prepare the feeding area and watch the Woodpeckers arrive in their droves. Rest assured that it will be protected from predators and larger birds.
Pros
Adjustable weight mechanisms that prevent unwanted birds from feeding

100% squirrel-proof 

Chew-proof, water-proof, and UV resistant outer materials

Easy to mount, dismantle, and operate

In-built seed ventilation system 

Easy to clean

Durable

Large seed capacity 
Cons
The seed ports are small and deep so it may take a while for the birds to warm up to it.
Takeaway
These feeders are specifically built to keep predators at bay and the Brome Squirrel Buster Plus Bird Feeder is the best option that will ensure your woodpeckers safe enough and keep them coming back. You can bet on its effectiveness, durability, and value for your bucks. 
FYI: Gain more inside tips and strategies to rid yourselves of squirrels by reading our article about bird feeder baffle.
---
2.
MEKKAPRO Suet Wild Bird Feeder
- Best Suet Feeder
Truth be told, Woodpeckers are one of the birds you hate to love. They are fascinating to watch but the incessant tapping can be annoying. 
However, if you feed Woodpeckers long enough, you will notice how much they love suet cake, and this is why the MekkaPro Suet Wild Bird Feeder is the best option for them.
Designed with metal and featuring two feeding compartments protected by rust-proof material, this bird feeder attracts wild birds, most especially Woodpeckers. 
The feeding compartments are built to provide a safe space for our feathered friends in any climate, from holding nesting materials in the spring to oranges for the summer. 
Its protective metal roof and rust-free enclosure make it all the more appealing to wild birds including Woodpeckers. If you ever needed a feeder that keeps the suet cakes fresh, the birds coming, and your backyard attractive, this is should be your choice. 
Pros
Built to withstand all weather conditions

Provides easy storage for suet cake, nesting materials, and so on

Easy to set up
Cons
The holes can only fit in really small birds

Hard to fill and operate
Takeaway
A Woodpecker Feeder Review is incomplete without the MekkaPro Suet Wild Bird Feeder. If you don't mind the fact that their bigger counterparts will never be able to make their way through, this is the best option for storing suet and keeping it crisp for the Woodpeckers. 
---
3.
Hanizi Panorama Bird Feeder
- Best Budget Buy
If you are in the market for a good Woodpecker feeder but trying to work on a tight budget, Hanizi Panorama Bird Feeder is the one for you. 
The pretty gazebo-style of this feeder design is what gets you first, built to provide shade for the birds while they dine. 
More interesting is the fact that unlike some products, its durability is not compromised by its aesthetic looks. 
Made with heavy-duty plastic and finished with a nice tray at the bottom, this woodpecker bird feeder is open for feeding on all angles yet is sturdy enough to hold a decent amount of small birds without tilting or falling. 
It is also large enough to hold at least 2.6 lbs worth of seed, making sure you don't refill often, with drainage holes at the bottom to keep the seeds nice and fresh for prolonged periods. 
I especially love how it doubles as an outdoor decorative piece, whether you choose to hang it in your backyard or on your front porch. 
It is such a beautiful and satisfying experience to look out your window or sit on your porch and view the woodpeckers in their numbers and colors, convening around the feeder tray ever so elegantly. 
Always a photo-worthy moment with the Hanizi Panorama Bird Feeder and at such a steal price too! 
Pros 
Cost-effective 

Aesthetically-styled

Sturdy plastic material 

The feeding area is open and easy to access by the woodpeckers

Provides shade from wind and rain for the birds

Reliable seed protection system 

Large seed capacity 

Easy to clean and fill
Cons
Requires constant cleaning 

Lightweight  
Takeaway
The Hanizi Panorama Bird Feeder is remarkably efficient, making it the best woodpecker feeder for a lean budget, aside from its aesthetic design and easy-clean feature. 
---
4.
Brome Squirrel Solution200
 - Best For Sunflower Seeds
Made by the same manufacturers as our best overall product, Brome, this bird feeder is the ideal choice for filling black oil sunflower seeds, a favorite for woodpeckers. 
True to its word, the Squirrel Solution200 provides 100% protection from squirrels and can be hung easily anywhere in your backyard. 
However, you need to allow for at least 18 inches or 47cm of clearance around the feeder when mounting. This is because its squirrel-proof feature is only activated when the weight of a squirrel gets on the feeder. 
That way,  the 18-inch/47cm allowance gives the squirrel no other option but to hop on the feeder to access the seed, which will of-course trigger the closing mechanism that prevents it from getting it. 
This woodpecker feeder also comes with a free seed funnel that allows you to fill in the seeds easily as well as store extra seeds.
Like the Squirrel Buster Plus Squirrel-Proof Bird Feeder, this product is designed with chew-proof outer material, is sturdy, and requires no tools for mounting or dismantling. However, unlike our top choice woodpecker feeder, it is non-adjustable.
Pros 
100% squirrel proof

Chew-proof, water-proof, and UV resistant outer materials

Easy to operate and maintain

Comes with a free seed funnel 

Sturdy 

Large seed capacity 

In-built seed ventilation system 
Cons
The hanging cable is not sturdy enough and can get torn by mischievous animals trying to break in

Makes a rattling sound that can be unsettling

Seed ports are small and deep and the birds don't warm up to it easily enough
Takeaway
Although this is the most recommended Woodpecker feeder choice for filling black oil sunflower seeds, don't forget that it can also cater to other nut and seed types.
---
5.
Twinkle Star Wild Bird Feeder
- Best Portable
Twinkle Star Wild Bird Feeder is one of the cutest options you will ever find in the hunt for Woodpecker feeders. 
Like the Hanizi Panorama Bird Feeder, Twinkle Star is shaped like a gazebo, but in bronze and with an elegant hexagon tray at its bottom. 
It makes for the perfect gift to an amateur bird-watcher because it is easy to use and has the most basic functions. 
Although this means that it does not have any distinctive features asides the aesthetics, there's something about it that still draws our feathered friends in their numbers. Overall, it makes for a simple, portable, and decent buying option at a considerable price for a Woodpecker feeder. 
Pros
Classy and attractive design 

Easy to set up and use

Large seed capacity

Provides shade for the birds against wind and rain.
Cons
Lightweight; cannot withstand pressure 

Requires constant cleaning 

The base does not hold enough room for birds. Suited for really small birds and only a few at a time.
Takeaway
Twinkle (Twinkle little) Star :), is one of the cutest you'll see in the market today. More so, it is attractive to the smaller woodpeckers, enough to fit them onto the tray without any fuss. 
---

How To Attract WoodPeckers To Your Backyard 
After going through a review of some of the best woodpecker feeders, you may be wondering if that's enough to bring these perky guys to your yard. Well, here are some great "attraction" tips that will prove helpful on your bird-watching adventure. 
Food
Woodpeckers love acorns, black oil sunflower seeds, pine seeds, berries, peanuts, sap, and suet. If you are not buying a designated suet feeder, fill your regular feed woodpeckers with the other nuts, seeds, and berries. 
You may find this youtube guide helpful, especially since it focuses on attracting Woodpeckers using their favorite brand of nuts, peanuts.
Create The Right Shelter
There is no shelter as secure as a wooded area to our feathered friends. Consider planting trees like oak and pine in close proximity and they will feel more comfortable hanging around. Also, you may want to leave dead trees around as these are the ideal nesting areas for them,
Birdbaths
Note that you are dealing with shy creatures, so it is best to place the birdbaths in secluded spots. All you need to do is fill a shallow basin with water and place it in sheltered corners around your yard where they can feel safe enough to dip in or drink from.
Remember: Getting Woodpeckers to flock around your yard often requires patience and some bit of homework. 
After buying your feeders, go back to this guide and it can give you additional tips for a good headstart and in due time, you will be welcoming different species of woodpeckers into your yard.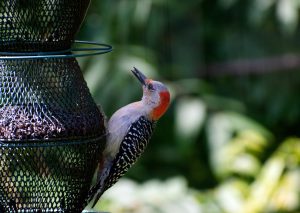 Conclusion 
Whether you are an aspiring or an avid Woodpecker-watcher, getting the right bird feeders for this species is essential. 
Like I mentioned as we kickstarted this review, Brome's Squirrel Buster Plus Squirrel-Proof Bird Feeder is my personal favorite. 
It must have made it to the top of my list for some good reasons, yeah? It is my Best Overall Woodpecker Feeder because it is powered by a fluid operational system while providing failproof protection to our avian friends. 
Also, its outer layers are made with the highly-durable RoxResin material that is chew-proof, water-proof, and UV resistant. All of these ensure that your feeder maintains its fresh look, come rain, shine, or squirrels. 😉
Do we have the same choice?