When squirrels dominate your backyard, bird feeding will turn into a cat & mouse chase.
Because...
These animals eat bird seeds, eggs, hatchlings, and components of your bird feeder. 
To stop them before they force you to abandon bird feeding altogether, install a squirrel baffle on your birdfeeder. There are some types of bird feeders that are not compatible with adding a baffle, but there are a lot more types that are.
The Perky-Pet Metal Bird Feeder Pole Guard is our best overall baffle because it will frustrate squirrels so much that they will wait for bird seeds on the ground below the feeder.
Product
Details

1. Perky-Pet Metal Pole Baffler

Great Features

Versatile
Attracts Birds
Metal Clamp
Fits Diff. Sized Poles
Chew Proof
Sturdy Design

Check Price On Amazon

2. Audubon Wrap-Around Baffle

Renowned Brand

Powder Coated
Comes W/ Coupler
Chew Proof
Weather Resistant

Check Price On Amazon

3. Squirrel-X Wraparound Baffle

Bang For Buck

Alloy Steel
Comes W/ Coupler
Multipurpose
18" Diameter

Check Price On Amazon

4. Achla Squirrel Deflector

Slides-Off Squirrels

Powder Coated
Easy Installation
Comes With Clamp
Bolts Are Short

Check Price On Amazon

5. North States Two-Way Baffle

Unique Design

Easy Cleanup
Chew Resistant
15.75" Diameter
Breaks On Impact

Check Price On Amazon
Best Squirrel Baffles For 2023 Reviewed
Investing in a functional baffle will eliminate the domineering squirrels from your feeder so that small birds can enjoy their daily rations peacefully, and you can sit back and enjoy bird watching like before. 
Sounds great, right?
Finding the perfect bird feeder baffle sounds daunting, with so many products in the market promising to squirrel-proof your feeder. You might have thought about a homemade pole guard too, but you weren't sure it would work.
In this article, I narrow down your search to five pole baffles that function efficiently and cost-effectively.
Let's get started!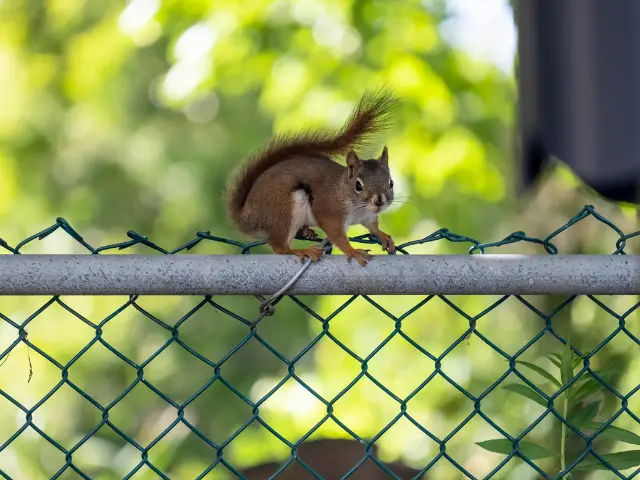 1. Perky-Pet Metal Pole Baffler – Best Overall
If you're looking for ways to thwart squirrels from the ground, this Perky-Pet pole guard will prevent them from reaching the bird feeder, and its success rate makes it our best overall. It will serve you for a long time as it's metallic, a material that is durable and rust-resistant.
This pole guard has a green color that blends with your backyard; it won't draw too much of your attention away from the birds. 
It will be a great addition under a birdhouse or hanging bird feeders with a green roof if you're keen on aesthetics.
It accommodates different pole sizes, up to one and 5/8 inches in diameter, without adding too much weight to the pole. There are four screws to clamp it to the feeder pole firmly, and squirrels cannot pull it down or go over it. 
This pole guard's metal frame is chew-resistant, so it's cost-effective because squirrels cannot destroy it as these animals love to chew their way to the bird feeder.
Pros
Metallic clamp

Study design

Squirrel-proof

Durable
Cons
Suitable for poles over six feet long

Too small in diameter to fit in a shepherd's hook
Takeaway
It's so squirrel proof that these animals will have to wait for fallen seeds on the ground or for you to have mercy on them and place a separate feeder. Its sturdy frame withstands any maneuvers squirrels make, and it's so entertaining to watch them get crafty.
---
2. Audubon Wrap Around Squirrel Baffle – Best Choice For Bird Lovers
The Audubon Wrap-Around 18-inch baffle is the best choice for bird watchers because it's easy to install, as you don't have to remove the bird feeder to mount it around the feeder pole. 
Its textured powder-coated steel frame makes it long-lasting and resistant to rust.
You've probably heard squirrels chew even wires, but you'll not have a problem with this steel wrap-around squirrel baffle on your pole because they can't chew it. 
It comes with a black coupler to attach around a feeder pole or shepherd hook that is half an inch to one and 3/8 inches in diameter, and this coupler holds your baffle in place at the height you want on a square or round pole.
When you move the two metallic pieces inward, they snap together at the seam with no space that can trap a small bird's feet if it perches on it. The tight grip from the coupler prevents the baffle from sliding down when a squirrel lands on it.
Additionally, Woodlink is a renowned brand licensed by the National Audubon Society, so its baffle fits the expert's specifications.
Pros
Easy to mount

Weather-resistant

Coupler inclusive
Cons
Installs on a pole under 2 inches

Stops small squirrels only
Takeaway
The Audubon Wrap Around offers the liberty to choose the height to fix the baffle using a coupler. This coupler fits both square and circular poles, and the 18-inch diameter this baffle covers ensures a squirrel cannot reach under it without falling off.
---
3. Squirrel-X Metal Wraparound – Best Value Option
You've already spent so much money feeding both squirrels and birds, so you must be looking for a pole guard that gives you value for your money.
The Squirrel-X Wraparound contains alloy steel which is a long-lasting material, so you'll control the squirrel menace for a long time. You can attach it to a feeder pole or a shepherd's hook, and it's sturdy against any attacks from squirrels. 
It comes with a coupler that forms the base on which the guard sits at the height you want on the pole.
With its 18-inch diameter, this baffle fits on poles with a diameter of between half to one and a half inches, which means it accommodates several pole sizes. It's weather-resistant, thanks to its steel finish, and if birds perch and poop on it, it is easy to clean.
Pros
Compatible with poles between 0.5 and 1.25 inches in diameter

Steel construction

Fixed above or below a feeder
Cons
The label does not peel off easily.
Takeaway
The fact that you can install it on a feeder pole or a shepherd's hook makes it so versatile for any bird lover. Its design is appealing, and its elegant steel finish makes it easy to clean. Additionally, this baffle has a wide diameter to fit around different poles.
---
4. Achla Squirrel Deflector – Best Simple Design
Just as its name suggests, Achla Squirrel Deflector deflects squirrels by sliding them off the pole when you install it above the feeder. Its edge slopes so sharply that if a squirrel approaches from below, it cannot hang on.
You'll also get an adjustable post clamp that you attach to the pole at the height you would like to install this deflector, giving you room to use it on feeder poles of different lengths. It's easy to use as this deflector opens and snaps around a 4x4 feeder pole, about four feet from the ground. 
Additionally, it has a powder-coated finish to withstand weather changes and frequent attacks from squirrels.
Pros
Powder-coated finish

Easy to install

Suited to 4x4 posts

Mountable on a galvanized pipe
Cons
Takeaway
You'll take a short time installing this pole guard because you snap the two pieces together. Further, the powder-coated finish makes it long-lasting and prevents damage from weather elements. 
If you have concerns about getting a guard suitable for your feeder pole, this one has the ready dimensions for a 4x4 feeder pole, so we can say it's ready for installation.
---
5. The North States Two-Way Baffle – Best Budget Buy
This North States brand hangs above your bird feeder to keep squirrels off bird seeds, and it suits bird feeders mounted on a pole or hanging bird feeders. 
Its smooth, curved surface slides squirrels off as they have nowhere to hold.
It has a diameter of 15.75 inches, which covers the bird feeder sufficiently such that squirrels fall off instead of going under it to reach the feeding port. 
You can mount it on a pole with a diameter between half an inch and one and ¼ inches, and it comes with a pole mount flange and screws, so there's no need to look for some.
The resin and plastic material withstands weather changes, and if your neighborhood has a chipmunks problem, you'll handle two issues with one baffle.
Pros
Chew resistant

Appealing design and color

Budget-friendly

Easy to clean
Cons
Takeaway
You can mount it in two ways: attach it to a shepherd's hook and mount the bird feeder under it or mount it through a pole under the bird feeder. 
When mounted above a bird feeder, it functions superbly because it has a large surface that keeps squirrels off the bird feeder and prevents raindrops from reaching the food.
---
How Does A Squirrel Baffle Work?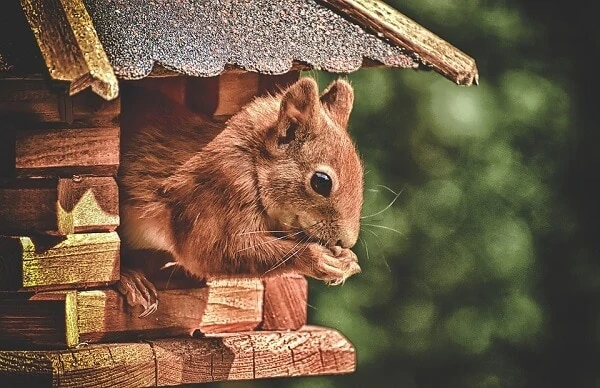 When a squirrel spots the food in your bird feeder, it launches itself from a tree next to the feeder pole or the ground under the bird feeder. When you install a baffle, it keeps a squirrel out of your bird feeder; either from above or below it.
If you have a dome-shaped guard over your feeder or a wrap around a feeder pole, its smooth surface makes a squirrel slide off as it tries to hold onto the feeder pole or the roof of the bird feeder. For the torpedo guard, its tunnel is impassible, and a squirrel cannot navigate over it.
Types Of Baffles In The Market
Though you'll come across many of the best squirrel baffles, they all fall into three groups based on their design.
Wrap Around
You attach it to the feeder pole, under the bird feeder, such that it stops a squirrel from sneaking up on the food from the ground. 
The wider the cone, the harder it is for a squirrel to maneuver.
A wrap-around baffle is either plastic or metallic, and it comes in a cone shape with a hole at the center where it wraps around the feeder pole.
A Dome
It resembles a bowl, and you hang it above or under the bird feeder. 
When it's above a bird feeder, like an umbrella, if a squirrel lands on it, it slides off the baffle and falls to the ground.
A glass dome is appealing, and it does not interrupt your view of the feeder. It also protects the bird feeder's contents from harsh weather conditions.
Torpedo
This cylinder-style baffle slides through a feeder pole to form a tunnel with an open bottom. 
It's loose on the feeder pole to unsteady squirrels, and a squirrel cannot fit through the tunnel.
This bird feeder squirrel guard suits a backyard without trees or rooftops from where squirrels can leap to reach the feeder because it only stops attacks from the ground.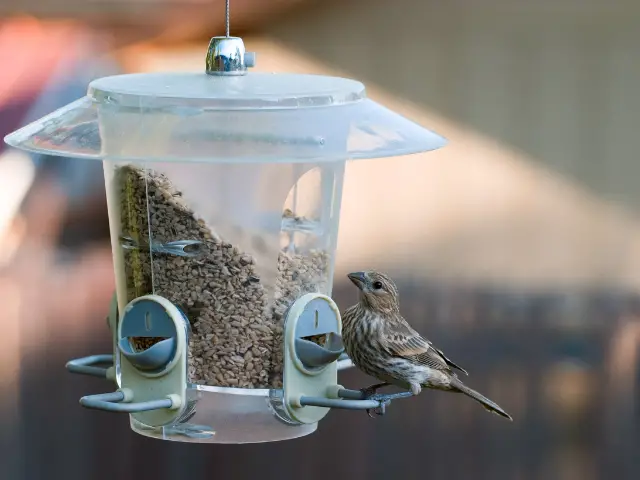 Homemade Squirrel Baffle Ideas
A DIY baffle is also an option for birding enthusiasts who like custom-made solutions. If you're such a bird lover, here are a few ideas to implement.
Stovepipe Torpedo Baffle  
For this project, you'll need a 24-inch stovepipe with a six-inch diameter, an end cap, sheet metal screws, and a hose clamp. The procedure will take you a short time as the most tasking step is drilling a hole in the end cap.
Plastic Bowl Squirrel Guard
Select a plastic bowl that is larger than the diameter of your bird feeder. You'll design it like a glass-dome baffle that sits over the bird feeder or under it through the feeder pole. 
However, since plastic is not durable when exposed to various weather conditions, you can use a stainless steel mixing bowl though this one will require more skill to drill it.
With some DIY projects, you might have to modify your baffle after installing it. First, watch how squirrels react to it and their maneuvers, then adjust your homemade squirrel baffle.
A Plastic Bottle Baffle
If the projects above sound like they'll take some time to build, you can also try a simple DIY squirrel baffle that uses supplies you already have in your home, such as a plastic bottle.
You'll cut the bottom of the plastic bottle to form a cylindrical baffle then pass it through the feeder pole. The smooth surface of the bottle will slide squirrels off the feeder pole.
A Plastic Tray Baffle
Cut a square hole at the center of a 24x24-inch tray and glide it upside down through your 2x2 post. Leave a considerable distance from the tray to the bird feeder, so the tray has to be below the bird feeder. Next, support it from the top of the post with a fishing line on all four corners.
Are you up to the challenge?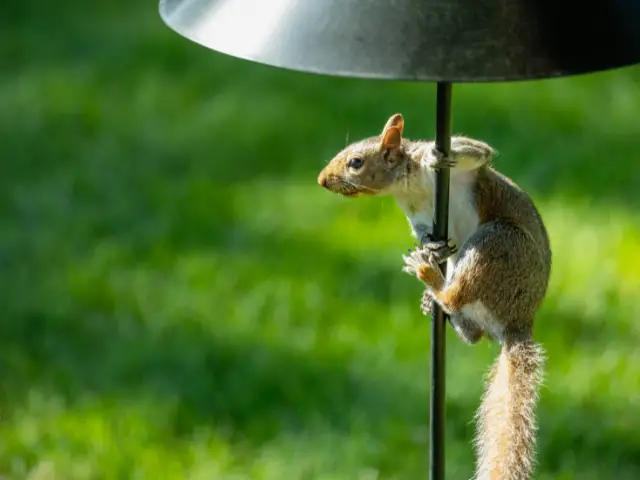 How To Choose The Best Baffle
Since you want to get rid of the squirrels in your backyard to save on seeds, buying a guard that stops squirrels forever will save you more money. 
For that reason, you cannot overlook factors such as...
The Material
Your pole guard will stay outdoors from the moment you unwrap it, so it ought to be a material that resists all weather situations in your area. 
The two most popular materials for feeder guards are plastic and metal. Torpedo designs come in metal, but dome-shaped guards can be plastic or metallic. 
The metal should be rust-resistant, and if you opt for plastic guards, they should not break easily. Further, find a guard that squirrels can't chew because these animals chew wire, plastic, and other materials. 
Plastic has aesthetic value, and it does not block your view of the bird feeder.
Size
The size of your feeder and your bird feeder pole determines the size of a pole guard to buy. For example, if you have a large birdhouse and you need a wrap-around guard, its diameter around the feeder pole should prevent squirrels from bending to reach the birdhouse.
Installation Method
As we've discussed various guard designs in the section above, you know that some baffle designs wrap around the pole while others are mountable above the feeder. 
The best control for squirrels that attack from the ground is the torpedo or wrap-around design.
This design has more installation steps than a dome baffle that you hang over the bird feeder. You must measure the distance from the ground to the point you will install a torpedo baffle and then fit the clamp at that height. 
You might have to pull the bird feeder pole from the ground to slide the guard through it, then plant it back. Think about all of these steps.
Frequently Asked Questions
How High Should I Attach A Baffle?
Install it at least four feet high on the bird feeder pole. Additionally, check the horizontal distance between your bird feeder and the bird feeder pole, or the trees adjacent to the feeder pole, because a squirrel can leap from about 10 feet.
Do Squirrels Climb PVC Pipes?
No, these pipes are smooth, so squirrels slide off them. Therefore, install a PVC pipe as a bird feeder pole but place it about 10 feet away from a launching pad like a tree or wall because squirrels can jump very high.
You can squirrel proof your existing pole by wrapping it in a plastic tube so that it rotates and slides a squirrel off the feeder pole.
How Else Can I Stop Squirrels?
You can feed them in a separate feeder on the ground and serve them foods they like, or buy a bird feeder that is squirrel-proof with feeding ports that serve small birds only. 
Additionally, you can invest in a PVC pipe as a bird feeder pole because it's so smooth that squirrels slide off. 
Another solution to your squirrel problem is placing your feeders away from trees so that squirrels cannot leap onto the bird feeder.
Conclusion
The Perky-Pet Metal Pole is the best baffle for its non-negotiable protection below the bird feeder. It cuts off squirrels completely, unlike the Audubon Wrap-Around that some squirrels can maneuver. 
We are talking about long-term control of the squirrel problem because the Perky-Pet's metal construction is durable, unlike the North States Two-way made of plastic.
Nonetheless, if you're on a shoestring budget, the North States Two-Way guarantees to keep squirrels and chipmunks away from your feeder, and it's mountable on a shepherd's hook or above a bird feeder directly.