You're searching for binoculars with features that suit your hobbies, but you have a tight budget. 
True?
Therefore, as you search for the best binoculars under $200, consider looking at a few brands that are not on your list because they may have the features you need within your budget.
After looking through many binoculars for the stated price range, our best overall is the Vortex Optics Diamondback for its large field of view that is useful when birding, hiking, or hunting.
Product
Details

1. Vortex Optics Diamondback

Impressive Features

Excellent FOV
Diopter Control
Extra Dirt Protection
Armotek Lens Coating
Fully Multi-Coated

Check Current Price

2. Vortex Optics Crossfire

Nitrogen Purging

Adjustable Eyecups
High Magnification
Center Focus
Non-Slip Grip

Check Current Price

3. Celestron Nature DX

Zero Light Loss

Large FOV
Phase Coated Prisms
18mm Eye Relief
6.5' Close Focus

Check Current Price

4. Bushnell Trophy Roof Binoculars

Comfort To The Eyes

Camouflaging
Center Focus Wheel
Low Light Vision
Covers Can Be Loose

Check Current Price

5. Bushnell Roof Prism Binoculars

Price Beater

Easy-Adjust Focus
Durable
Fog Proof
Hard Eyepiece Collars

Check Current Price
5 Top of the Best Binoculars Under $200 Reviewed
In this section, we look at the features of five top binoculars that cost under $200. The binocular models in this review belong to brands renowned for their optics, which shows there are quality binoculars even at such a low price. 
Another observation I made is that this list of the best binoculars under $200 offer different magnification strengths of over 8x, and their objective lens sizes range from 25mm to 50mm. For that reason, there's more to evaluating binoculars than just looking at the magnification power and the size of front lenses.
Let's find out what these binoculars offer:
1. Vortex Optics Diamondback - Best Overall
We ranked the Vortex Optics Diamondback as our best overall because it has an 8x magnification power and 32mm front lenses, which is like the standard specifications to cover a large area at once and give good image quality. 
Since they are waterproof, you can use them for many outdoor activities like bird watching, game viewing, and hiking. 
These binoculars have fully multi-coated lenses to eliminate light loss during transmission from the front lens to the eyepiece.
Further, the image you see is also sharp because of the dielectric coating on the lenses, and the outer lenses have an Armortek coating to protect these sensitive surfaces from scratches and dirt. 
They have a commendable field of view of 426 feet per 1,000 yards, which gives you expansive coverage when bird watching or hiking. 
They are also lightweight, weighing 0.99 pounds, something you'll appreciate when trekking for many hours. Another feature you'll enjoy is the diopter control on the right eyepiece, which adjusts your view if there are differences in your eyes. 
Oh, and not to forget, this is one of the most compact binoculars that not only fit in your pocket but also fits your budget!
Pros
Excellent field of view

Extra dirt protection

Lightweight
Cons
Takeaway
If the temptation to get binoculars with a high magnification power and large lenses is too much, start with this compact and efficient 8x32mm, and later you can move to 10x magnification or higher if you deem it necessary. 
It has a large field of view, excellent color fidelity, and resolution, and you can mount it on a tripod.
CHECK CURRENT PRICE
---
2. Vortex Optics Crossfire - Best Value Option
Vortex Optics Crossfire's 12x magnification makes it one of the best hunting binoculars under $200 because it takes you closer to scenery your naked eyes cannot reach. 
Additionally, the glass surfaces of these binoculars are fully multi-coated for exceptional light transmission, and they contain roof prisms giving them a sleek, elongated shape that fits in your hands.
They have both center focus and diopter control for you to align your focus, and the adjustable eyecups give you control over the distance between the eyepiece and your eyes.
If you can't go outdoors but still love to watch birds, these binoculars are tripod adaptable to mount them on any flat surface indoors.
To suit your outdoor adventures, they are waterproof, they have a non-slip grip, and the rubber armor protects the fragile components when the binoculars fall. 
Another feature bound to boost your adventures is the harness because it secures these binoculars front and center, so your hands can rest. 
Lastly, the 50mm objective lenses enhance brightness in low light settings like bird watching at dawn or dusk.
Pros
High magnification 

Adjustable eyecups

Fully multi-coated lenses

Nitrogen purging

Tripod adaptable
Cons
Elongated shape

Sensitive focus
Takeaway
They have a solid build and exceptional optics that promise clarity whether you are watching birds at dawn or hunting about an hour before sunset. 
The magnification power lets you make out birds and wildlife that are many yards away from you, and while exploring, you have a harness to carry these binoculars instead of holding a weight of about 1.85 pounds in your hands.
---
3. Celestron Nature DX - Best Outdoor Option
This Celestron model is our best outdoor option because it has quality optics that you'll need for various activities like bird watching and hunting. So, whether you just began birding or you've done it for a few years, go for the best birding binoculars — needless to say, just like this one!
These binoculars have phase-coated BAK-4 prisms for high resolution, contrast, and zero light loss to give you images in their original color. You can use them in your backyard to see birds and butterflies because they have a close focus distance of 6.5 feet. 
Further, you can also carry them on hunting expeditions to enjoy a field of view of 388 feet per 1,000 yards, and you'll see all the action at close range because of their 42mm front lenses.
These 8x42mm binoculars are waterproof, and when you're in humid destinations, nitrogen purging keeps fog out of your lenses.
They are also considerate of eyeglass wearers offering an eye relief of 18mm, and their weight is 1.75 pounds only, so you'll not feel it in your backpack.
Pros

Lightweight

Large field of view

6.5 feet close focus distance

18mm eye relief

Phase-coated prisms
Cons
Not for use in very humid conditions
Takeaway
This model is one of the best hunting binoculars under $200 because it has an 8x magnification power, and its field of view is 388 feet, which means you'll cover a large area at once. 
On the other hand, if you prefer close-ups of animals and birds, its close focus distance of 6.5 feet will refine such details for you.
---
4. Bushnell Trophy Roof Binoculars -  Best Hunting Option
The Bushnell Trophy Roof Binoculars have roof prisms, but this does not compromise image quality since Bushnell's engineering ensures they have sharp resolution and contrast using fully multi-coated glass surfaces. 
They come with a harness, which makes them an ideal choice on hunting expeditions because you need your hands free most of the time to aim at your prey.
Their green color is another reason they are the best for hunting because of their camo style when you're sneaking up on prey. 
Further, being that this is fog-proof, the O-ring seal prevents moisture from reaching the lenses when you're hunting in foggy or wet destinations. They'll not burden you with additional luggage as they weigh about 1.56 pounds only, which also gives them a compact size to fit in your hunting backpack.
You'll also notice the center focus wheel, which enables fast focus when you're out hunting, and they have 15.2mm eye relief which is about the average length needed between your eyes and the eyepiece if you wear glasses or not. 
Additionally, these 8x42mm binoculars have textured armor for an excellent grip.
Pros
High image quality

Waterproof

Low light vision

Rubber armor
Cons
End caps covers appear loose.
Takeaway
A hunting adventure with these 8x42mm hunting binoculars makes it more enjoyable than searching in the woods for prey with your naked eye. You can also use them to look at birds in your backyard. 
Their eye relief is comfortable, and they are not heavy, so your hands and eyes are taken care of by this model.
---
5. Bushnell Roof Prism Binoculars - Best Budget Option
Bushnell gives you this budget-friendly model equipped with optics similar in quality to the ones in its other pricier binoculars is this hunting binoculars. 
This model has BAK-4 prisms and multi-coated optics for high-definition clarity through 42mm lenses.
This pair of binocs have 8x magnification power, which suits various outdoor activities, from hiking to bird watching. Additionally, their close focus distance is 12 feet, so you can use them for picture clarity when viewing birds and plants around the backyard, given that it has multi-coated optics.
One feature you'll appreciate if you're always outdoors is the fact that these binoculars are water and fog-proof. They also have non-slip armor for those unexpected falls on hard surfaces. 
Another feature worth mentioning is the 17mm eye relief, which allows you to use these binoculars when you have glasses.
Pros
Water and fog-proof

Durable

Easy to focus

Bright and sharp images
Cons
Hard eyepiece collars

Multi-coated lens
Takeaway
These inexpensive binoculars have sharp and bright images, and it's easy to adjust their focus. Since they are waterproof, you can use them when hunting or hiking. 
They have a long eye relief when you use them with or without glasses, and their wide field of view lets you catch birds in motion.
---
How To Choose The Best Binoculars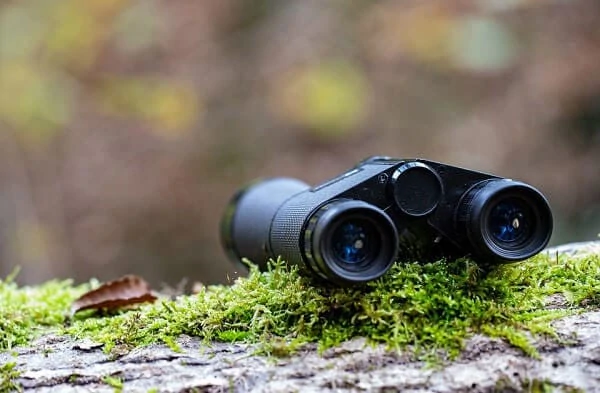 Before you go shopping, list down a few must-haves to carefully pick the one best suited for your needs and get the best bang for your buck with choices even for the best binoculars under $100.
Here's your must-do checklist:
Pick A Magnification
The magnification you choose depends on your hobby and where you'll use the binoculars. 
For example, if you're going hunting, you'll need at least 8x magnification, which means the binoculars will magnify distant subjects up to 8 times more than what you see with your eyes. So before going for a hunting trip, hunt for your best-hunting binoculars under $200, first and foremost! 
Lower magnification is advantageous because the image you see is steadier. As the magnification increases, you have a narrower field of view, and the picture might be darker in low light.
Eye Relief Matters
When using binoculars with glasses, the distance from the eyepiece to the eyes might be uncomfortably large. 
That's why, it is to your advantage that you choose binoculars that have adjustable eyecups that tilt into place for eyeglass wearers, and the non-glass wearers can twist them away. 
With an eye relief of 15 to 20mm, the image quality doesn't change when you have glasses or not, and this eye relief also protects your eyes from straining.
Consider Your Hobbies
When comparing the best compact binoculars under $200, consider each outdoor setting because each destination presents its challenges. 
One classic example is, when hiking, you'll need binoculars that withstand extreme weather conditions, and when viewing birds from a safari van, you'll be less worried about a downpour. 
Must-have features and accessories for hiking and hunting binoculars include rubber armor, non-slip grip, a neck strap or harness, and water resistance.
Center Focus Is A Priority
The individual focus for each eyepiece will take your time, and you'll miss important moments as you hunt or view birds. 
To get the best 10x42 binoculars under $200, choose the ones with a center focus wheel, and adjust them to suit your eyes.
Check The Weight
Weight is an essential factor when comparing binoculars because outdoors, you have so much to carry in your backpack, so you want to carry the lightest of everything. 
Having several pounds of weight strapped around your neck can make your outdoor adventure unattainable altogether.
Bright Images Rock!
The brightness of the subject on your eyepiece depends on the amount of light flowing through the objective lens. 
Choose binoculars with a large objective lens, such as 42mm or 50mm, for brighter images, and compare how different lenses perform under low light settings like in the evening and during early morning excursions.
Light loss occurs on the glass surfaces in the binoculars, so you should be concerned about the prisms and coatings on the glass surfaces in the binoculars, as I have explained below.
Prisms & Lens Coatings Matter
You'll come across two types of prisms - Porro prism and roof prisms, and their difference lies in the light path inside the lens and the shape of the binoculars that result. 
In Porro prism, the light from the objective lens to the eyepiece forms a Zigzag path, but roof prism binoculars have the light transmitted in a straight direction, thereby losing contrast and clarity. 
Roof prisms are more expensive because manufacturers have to take extra care to improve contrast and clarity lost during the transmission of light from the front lens to the eyepiece.
In both types of prisms, lens coatings prevent further loss of light, and you'll spot binoculars with fully-coated lenses, multi-coated lenses, and others with fully multi-coated lenses. 
The Field of View (FOV)
FOV decreases as the magnification increases, but this sometimes varies even in binoculars of the same magnification range. That is because different brands have different engineering styles and designs. 
The FOV narrows or widens the scope your binoculars can show you every 1,000 yards from you, and it's in feet per 1,000 yards or degrees.
Frequently Asked Questions
What Size Of Objective Lens Should I Choose?
To get more light in the binoculars, for sharp, clear images, go for objective lenses between 30 and 42mm. 
You'll notice that binoculars with an objective lens of under 30mm are lightweight, so when you buy the ones that are over 30mm, they are on the heavier side. 
What Is The Exit Pupil And Why Does It Matter?
It refers to the width of light beams seen on the eyepiece, and you get this measurement by dividing the value of the objective lens by the magnification value. 
For example, 8x42mm binoculars have an exit pupil of 5.25mm. 
This exit pupil controls the brightness of the image, so the larger it is, the brighter your view is under low light settings. For clear pictures, your exit pupil should be about 3mm.
How Do I Use The Diopter System?
The diopter control aligns the focus to your eyes, and once you set it after buying your binoculars, you'll only change it if the diopter moves accidentally. 
To set your diopter, cover the right lens, use the center focus knob to focus on a distant object, and then remove the cover from the right lens and cover the left one. 
Without moving from where you stand, adjust the object's clarity using the diopter knob to suit your right eye.
What Does Close Focus Mean?
This refers to your view of objects at close range, often under 10 feet from you, without losing focus. You'd need this feature in the best binoculars for birding and watching butterflies in your backyard.
Must I Buy A Tripod For My Binoculars?
No, but there are instances when you'd need to mount your binoculars on a tripod, such as when using them for a long time every day or if your binoculars are heavy. 
You'd also consider getting a tripod for bird watching from your home, where you mount the binoculars next to a window and watch bird activity anytime. In all such instances, go for a pair of binoculars with a tripod adapter.
Conclusion
The Vortex Optics Diamondback is our best overall for its combination of above-average magnification power and its excellent field of view of 426 feet, which means you'll see a wide area without losing much of the detail. 
Further, the Vortex Optics model mentioned above is great for low-light vision, so for evenings and early mornings, you'll still have bright images. It's also lighter than the Bushnell Waterproof Binoculars and the Celestron Nature DX.
However, if you're on a tight budget, the Bushnell Waterproof Binoculars have quality optics at a low price, and their 8x magnification and 42mm front lenses give you bright, clear images.