Do you prefer birding on your deck or in the woods?
In the woods, you'll probably use binoculars with high magnification power, a weatherproof frame, simple focus adjustments… So much to think about here.
But, even when watching birds in your backyard feeder, you also need quality binoculars.
Therefore...
We've summed up reviews of the best binoculars for birding to give you a comprehensive list of the ones to prioritize. We start with the Celestron Nature DX, a pair that stood out in our review for reasons we've explained below.
Product
Details

1. Celestron Nature DX

Noobs To Pros

Top Quality Image
Impressive FOV
High Quality Optics
Nitrogen Purging
No Light Loss

Check Current Price

2. SkyGenius 8x21

No Lost Details

Easy Focus
Lightweight
Slim Frame
Great Light Transmission

Check Current Price

3. Gosky Roof Prism Binoculars

Advanced Features

SmartPhone Adaptable
Voice Command
Durable Frame
Needs Proper Focus

Check Current Price

4. SkyGenius 10x50

Great Precision

Adjustable Eyecups
Low Light Vision
Tripod Adaptable
Bulky

Check Current Price

5. Nikon Aculon

Renowned Brand

Adjustable Zoom
Rubber Armor
High Magnification
Low Eye Relief

Check Current Price
7 Best Binoculars For Birding: In-Depth Reviews
1. Celestron Nature DX - Best Overall
If you're wondering why we ranked the Celestron Nature DX as the best overall, this model is for everyone, from beginners to seasoned birders. It's not a complicated pair with sophisticated focus adjustments; it has 8x magnification, the standard you'd want to use when birding.
The image color is top quality, enabled by phase-coated BAK-4 prisms, such that what you see through the eyepiece is the real thing. These lenses prevent light loss from the frontal lens to the eyepiece.
Do you like birding in your backyard or an open park? These binoculars serve both locations; you have 6.5 feet close focus distance and 388 ft field of view. If you go outdoors looking for birds on a wet day, your lenses are safe in a waterproof frame.
Further, nitrogen purging protects the lens in humid conditions. Nonetheless, they aren't for use in extremely wet conditions.
Aside from this 8x42 model, there are other Nature DX models to select. If you'd like a higher magnification, there's a 10x32, 10x42, and 12x56 model. On the other hand, if you'd like to stick to the 8x magnification but increase the lens size, there's an 8x56 model.
The downside of this Celestron model is its price. However, you'd better pay more but enjoy professional-quality optics.
Pros
Excellent field of view

For use in close distance and open areas

Many models from the same brand

High-quality optics
Cons
Takeaway
It's not the most sturdy in the market, but it can serve you for a long time when you take good care of it.
---
2. SkyGenius 8x21 - Best Compact Option
The SkyGenius 8x21 binoculars are lightweight and compact, the perfect combination for outdoor birding gear. Their 8x magnification is like the standard you should start with to get a good view of birds outdoors.
With 21mm lenses and a 369ft field of view, you'll see a large area from left to right without losing detail as they don't over magnify the image.
Their roof prisms give the barrels a straight, slim frame that fits into your birding backpack easily. The lenses? You'll love them. SkyGenius 8x21 lenses are fully multi-coated green film for unprecedented light transmission and bright images even at dusk.
Hence, when you get these, it's time to plan that evening expedition you've put aside for years.
Pros
Easy focus

BK7 roof prisms

Center focus

Sharp, clear images

Lightweight

Small in size
Cons
Require regular focus readjustments
Takeaway
Some of the most memorable birding moments happen in your backyard. The SkyGenius 8x21 binoculars will show you all the action at close range, even when it's almost dark.
---
3. Gosky Roof Prism Binoculars - Best For Memories
When birding, do you take pictures of unique and rare birds? Gosky 10x42 fulfills that desire with its magnification power coupled with a cellphone holder to attach your smartphone. The 42mm lenses may cause shaky images unless you hold them steady in both hands.
Set your smartphone camera to voice command and capture memorable sightings to share with friends and family.
The image quality is exceptional as they have fully multi-coated lenses and BAK4 prisms. Interestingly, they have all those good features and a budget-friendly price.
It's not risky using them outdoors as their design has all the precautionary measures: non-slip, rainproof, and fog proof.
The padded straps make them easy to wear around your neck, and the eyecups are adjustable with or without glasses, so they are comfortable to use for hours. If you want to catch some action, the focus ring refines your image with just a few adjustments.
If you're into bird feeding, you can watch birds from your deck all day long by mounting these binoculars on a tripod. Even if birds land on trees in your backyard, meters away from the deck, you can still enjoy bird watching thanks to the 10X42 lenses. 
Pros
Lightweight

Phone adapter included

Padded neck strap

Crystal clear images

Great value binoculars
Cons
Unclear vision until you focus
Takeaway
When you're looking for an affordably priced pair of binoculars and then come across the Gosky 10x42 model, your search ends there. Fully multi-coated lenses, a durable frame, and center focus are just some of its commendable features.
---
4. SkyGenius 10x50 - Best Budget Option
For precision optics, this SkyGenius model takes the top position. Its 10x50 lenses are excellent Porro prisms to give you bright, sharp images. Their large field of view makes them suitable for birding in a park or a ranch as you'll see more at a go.
As you explore such locations, you can hang them on your neck with straps and fix the lens caps attached to the straps.
Hence, you won't lose the lens caps. The rubber coating boosts durability to serve your birding hobby for years. Even for bird watching in the evening, these binoculars don't disappoint as they are efficient in low-light settings.
Their eyecups adjust to suit your eyes, thereby preventing eye fatigue even when birding the whole day.
Pros
Large field of view (376 ft)

High magnification power

For use in low-light locations

Tripod adaptable
Cons
Takeaway
If it's your first time buying binoculars, of course, you're worried that you may not get the best birding binoculars. So, this SkyGenius model comes at an affordable price to get you started on your hobby with a 367ft field of view and 10x50 lenses.
---
5. Nikon Aculon - Best Zoom Binoculars
If you're more interested in the magnification power of binoculars, more so when you have a large backyard or ranch, this Nikon design comes in 22x50 lenses. Their multi-coated glass surfaces improve the brightness to serve you the original quality of objects.
The focus is smooth such that you won't miss anything while adjusting the center focus knob. Unlike other binoculars, you can change this Nikon's magnification from 10x to 22x using a zoom lever on the eyepiece.
Nonetheless, this might shake the image slightly.
Consequently, full zoom is only for those distant objects you don't want to miss.
The other option is to mount them on a tripod to avoid shaking as you zoom.
Another feature that may not be to your liking is the 49 feet close focus distance, as that's too big when you're birding in your backyard. Nevertheless, it'll only bother you if you like to see the finer details of birds.
Pros
Adjustable zoom

Large magnification power

Rubber-armor

Center focus

Renown brand
Cons
Takeaway
When viewing elusive birds with this top-rated Nikon Aculon, you can zoom into their nests or into tree branches to enjoy the action. This makes them the best birding binoculars for the adventurous.
---
6. Stillend 20x50 - Best For Professional Use
Sometimes, you want to view birds while hiking or climbing. On such occasions, the binoculars you pack should do a little more by showing you plants, sceneries, and wildlife. The one we're talking about here, the Stillend 20x50, can magnify objects up to 20 times for clarity.
If you want to take off your sunglasses and still use the binoculars...
The eyecups twist up, and you can fold the barrels inward or outward for a better fit around the eyes.
As it's an investment you're making to use them for years, they are durable, water, and fog-proof. The O-ring keeps fog out of your precious lenses. They also work under low light, though I doubt they'll serve you when it's completely dark.
With all of these benefits comes one downside, their weight. If you're using them occasionally or in your backyard, the 2.4 pounds they weigh sounds manageable. 
Pros
High magnification power

Large lenses

Waterproof

Durable
Cons
Takeaway
Their weight shouldn't stress you because you can use a harness to strap them across your chest. That aside, the high magnification power and large lenses make them the best binoculars for bird watching in open areas.
---
7. Occer Compact Binoculars - Best For Kids
Kids also love adventure, and looking at birds in your backyard or a pack is one of the best activities for them. Occer had the needs of kids in mind when they made these compact, lightweight binoculars.
They have good magnification power and powerful lenses even when watching birds in the morning or sunset.
These 12x25 binoculars have a field of view of 273ft. That's impressive when visiting a zoo where young ones can see different birds, butterflies, and other species. To set the focus, you can use the center focus knob and then match the view in both eyepieces using the diopter system on the right eyepiece.
This easy focus setting lets your kids watch birds near the bird feeder and quickly adjust the focus to see other birds on the trees around your backyard.
With its 12x magnification, your kids can identify and name most of the birds they see through the lens. It's a sturdy pair even when viewing distant birds.
On top of that, they are waterproof.
Pros
High magnification power

Compact size

Affordable

Kids-friendly

Easy focus

Very light
Cons
Adjusting the focus regularly
Takeaway
It's for both kids and adults. However, I know kids will love this model more as it's compact, light, plus it has an above-average magnification power. They won't touch yours when you get them this one.
---
Let's shift our focus from the offers in the market to something that'll influence your purchase decision.
I'm talking about:
How To Choose The Best Bird Watching Binoculars
You'll notice that the birding binoculars reviews above have options ranging from standard lenses to the largest lenses in the market. It's confusing when you have so many options.
But...
Here's what should guide you:
The Body Type
The two frames in the market are narrow or wide, and these shapes come from the prisms inside. On that note, there are Porro and roof prisms. Their difference lies in the light transmission process, which creates a distinct shape of the barrel.
If you're looking for a slim, compact pair, go for binoculars with roof prisms. If you have younger ones, they can be a good choice for children's binoculars.
In such a pair, its objective and ocular lenses are in a straight line with the prisms. Oppositely, Porro prisms are at an angle to the frontal lenses and eyepieces, which widens the barrel.
They have a wider field of view than roof prisms, and more light passes through the barrels resulting in brighter images.
Further, Porro prism binoculars are cheaper to make than roof prisms. Why? The latter requires extra engineering to reduce the light loss caused by having the lenses in a straight line.
 For that reason, if you come across a roof prism design with a budget price, run! The same holds true when considering spotting scopes or binoculars.
The Magnification Power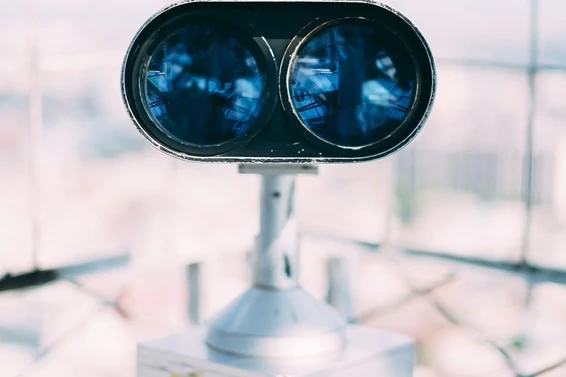 In general, lower magnification means brighter images and a wide field of view. As the magnification power increases, the brightness reduces, and the field of view narrows.
That being so, this light transmission also influences the clarity of what you see under low-light settings. Hence, an 8x42 pair may have brighter images than a 20x50 design.
The higher magnification models are also heavier, plus the images may be shaky. For general birding in your backyard, you can use 8x magnification power.
On the other hand, if you're exploring open fields or estuaries, you can opt for higher magnification. Especially for the best binoculars for safari for the best viewing experience.
Note, a zoom feature isn't better than a single magnification because the clarity may be off. Furthermore, you have to keep adjusting it.
Close Focus Distance
Birding is an exciting hobby that allows you to explore birdlife without intruding. That being the case, the binoculars you get. like the best 10x42 binoculars, should let you in on the action happening near and far. Near you, it's called the close focus distance.
Binoculars with a close focus distance of under 10 feet have sharp focus when viewing birds on trees just off your deck. It's such great detail that if your pair has a smartphone adapter, you'll want to capture the beautiful pictures of birds at such a close distance.
From the pairs of binoculars we have reviewed above, Nature DX has a close focus distance of 6.5 feet, which is remarkable. In contrast, the Nikon Aculon in our review can focus from 49 feet, which is a bit too far.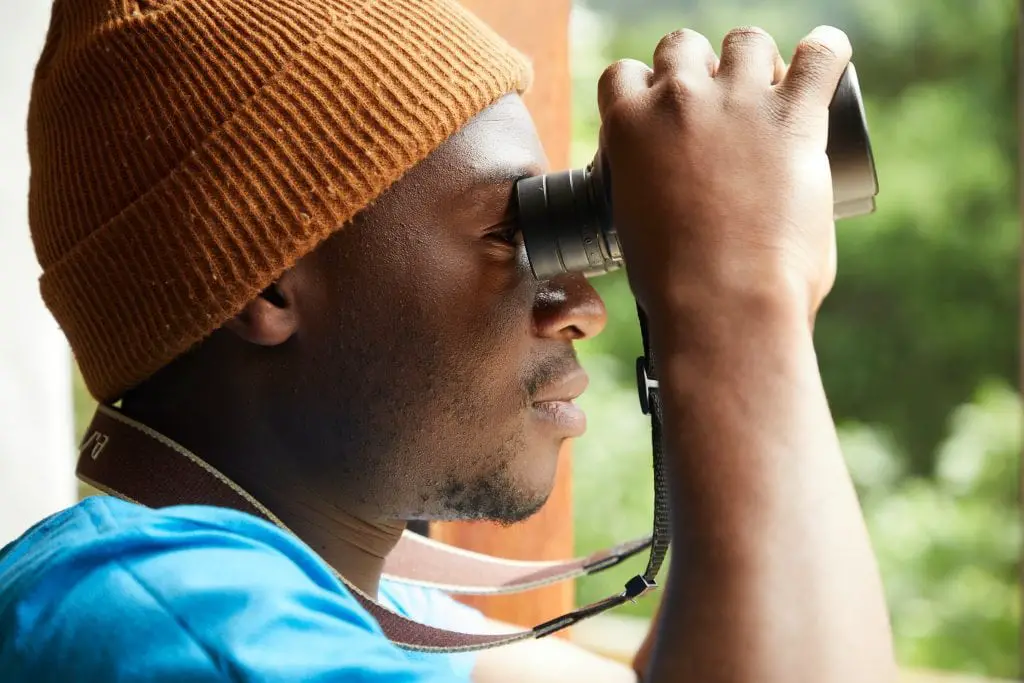 The Price Factor
Binoculars prices vary so much that you'd need to read a few reviews before using the price factor to make the purchase decision. For example, the SkyGenius 10x50 binoculars we discussed earlier have all the specs you need for birding in your backyard or out in the park.
However, they are cheaper than the Celestron Nature DX 8x42.
Therefore... 
Go deeper and look at the optics, the brand's engineering experience, plus additional features in the package.
On top of that, if you have a limited budget or just looking for the best hunting binoculars under $300, buy Porro prisms in that range instead of roof prism binoculars.
Why?
As we mentioned earlier, roof prisms have exceptional engineering that makes them pricey.
Thus, if you go for the budget ones, they're probably basic.
Additional Features To Expect
Beyond looking at the magnification power and the lens quality, other features make one pair of binoculars better than another. They include...
Tripod Adaptable
Some binoculars are heavy; you can't hold them steady for hours. Therefore, finding a pair that is tripod adaptable makes birding much more enjoyable. You can mount them beside your window or on the deck.
Smartphone Adapter
Your friends probably don't believe all the bird sightings you narrate. Additionally, your birding squad would also love to see what you've been up to outdoors. With that in mind, you need a phone adapter to capture your view on your smartphone.
So, if you're about to head to the store to get a pair of binoculars, which models in this review would you consider?
Now, let's watch this short video to learn how to use the best binoculars under $500 before we call this a wrap:
The Verdict
The Celestron Nature DX is perhaps the best binoculars for bird watching because it gives us a 388 feet field of view per 1,000 yards and a 6.5 feet close focus distance. Whether you're birding on your deck or in the woods, this pair is excellent.
Secondly, it has the standard magnification power for birding, and since its lenses are 42mm, that 8x42 combination will give you bright, clear images. Even so, it's pricey.
So, we turn to our second option, the SkyGenius 10x50 model. It has great optics, high magnification, large lenses and it's cheap.