When sellers bombard you with dozens of binoculars, finding the best 10x42 binoculars from the list requires tact.
For me...
I read many 10x42 binocular reviews to find the binoculars I am using now. 
But for you… It won't have to be the same mind-boggling experience now. All you have to do is read through this review all the way to the last item and pick one up that would suit you best! 
The Bushnell Waterproof 10x42 Binoculars caught my attention for their high definition clarity and close distance focus of 12 feet, hence making it on top of my list. 
Product
Details

1. Bushnell Waterproof 10x42 Binoculars

Excellent Features

Built To Last
Good Eye Relief
Anti-Slip Feature
Center Focus Knob
12' Close Focus
Highly Waterproof

Check Price On Amazon

2. Gosky 10x42

FMC Lenses

Has Lens Covers
Twist-Up Eye Cups
OK For Smart Phones
Voice Command

Check Price On Amazon

3. Vortex Optics Crossfire 10x42 Binoculars

Nitrogen Purging

Wide FOV
O-Ring Sealed Lens
Waterproof
Distant Coverage

Check Price On Amazon

4. Celestron Nature DX 10x42

Bang For Buck

17.5mm Eye Relief
Rugged
BAK-4 Prisms
Heavier

Check Price On Amazon

5. Bushnell Trophy 10x42 Binoculars

Elegant Style

Clear Image
8.2' Close Focus
15.2mm Eye Relief
Needs Focus Adjustment

Check Price On Amazon
5 Best 10x42 Binoculars Reviewed
1. Bushnell Waterproof 10x42 Binoculars – Best Overall
Bushnell Waterproof 10x42 Binoculars is for all adventurers, including birding enthusiasts, because the O-ring is waterproof to keep water out of the lenses. 
Additionally, nitrogen purging makes them fog-proof during overcast days. The rubberized armor on the barrels gives you a firm, comfortable grip, and the anti-slip feature reduces the risk of slipping even further.
With this pair, your field of view is about 305 feet, an excellent range to see beyond your backyard if birds prefer to perch in the backyard next door.
When looking for birds and plants in an open landscape, this large field of view lets you cover a wide area at once.
On the other hand, when the action is just a dozen feet away, like on your deck, these binoculars will still give you full-color images because they have a close focus range of 12 feet. For that reason, no more squinting to see what the little birds on your deck are getting busy on!.
The eyecups twist up when you want to adjust the eyecups to fit the eyepiece snuggly for a better view. Additionally, there is a 17mm eye relief, which is an excellent distance between your eyes and the eyepiece when you have glasses on or off. 
Using the center focus knob, you can refine your focus for sharp images and better control over what you see. With this large center focus knob, you can adjust the focus with ease.
Pros
Rubber caps for all lenses

Good eye relief

12 feet close focus distance

Center focus knob

Weighs 1.56 pounds

Anti-slip feature
Cons
Requires focus adjustments

Trapped moisture clears slowly
Takeaway
I know you're keen on durability, and these binoculars promise to last through rain and sunshine because they have rubberized armor, non-slip ability, and a waterproof O-ring. Their wide field of view lets you find the subject easily without panning aimlessly, especially when searching for rare species.
---
2. Gosky 10x42 – Best Budget Buy
The 307 feet field of view, and the 10x magnification, make Gosky binoculars an excellent choice when hiking, mountain climbing, or bird watching. You're able to see a wider area at once, and you can zoom in on a specific subject without moving from your spot.
The 42mm objective lenses have a fully multi-layer coating (FMC) to reflect light and give you clear and sharp images.
This clarity occurs as the multi-layers reduce light loss and bounce the light onto the lenses. Though it is a budget option, it's a durable pair of binoculars furnished with rubber armor for shock resistance without losing its distinct aesthetic appeal.
With its smartphone mount, which accommodates a range of smartphone models, I can capture the images on my phone and forward them to his tablet.
This pair of binoculars weigh only 1.54 pounds, which my little nephew can hold when I zoom in on some action that I want him to see.
Pros
Twist-up eyecups

Lightweight

Lens covers

A neck strap

Tripod adaptable
Cons
Has unclear vision until you adjust the focus
Takeaway
The Gosky 10x42 has a smartphone adapter, so you can voice command your smartphone camera as you hold the binoculars steadily to capture sharp images.
---
3. Vortex Optics Crossfire 10x42 Binoculars – Best Design
Vortex Optics Crossfire 10x42 Binoculars are water-resistant, a great feature for outdoor activities like bird watching and hiking. 
This benefit comes from the O-Ring seal that keeps water droplets out. It also prevents fog from accumulating in your lenses. 
Additionally, the rubber armor makes it more durable and shockproof should you take a fall when exploring. Its lenses are fully multi-coated glass for better light transmission to give you full-color images for many hours of the day. 
Since light brightens images, when there is more light in the lens, the subject brightens. Hence, these binoculars have roof prisms, which use an intricate manufacturing process, so you'll be getting high-quality light transmission. 
To use these binoculars for hours, they have adjustable eyecups that bring the eyepiece closer to your eyes.
Their 15mm eye relief is another feature that improves the view through the eyepiece for both eyeglass wearers and non-wearers. You would expect only clear images as these binoculars have a center focus knob for you to adjust the focus on both eyepieces at once.
They also have a Diopter system on the right eyepiece to match the focus on both eyes.
Another outstanding feature to mention about this model is its 325 feet field of view, which is longer than the field of view of a Gosky 10x42. It will cover a longer distance at once.
Pros
Adjustable eyecups

Nitrogen purging

Fully-multi coated lenses

Wide field of view

Adjustable harness straps
Cons
Takeaway
This 10x42 model from Vortex suits the outdoor environment because when you want to adjust its focus, it has a center focus knob and a diopter system to match what you see on both eyepieces.
---
4. Celestron Nature DX 10x42 - Best Value for Money
Several features make the Celestron 10x42 binoculars ideal for bird watching. First, they have lens caps to protect the objective lens, and the eyepieces have a rain guard. They come in an army green color that is a camo style when you want to sneak up on birds.
Next, their BAK-4 prisms guarantee meticulous color detail, and with the fully coated lenses, the images are bright. They are not for long-distance views only as they offer a 6.5 feet close focus distance to get you closer to your subject without losing image details. 
Additionally, they are one of the best 10x binoculars for their eye relief of 17.5mm, which is comfortable for eyeglass wearers. They are tripod adaptable, so you can mount them on your deck, sit back, and watch avian activity nearby.
Pros
17.5mm eye relief

6.5 feet close focus

Camouflage color

Tripod adaptable
Cons
Heavier than other models, at 1.75lbs
Takeaway
These high-end Celestron binoculars stand out for bird watchers because of their powerful 10x magnification and close focus range of 6.5 feet. Since they are tripod adaptable, you can mount them indoors for an all-day bird watching experience. 
---
5. Bushnell Trophy 10x42 Binoculars – Best For Outdoors
The eye relief feature of the Bushnell Trophy 10x42 Binoculars is 15.2mm for a comfortable fit whether you wear your eyeglasses or not. Concerning the quality of images, it's a full-color experience serviced by modern multi-coated lenses.
You'll be investing in a waterproof pair of binoculars with anti-fog features enhanced with nitrogen gas with this pair of binocs. The anti-fog feature makes the Bushnell Trophy 10x42 a good choice for bird watching outdoors.
You also get a harness to keep the load off your neck, and you'll have the binoculars front and center when you're out for a hike. They weigh 1.56 pounds, which you can carry for hours alongside other hiking accessories.
For style, they are elegant, with a green finish that gives them a camo style.
More importantly, they have a close focus distance of 8.2 feet to let you view birds and insects without chasing them away.
Pros
Image clarity

Close focus distance

Lightweight
Cons
Focus and harness adjustments take some time.
Takeaway
When watching birds in an open landscape, away from your backyard, the perfect binoculars show you the action near and far, and you can have them over your eyes for the longest time possible without feeling eye discomfort. 
For these reasons, this model is light, comes with a harness, and has features that will show your subjects 8.2 feet away from you, vividly.
---
Features To Look For In The Best 10 Power Binoculars
Harness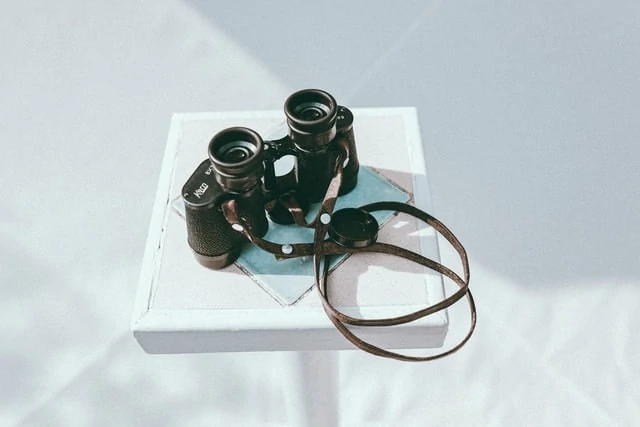 A neck strap works perfectly, but if you have to climb hills to see birds closely, you need a harness to strap the binoculars to your body instead of adding more weight to your neck. 
A harness distributes the weight to your back and your shoulders, which you will appreciate when you have a 2-pounder pair of binoculars.
It also reduces hand shaking as you view birds, so it acts as an image stabilizer because it stretches long enough for the eyepiece to fit on your eyes. The elastic straps of the harness also keep the binoculars in one place as you walk or hike. 
Some binocular harnesses also hold cameras, so you'll take more weight off your neck. Therefore, if you don't like carrying a backpack for short birding expeditions, you can find such a harness.
Interpupillary Distance (IPD)
The IPD, which is the pupil distance of your eyes, ranges from 55 to 75mm. Having binoculars with adjustable barrel distance narrows or increases the IPD to your desire. It's a simple process; twist the barrels inward or outward to see one field of view through both eyepieces. 
An inaccurate IPD leads to eye strain and/or headaches as your pupils struggle to adjust through the eyepiece.
Adjustable Focus
Choose one with an adjustable focus feature. There will be a center focus knob that you twist until you get precision. Slow focus speed lets you adjust the binoculars easily when targeting distant objects. Next, twist the diopter control on one eyepiece to match the view on both eyes. 
Tripod Adapter
It's not a must-have feature, but having it will make bird watching more adventurous. When you buy binoculars with a tripod adapter, you can position them in any stable location and you'll be freeing your hands from holding your binoculars.
Waterproof/Fogproof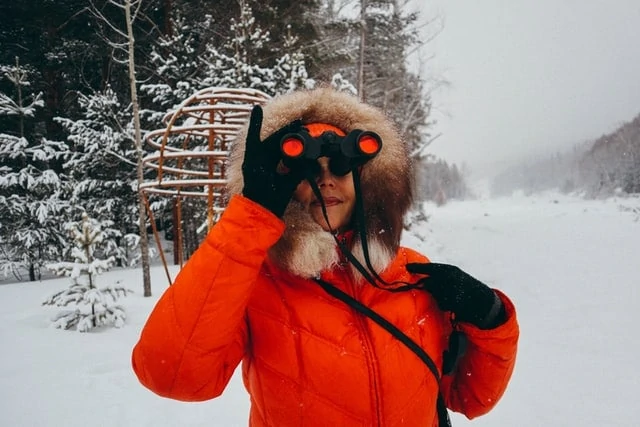 Since binoculars are for use outdoors in most cases, they are more durable when furnished with an O-ring seal. The idea is to keep moisture and water away from your lenses. Some of the phrases you'll come across are waterproof and weather-protected. 
To be sure, look at the description for information about the O-ring seal and the fog-proof status of the binoculars. For example, the Bushnell Trophy 10x42 has a large waterproof label across the barrels.
Minimum Focus Distance
Seeing what's farthest from you is not so difficult when you have a pair of binoculars, but seeing what is closest to you might be an issue. The latter is the close focus distance. The ideal close focus distance for birding binoculars is less than 10 feet. 
Chassis Material
Three popular materials are aluminum, magnesium, and polycarbonate.
Aluminum makes your binoculars long-lasting as it does not wear away fast. It's also light but still strong to house the lens and other features. A light material like this is also great for binoculars for kids.
However, a magnesium chassis is lighter, so if you intend to use the binoculars daily, it is wiser to go for the ones made of this material. It's also a strong chassis. Polycarbonate chassis introduces a new benefit because this material is temperature resistant. 
Therefore, rain or shine, your binoculars will resist frequent expansion and contraction, unlike other materials.
Don't miss checking the best 10x42 binoculars under $300, too.
Lens Coating
You'll come across phrases like "fully multi-coated" and stuff like that. The purpose of coatings on the lens is to minimize the loss of light. 
The manufacturer coats all the lenses with a chemical like magnesium fluorite for better light transmission. The outcome of this process is a sharp image on the eyepiece lens as the light brightens it.
A fully multi-coated lens has multiple layers applied to all lenses, and you'll find this feature in high-quality binoculars. In roof prism binoculars, light passes from the front lens to the eyepiece lens in a straight line. This light beam splits into two light paths and combines at the focus.
It affects image contrast and quality. Hence, roof prism binoculars have phase coating to correct the resolution and give you high-contrast images.
Frequently Asked Questions About 10x42 Binocs
What Does 10x42 Mean?
This figure stands for the magnification power (10x) and the lens diameter (42mm). The 10x means the image you see through the binoculars is ten times larger than the original size you see through your eyes. A lower magnification, such as 8x, has a wider field of view than a 10x magnification.
When Can I Use 10x42 Binoculars?
The 10 times magnification and the large area covered by these binoculars make them suitable for outdoor adventures. When hunting, game viewing in a park, or watching birds in your backyard, the powerful lens magnifies distant objects.
You can adjust the focus of your binoculars using the center focus. The diopter system on the right eyepiece matches what you see on both sides. Check this video for more detailed instructions:
What Are The Advantages of 10x42 Over 8x42 Binoculars?
Higher Magnification
The 10 times magnification takes you two times closer to your image, which is a great feature when watching birds on mature trees hundreds of feet from you. 
If you're a bird lover who prefers to view these avian friends from your window, the ten times magnification takes you closer to your backyard without leaving your house.
More Value For Money
With its larger magnification, you can use the best binoculars under $100 for more activities than you would an 8x42. Therefore, you'll get more value with the same model for birding, hunting, hiking, and game viewing.  You can even bring them with you when traveling so you can have the best binoculars for African safari if that is your intended trip.
Conclusion
The Bushnell Trophy 10x42 are the best overall for their clarity and quality of lenses. They have a center knob to adjust your view, and a considerable close focus distance of 12 feet when you want to see what's near you.
Unlike the Bushnell Trophy 10x42, which has a neck strap, this Bushnell model comes with a harness for long birding hours. They are also lighter than Celestron Nature DX 10x42.
If you're on a limited budget, the Gosky 10x42 is a good choice because it is durable, it has a smartphone adapter, and you can mount it on a tripod.