The sheer number of high-quality binoculars that cost less than $100 will amaze you.
However... 
You'll search through a long list to find the best binoculars under 100, so you ought to remember that quality optics matter before accessories, like a smartphone adapter.
While looking through models under this price range, one model that stood out, which we have crowned the best overall, is the SkyGenius Powerful 10x50mm binoculars.
Read on to know how we arrived at this pick.
Product
Details

1. SkyGenius 10x50

Excellent Features

Extensive FOV
Moisture-Proof
Porro Prism
Multi-Coated Optics
Tripod Adaptable

Check Current Price

2. Occer Compact Binoculars

Very Compact

Kids' & Adults' Use
Sharp Pictures
Low Light Vision
Multi-Coated Optics
Lightweight

Check Current Price

3. Gosky 10x42

Rubber Armor

Easy-Focus
Phone Adaptable
Clear Images
Great For Distance

Check Current Price

4. Bushnell Falcon Wide Angle Binoculars

Solid Built

Easy-Focus
High Magnification
Large Objective Lens
With Neck Strap

Check Current Price

5. Celestron SkyMaster

Low-Light Precision

Water Resistant
13mm Eye Relief
Large Objective Lens
Narrow FOV

Check Current Price
Best Binoculars Under $100 For Your Collection
You've probably heard that the best binoculars are expensive, and when you have a low budget, you may forego some exceptional features such as advanced lens coating and high magnification power. 
This sounds like a loss when you've saved money for a while to get your first pair of the best binoculars under 100, and the market wants you to settle for the second best.
Fortunately, there are options available in this review where you can choose from to find the best binoculars under 100with decent features within the hundred-Dollar price tag, and we have five of those models below:
1. SkyGenius 10x50 - Best Overall
Most SkyGenius binoculars cost less than $50, so we had to have at least one of their models in this review of the best binoculars under 100. 
The SkyGenius 10x50 model gives you the kind of magnification you need for many outdoor activities like bird watching in your backyard, birding in a park, game viewing, sightseeing, or even hunting. 
These pair of binoculars offer a 367 feet field of view through 50mm lenses, which covers an expansive area from left to right.
And since they have a weak light vision, you can use them until the late hours of the evening. 
What's more, this pair of hunting binoculars are tripod adaptable to mount them next to the window that looks out to your bird feeder and enjoy nature from your favorite spot.
They have Porro prism glass; hence, they have wide-shaped barrels, and these prisms ensure superior light transmission from the objective lens to the eyepiece. The lenses also have a corrective optical coating, thus offering exceptional color fidelity for bright and clear pictures.
You can use them in different weather conditions as they are moisture-proof.
The rubber armor makes these binoculars shock-resistant, and it reduces wear and tear caused by the rigors of different outdoor environments.
In summary, SkyGenius has a good combination of features for clarity, and they don't cost you a lot to enjoy such advanced quality lenses.
Pros
Porro prisms

Corrective optical coating

Large field of view

Multi-coated optics

Tripod adaptable

Moisture-proof
Cons
Takeaway
You can use this pair of binoculars for different outdoor experiences because they have a high magnification power and a wide field of view. SkyGenius 10x50 is the kind you mount on a tripod on your deck, grab a seat, relax and watch nature. 
That's why these binoculars scooped the best overall position on our list.
---
2. Occer Compact Binoculars - Best Family Option
Family vacations and outings are fun when everyone enjoys the experience, so with this Occer model, weighing about 0.65 pounds, kids can use it when birding or game viewing. This is actually a good find considering we are looking for the best binoculars under 100 to fit our family budget.
On cruise trips, you'll carry these binoculars without worrying about dropping them in the waters because they come with a cruise strap. 
They are also waterproof binoculars, so you can rest easy when you see your kids running around with them in the backyard on a wet day, and the non-slip grip prevents them from slipping off your hands. 
It's compact for use with one hand and takes a small space in your backpack.
To mention a bit about the engineering and the internal design of these binoculars, they have modern optics, such as fully multi-coated optics on the objective lens and blue film fully multi-coated eyepiece lenses to ensure maximum light transmission.
BAK4 prisms on this Occer model guarantee sharp pictures even in low light settings.
As family-friendly binoculars, they also have a 20mm eye relief if you're sharing them with a child or parent who uses eyeglasses. Additionally, for family members who don't wear glasses, they can adjust the eyecups and still enjoy excellent views through the 15mm eyepieces.
Pros
Lightweight

Family-friendly

Large eyepieces

Multi-coated optics

Long eye relief

Low light vision
Cons
Unsuitable for very dark settings
Takeaway
These Occer binos are the best compact binoculars under $100. For this price, this pair of binoculars have essential features for family-friendly binoculars, such as non-slip grip, compact size, lightweight and water resistance. 
Nonetheless, the fact that they suit young nature lovers doesn't compromise the optics as they have sharp images enabled by BAK-4 prisms.
---
3. Gosky 10x42 - Best Outdoor Experience
They stand out as the best 10x42 binoculars under $100 for outdoor thrills because they have a phone adapter for you to capture unforgettable moments on your smartphone. 
Armed with a 10x magnification, you can take on most outdoor activities and you'll be able to explore a larger area within a day without having to get too close to your subject.
Gosky 10x42 has revolutionary blue and green film coatings to give you the original color of objects in sharp, clear images, so you can quickly consider this model as one of the best binoculars under 100 – undoubtedly!
They are durable, fitted with rubber armor to prevent damage if they fall.
This pair of binoculars has a sharp focus and are easy to adjust, and they have a sturdy frame that makes them durable. Further, their front caps are firm over the objective lenses to protect these sensitive components.
Pros
Lightweight

Phone adapter

Clear images

Easy to focus

Sturdy construction
Cons
Slight shaking when held in one hand.
Takeaway
These binoculars give you professional quality at a budget-friendly price. Their smartphone adapter makes every outdoor activity more interesting because afterward, you have tons of pictures. They are lightweight, and the images you see on the eyepiece are bright and sharp.
---
4. Bushnell Falcon Binoculars - Best For Distant Views
This 10x50mm pair of binoculars has good quality for its low price, which confirms that brands do not give low-quality optics in cheaper models. 
These Bushnell Falcon binoculars offer a field of view of 300 feet from left to right up to 1,000 yards. Their 50mm objective lenses give you bright images because they have full lens coating to enhance light transmission when birding or hiking.
Their eyecups roll down if you're using them with eyeglasses so that the glasses don't scratch, and the eyecups block unnecessary light interrupting your view.
Bushnell Falcon Wide Angle binos have 9mm eye relief to prevent eye strain.
They have a solid build to serve you for a long time, making them even more valuable. On top of that, these binoculars are easy to focus so don't worry about missing important moments outdoors because you can't turn the focus knob fast.
Pros
Easy to focus

Neck strap

Solid build

Large objective lenses

High magnification

Roll down eyecups
Cons
Close focus distance is only 25 feet

Heavy
Takeaway
When looking for the best binoculars under 100, Bushnell Falcon has to be on your list. These binoculars have easy focus, and they can magnify objects up to 10 times for precision and clarity. You'll also note their wide field of view that lets you follow your subject, making it our top choice for long-distance views.
5. Celestron SkyMaster - Best For Spontaneous Sightings
When you're exploring, you come across unexpected sightings of animals and plant activity, and if you take too long, you miss the magic.
With the SkyMaster binoculars, you have 25x magnification power so you'll not miss finer details, and the 70mm objective lenses guarantee bright, clear images. 
They are one of the best binoculars under 100 for budget campers who love to wake up to birding excursions and sleep after a stargazing thrill.
These binoculars have 13mm eye relief, so they are comfortable for eyeglass wearers even when used for hours. They have good color fidelity yielded by multi-coated BAK-4 prisms, and their rugged construction gives a firm grip.
Pros
For astronomy and land use

Large objective lens

25x magnification power

Water-resistant

Low light precision

Quality BAK-4 prisms
Cons
Takeaway
I love that these binoculars serve both bird watchers and astronomy enthusiasts, so it must be quite an experience to explore a birding paradise with a 70mm lens and a 25x magnification power. Even more exciting is the thought of watching birds on a feeder in the backyard.
---
Features To Look For In Best Cheap Binoculars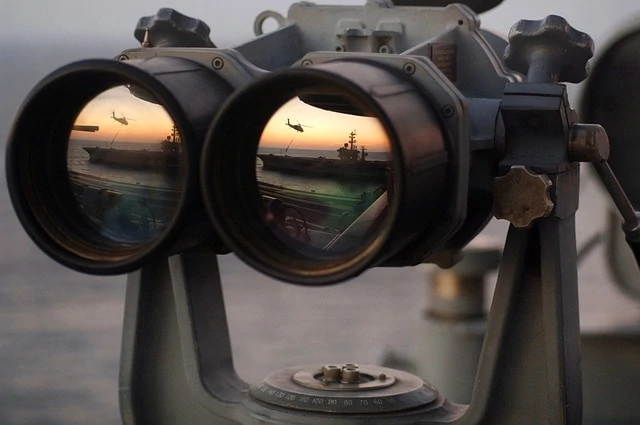 In a nation with over 12 million active bird watchers in a year, according to a 2019 report, you'd expect an easier way to tell binoculars apart without looking through endless lists of binoculars under $100 reviews. 
However, since the only way to find the best budget binoculars for birding or hunting needs is by looking through many reviews, here are a few factors to help you narrow down your search.
Size Of The Objective Lens
You'll see two figures in your product specifications, with an X between them. The first number stands for the magnification power, and the second one tells you the front lens size.
The front lens controls the amount of light flowing into the barrels and the brightness of subjects on the eyepiece. A larger objective lens tends to supply more light, so you'd be interested in the second figure in the model's specification, such as 42mm, 50mm, and 70mm. 
Also check for the exit pupil, which is on the eyepiece.
When it's smaller, most of the light from the front lens gets lost; therefore, you won't see bright images on the eyepiece. On the same note, remember that a larger lens may lead to heavier binoculars, so you may have to overlook the weight to have brighter images.
Lens Coatings
Lens coating prevents light loss during transmission from the front to the eyepiece lenses, thereby producing bright and sharp images. Although you're on a limited budget, you can still expect to get quality images, so don't compromise on lens coatings. 
Preferably, choose a model with lens coatings on all glass surfaces, indicated as "fully multi-coated" or has multi-coated optics to make sure that at least the lenses are properly coated.
Tips on How To Find Binoculars On A Budget
So far, you know a few cheap binos and the features that are a must-have in any model. Now, let's delve into how you arrive at one model while shopping for the best binoculars under 100.
You need to:
Have Your Hobbies In Mind
You'll discover that some internal and external features of binos matter depending on your hobby. 
For example, for a bird lover who prefers to watch a bird feeder's activity instead of looking for birds in a park, binoculars that are tripod adaptable mean a lot.
If you love birding, hunting, and hiking, you're probably okay with most of the budget-friendly binoculars. However, if you're into astronomy, you need an advanced model with specifications for long-distance view.
Older Models Are Cheaper
Look for last year's models from top brands because their price will be lower than their most recent releases.
Search By Brand First, Before Checking Features
While looking through many brands to create a list of the best cheap binoculars for you, I found that SkyGenius, Occer, and Bushnell have more affordable binoculars than other brands. 
The Benefits Of Buying Cheap Binoculars
Still not convinced there's quality in budget binoculars? Well, here are some benefits awaiting you:
You can buy two brands or models at once to enjoy different features, such as having the 

best binoculars for kids

for your young bird lovers and another that suits your needs.

A cheap model gets you started on your hobby instead of waiting until you've saved a lot to buy an expensive model.

Cheaper models are easier to replace should they malfunction.

If you're using binoculars for the first time, you'll test the waters with an affordable model.
Conclusion
The SkyGenius model is the best overall when you're working with a budget of $100, and you'd like to get a tripod or other accessories with the same amount. 
These binoculars have a 10x magnification and an excellent field of view of 367 feet. You can use them for many activities because they have a corrective optical coating for sharp, bright images even in low light, unlike the Occer Compact model.
Nevertheless, the Occer Compact binoculars is also one of the best compact binoculars other than being the best budget option for families, and they are lighter than other models discussed in this review.