Shopping for the best spotting scope for birding can be more tedious than buying a pair of binoculars.
Why?
Spotting scopes serve several functions, in addition to bird watching.
I doubt if you can find one that's specifically for birding. For that reason, when looking for one, match features to your birding needs. We did that and listed the eight best birding scopes based on the features you'd need when birding in your backyard or out in the bush.
Let's get started with our favorite spotting scope, the Celestron Ultima 80.
The Top 8 Best Birding Scopes Reviewed
1. Celestron Ultima 80 - Best Overall
Celestron is a brand that leads with excellent birding binoculars. You'll be sampling its engineering ability when you try its Celestron Ultima 80 scope.
This scope's 80mm objective lens makes it ideal for birding in woodlands, riverine forests, and other landscapes.
You'll take in long-distance views without leaving your spot, enjoying all of them through the scope at a 45-degree angle.
Hence, no neck strain; consequently, you can sit or stand in one location for hours.
The images have perfect color quality as if you're viewing them with your eyes because this scope has several coatings on the lenses. If the object is too far away, the zoom eyepiece brings it closer up to 60x.
It comes with a tripod mounting plate to use when you get tired of holding about 3 pounds of weight in your hands. Lastly, it's heavier than some of the models in this review, but since you can mount it on a tripod, it won't tire you.
Pros
Waterproof, for use in humid areas

Folding eyecups for better eye relief

Coated glass surfaces to boost image quality

Designed by a brand that engineers binoculars
Cons
No eye relief at higher magnification

Heavier, you may not use it when birding and hiking
Takeaway
Celestron Ultima 80 gives such high-quality images that your eyes will pick out details of bird species easily. It's waterproof, and the focus knob and magnification ring are smooth and crisp.
---
2. Roxant Authentic Blackbird - Best Design Option
When using the Roxant Authentic Blackbird, you'll always have your lens caps attached, so there are no chances of losing them when birding in the bush.
Additionally, unlike other scopes, this one has a big focus ring on the barrel instead of a focus knob on the top of the barrel, which makes focus adjustments a lot easier.
Its focus ring glides smoothly, as it has a rugged surface.
Further, most scopes have a plastic screw for mounting on a tripod. In contrast, the Roxant Authentic Blackbird has a metallic one that is more durable. You'll also benefit from using a scope with adjustable eyecups; you can extend or retract them when you wear glasses.
It's not the biggest objective lens in this review, but 50mm isn't very bad. Wouldn't you agree? This lens has fully multi-coated surfaces; thus, image sharpness and clarity will not be an issue.
Pros
It comes with a tripod

Retractable eyepiece to use with or without glasses

Extendable sunshade to prevent glare

Metallic tripod mounting screw
Cons
Can magnify up to 36x only
Takeaway
The Roxant Authentic Blackbird comes complete with a tripod, and it's affordable. It's also durable because it has a rubberized body for a firm grip. Plus, with the lens caps attached to the body, you won't lose them.
---
3. Emarth - Best Focusing System
If you've been shelving the idea of getting a spotting scope because you fear it might be expensive, you're in for a surprise. Emarth 20x to 60x magnification scope is affordable.
The crisp and clear images you'll see through it are thanks to fully multi-coated lenses with BAK4 roof prisms.
Additionally, there's a dual focus knob to fine-tune the view before you zoom in up to 60x.
It comes with a travel case with dividers so that the tripod stays in one section and your scope is in another for extra protection of the lens.
Pros
The focus knob is easy to adjust

Inexpensive

Extendable sunshade

Easy on/off lens caps
Cons
The stiff eyepiece may cause eye strain.
Takeaway
Emarth makes birding so much fun offering you up to 60x magnification without losing the quality of the image. When you zoom in, you can fine-tune the image with a dual focus knob that is easy to operate.
---
4. Landove - Best Birding Set
What you see through the spotting scope is what's most important. Therefore, this Landove model uses a fully multi-coated objective lens to show you the exact quality of the image without losing color or clarity. It can magnify from 20x to 60x.
Hence, when you spot a rare bird at 20x, you can bring it closer to your eyes up to 60x what your bare eyes can see.
What makes it even more interesting is that you get a set with a tripod and a universal phone adapter.
Thus, whether birding on your deck or in the open landscapes, mount this spotting scope on a tripod, fix your smartphone on the phone adapter, set your portable birding chair, and enjoy!
It's water and fog-proof; therefore, you can go birding in wet and humid conditions. Further, it has a close focus distance of 6m; consequently, you can get better detail of birds.
Pros
Waterproof

Rubber armor for shock resistance

Stretchable eyepiece shield

Close distance focus of 6m

Fully multi-coated objective lens
Cons
Unclear images on higher magnification.
Takeaway
The Landove 20-60x spotting scope is affordable yet offering clear optics. It has a sturdy tripod, and the phone adapter is also easy to set up.
---
5. Barska Straight - Best Lightweight Spotting Scope
Barska gives you three options with a magnification power between 18x and 125x. The model in our review has an 88mm objective lens, and it magnifies from 25x to 125x. Awesome, right?
Imagine the excitement of using such magnification power when spotting warblers in Ohio or looking for Yellow-billed Magpies in California's coastal hills.
That means, after you target a bird, you can zoom in to enjoy its finer details.
The 88mm objective lens maintains the quality of the image as you zoom in because it's fully coated. If you're more into watching birds in your backyard, you'll benefit from the tabletop tripod of this spotting scope.
Mount it on your deck and enjoy the thrill while holding it steady using the Accu-Grip handle.
It weighs about one pound, making it the lightest in our review. Further, it comes with both a hard and a soft case to protect the lens as you travel.
Pros
Two travel cases

Lightweight

Fully-coated lens for quality images

Zooms up to 125x

Close distance focus of 6m
Cons
The focus might be blurry when you zoom in.
Takeaway
The Barska 25 to 125x is lightweight; thus, you can enjoy birding for hours while holding it. Plus, it has a tripod with a firm grip handle to help you steady it.
---
6. Gosky 20 to 60x - Best For Digiscoping
Gosky 20 to 60x has the same magnification power as the other digiscoping model we discussed earlier, the Landove, but with a larger objective lens of 80mm, which means even better detail in the image.
Therefore, we ranked it as the best spotting scope for digiscoping. Just mount your smartphone on its digiscoping adapter and take photos or videos as you pan or zoom your view. This phone mount is easy to use, and it accommodates almost all smartphone models.
The images you capture are clear and crisp as this scope has BAK4 Porro prisms. On top of that, it has a shock-proof grip to protect the internal components when it falls. It's also fog and waterproof to suit the unexpected weather conditions you'll face as a birder.
Its focus wheel is easy even when targeting soaring birds, such as a
kettle of hawks
many feet away from you.
The price is a bit high, but when you look at the features you're getting, it might be worth spending as much.
Lastly, Gosky is famous for its binoculars, so you'll be getting a spotting scope from an industry leader.  
Pros
Digiscoping smartphone adapter

BAK4 Porro prisms

80mm objective lens

45-degree angled eyepiece

Retractable sunshade to reduce glare on the eyepiece
Cons
Heavy, it weighs over 4 pounds

The tripod is practical but not the best
Takeaway
This Gosky 20 to 60x model might weigh over four pounds, but it has a tripod for you to mount it so you can enjoy spotting birds without tiring your arms.
---
7. Creative XP - Best HD Lens
Not sure if the Gosky model above suits your birding needs? Let's continue looking for the best scope for digiscoping until you find one you like.
This Creative XP model also comes with an 80mm objective lens and a zoom of up to 60 times. Hence, you're getting the same lens features as in the Gosky model above.
This model is waterproof to suit the unpredictable weather conditions that make birding so much fun.
What's more likable about it is the clip-on phone adapter that holds your smartphone to capture your view. It's easy to use, and you can even use the phone camera to make videos of your sightings.
When you zoom in, it maintains the quality without color distortion or blurriness because it has HD lens quality. It has two focus knobs for accuracy and ease of use when you zoom in.
Lastly, the nitrogen filling in the lens prevents fogging regardless of when or where you're watching birds.
Pros
Two focus knobs for accuracy

HD lens quality

BAK4 prisms

80mm objective lens

Nitrogen purged 
Cons
Takeaway
Focus is an issue when using some spotting scopes, but Creative XP 20 to 60x has two focus knobs that are easy to use. For that reason, when you zoom in, it'll take you the least time to adjust your focus.
---
8. SV28 Scope - Best Budget Option
SV28's magnification starts from 25x, which is high compared to the magnification power most basic binoculars will offer you. Thus, it's an ideal spotting scope if you're switching from binoculars and you want a spotting scope with a fair price.
It has a 70mm objective lens, excellent in gathering and transmitting light to the eyepiece.
It means you'll enjoy better image quality as the light brightens and clarifies the image.
If the view on the eyepiece is glaring, you can extend the sunshade over it.
The non-slip surface enhances durability by reducing the possibility of dropping this scope when birding on a wet day. It's not heavy; you can carry it with you on birding tours with young bird lovers and let them enjoy using it too.
Its close focus distance is 8m, which means nearer objects won't have fine details. Nonetheless, you can still use it in a park or open landscapes.
Pros
Lightweight as it weighs a little over 2 pounds

Fully-multi coated lens for clarity

Porro prisms

The eyecups fold down
Cons
A close focus distance of 8m

Unstable tripod

Fiddly phone mount 
Takeaway
SV28 suits your digiscoping needs if you're using one for the first time. It has better optics than standard binoculars as it offers 25x magnification power through a 70mm objective lens.
---
After looking at the best spotting scope for birding, let's discuss what makes these scopes better than the rest.
For starters:
How To Choose The Best Spotting Scopes For Birding
Spotting scope reviews for birding enthusiasts mention terms like the field of view, magnification, and eye relief. Sometimes, it all sounds confusing. That's why we want to talk about:
Straight Or Angled Scope?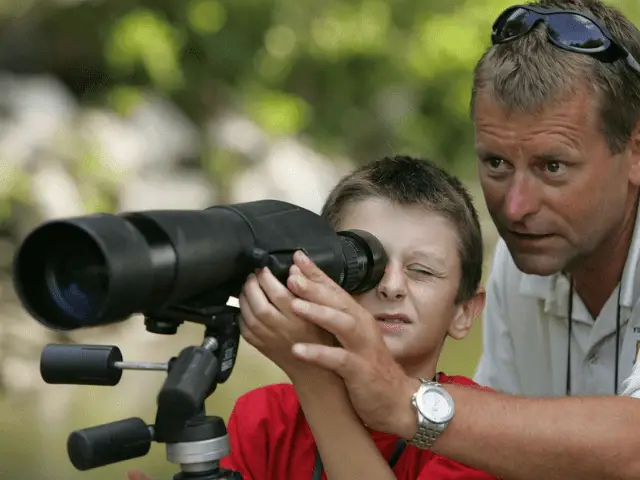 The decision to get a straight or angled scope depends on your comfort. But, let's compare the two briefly, so you'll know the advantages of getting either.
The objective and ocular lenses of an angled scope don't sit in a straight line because the barrel curves upward. For that reason,
It's easier on the neck; no muscle strain.

You can mount it on a shorter tripod.

More comfortable to use when viewing soaring birds or the ones perched on treetops.

It's also a good choice when birding in a group as people of different heights can use it.

It's easier to mount your smartphone for digiscoping.
On the other hand, a straight scope has both the objective and ocular lenses in a straight line. It suits birding on hills as the straight angle makes it easier to spot birds in the valley below. It's also faster to scan an expansive area at once in search of birds.
In our review, we looked at several angled scopes like the Emarth and Celestron models. We also talked about Barska, which is a straight scope.
Go for:
Zoom Eyepiece
A fixed eyepiece denies you the opportunity to get closer to the image in your view. Hence, choose a zoom eyepiece to locate birds, then zoom in until you see the fine details on them.
Some of the zooms we have in our review are 20 to 60x and 20 to 80x. Once you locate a bird at 20x, you can magnify it up to 80x.
Plus:
Minimum Focus Distance Matters
When a migratory bird visits your backyard, you want to zoom in and focus on details that ID it. A similar situation would arise when spotting rare species in a park. At such times, the focus adjustment should fine-tune your view.
That being the case, buy a scope with a minimum focus distance of 20 feet (about 6 meters). The Landove and Barska scopes in our review have a close focus distance of 6m.
Don't forget...
Lens Quality Controls Image Quality
You might worry about magnification and getting the highest magnification power in the market, but it all comes down to the quality of the lens.
When there's no light loss between the objective lens and the eyepiece, the images are clear and sharp. That's why brands install fully multi-coated glass surfaces to minimize loss during transmission.
Takeaway Points
The larger the objective lens, the brighter the image on the eyepiece.

Zoom magnification is better because you can enlarge an image to see more details.

Get a scope with a tripod, as these spotting devices are more stable on one.

You can replace the tripod offered with a sturdier one.

A padded carrying case protects your lens.

There are budget scopes with exceptional features.
For a better understanding of spotting scopes, here's a guide for you:
Before you go...
The Verdict
The Celestron Ultima 80 is our top spotting scope. It has an 80mm objective lens to give you bright images and a zoom eyepiece that takes you from 20x to 60x in a few seconds.
It's also an angled scope, which makes it easier to share with other birders and to use for hours without neck strain.
Nonetheless, if you're looking for something cheaper, there's the SV28 scope that magnifies from 25 to 75x through a 70mm objective lens. Not bad, right? It's lightweight, has Porro prisms and fully multi-coated surfaces. It's perfect!