Even with binoculars being a staple to every bird watcher and hunter alike, finding a good one can sometimes be overwhelming for potential buyers.
On top of that...
It is all the more challenging when you're scouring retail stores or the internet for the best compact binoculars.
I rounded up the best small binoculars this 2023, highlighting top features and usage to simplify your options and help you end up with a fantastic deal. Keep reading to discover why I deem Vortex Optics Diamondback as the best overall product. 
Product
Details

1. Vortex Optics Diamondback

Excellent Features

VIP Warranty
Twistable Eyecups
Superb Optics
Rugged
Reasonably Priced

Check Price On Amazon

2. Hontry 10x25 Compact Binoculars

Hi-Definition View

10x Precision
Multi-Coated Optics
Easy Focusing
Rugged

Check Price On Amazon

3. Bushnell H2O Waterproof Binoculars

Highly Waterproof

BAK-4 Prism
Tripod Adaptable
Optimal FOV
Robust Construction

Check Price On Amazon

4. Occer 12x25 Compact Binoculars

Ideal For Glass Wearers

12X Magnification
Large Eyepiece
Shockproof
No Night Vision

Check Price On Amazon

5. Skygenius 8x21 Binoculars

Suits Kids And Adults

Large FOV
Multi-Coated Optics
Not Waterproof
No Instructions

Check Price On Amazon
2023's Best Compact Binoculars Review
1. Vortex Optics Diamondback – Best Overall
These binoculars often come to the head of the list of anyone who looks for powerful magnification and generous objective lens, being a trustworthy brand in binoculars. 
Vortex Optics Diamondback has a rugged construction that looks promising for its durability that could last you years of reliable use, making it a relatively attractive option at a reasonable price.
The rubberized coating helps you hold the objective and ocular lens cover in place with the ease of popping them off whenever necessary. 
Its twistable eyecups also offer so much convenience when finding the most suitable setting while using the binos.
Furthermore, the HD view allows excellent optical quality, meaning a sharper image, better brightness, and resolution.
It even comes with wide and cushioned straps, a hardly noticeable harness, and a rigid padded case, making the binoculars comfortable and easier to use. 
On top of all that, you get noteworthy terms of the transferable warranty without the hassle of having warranty cards to fill out.
Pros
Excellent warranty terms

Outstanding optical quality

Smooth and quick knob focusing

Phase-corrected roof prism design

Sturdy construction

Twistable eyecups

Compact and lightweight

VIP warranty

Suitable for a variety of activities and hobbies
Cons
Unclear images along the outer edge of the field of view

Theft or loss, is not part of the warranty
Takeaway
You can't deny how the price point is pretty impressive for the higher quality and not to mention the costlier glass. It is no surprise how Vortex is a wildlife and hunting favorite for most people. It's also great how the eyepiece is conveniently adjustable and stays in place. 
What you will get for such a price is hard to match and ignore as well.
---
2. Hontry 10x25 Compact Binoculars – Best Value
If you're looking for the best travel binoculars for that trip you're planning with your kids; then your list should never be without this pair from Hontry. 
Both adults and kids love its lightweight design that perfectly fits the palm of your hand because you can fold it into a compact size when not in use.
For something so small, this pair of binos can give you such a clear image and allows you to capture moving objects with ease.
 It equips you in magnifying your view ten times bigger without blur and without compromising the color quality. Additionally, the anti-skid, rubberized body ensures a steady grip and makes it resistant to water.
Hontry binoculars are ideal for many outdoor adventures, especially for those who think about hiking or camping for the first time. 
However, they may not be entirely suitable for professional use.
Pros
Precise, 10x magnification

High-definition view

Multi-coated optics for enhanced light transmission

Lightweight and compact design

Rugged construction

Inclusion of a carrying strap

Easy to focus and use

Affordability
Cons
Night vision is less than ideal

No instruction for the neck strap
Takeaway
Hontry delivers exceptional performance for someone who needs an inexpensive pair of binoculars. 
It can yield sharp images, although the eyepieces are too small and don't open wide enough, making it more complicated when you need to focus on a subject. Having small eyepieces can also make it challenging for those wearing eyeglasses.
---
3. Bushnell H2O Waterproof Binoculars – Best Seller
Bushnell is a common name you'll usually encounter when checking compact binoculars reviews online. It is hardly surprising since they are a respected name in providing the best lightweight binoculars for casual travelers, hunters, or birders enjoying the extreme outdoors. 
Of all its jaw-dropping features, what caught our attention the most is its cutting-edge waterproof design.
This specific feature is a staple for those who need a long-lasting pair of binos that withstands the elements while providing a clear, crisp image. It is entirely resistant to water and fog, making it the best choice for harsh outdoor conditions or in places with high humidity.
These binoculars have 10x magnification, making distant subjects appear ten times bigger in detailed, high-contrast images. It's undoubtedly perfect for any hunting and birding activities.
On the contrary, some users also encountered slight spherical aberration near the images' edge, which typically affects all lenses, unless the binos have dual lenses.
Pros
Optimal field of view

BAK-4 prism with a multicoated objective lens

Sharp, bright, clear images

Robust construction

Rotatable eyecups

Accessible large focus knobs

Textured surface for easy grip

Highly resistant to water and fog

Tripod adaptability

Includes carrying case, neck strap, and rubber lens covers
Cons
Bulky and a little heavy

The focus needs frequent re-adjustment

Slight spherical aberration
Takeaway
Bushnell provides exceptional value in such a way that you won't have to worry about its light transmission capabilities. Its textured body contributes to a secure grip so you won't accidentally drop your binoculars while in use. 
With a good amount of eye relief features, Bushnell ensures comfort even for those wearing eyeglasses and at such an attractive price.
---
4. Occer 12x25 Compact Binoculars – Best Budget-Friendly
If you need the best lightweight binoculars for travel and outdoor adventures, you shouldn't look further than this brand. Occer is more vigorous than your standard compact-sized binoculars since it features 12x magnification, perfect for viewing subjects at a great distance.
Its anti-skid, rubberized body ensures secure handling and an unshakable viewing experience.
Occer 12x25 Compact is ideal for stargazing, watching concerts, bird viewing, and other outdoor activities requiring high-performing optics.
This pair is so small that it's still optimal even with one-handed use and, despite its size, allows you to look farther and see wider. 
Occer is suitable both for people with and without glasses and allows convenient eyecups adjustment. Due to its compact size, this equipment is now among the best pocket binoculars offering quality vision and comfortable all-day viewing.
Pros
Shockproof and highly resistant to water

Durable and well-made

Maximum portability

12x powerful magnification

Large eyepiece for comfortable viewing

Ideal for glass wearers

Compact and lightweight

Works with low light
Cons
Not smartphone compatible

No night vision

Problems in focusing

Defogging is difficult
Takeaway
This budget-friendly option is the best travel binoculars forme because of its compact and lightweight design. 
It conveniently accommodates the needs of those wearing eyeglasses with its 12-millimeters eye relief that allows them to get closer to the lens. The images are also clear even from far away, although some would say that the fog-proof feature may not be as promising as it seems.
---
5. Skygenius 8x21 Binoculars
SkyGenius may not be as famous as the other brands we featured in this article, but only because they have fewer models available in the market. These small binoculars only weigh 0.38lb, making it your best choice for on-the-go trips. 
Regardless of their size and affordability, they have superb precision optics and never with a cheap feel you would most likely expect from the less expensive products. 
This pair of binos even has an impressive light-gathering ability to keep up with your needs in dim-lit surroundings.
Moreover, beginners also find this device appealing because of its ease of use, giving them a chance to experience premium features without the steep price tag. 
It would've been almost perfect if only the package came with instructions.
While you may request the instructions via email, it's a whole lot better if the box came with a physical copy too.
Pros
Compact design

Multi-layer lens coating

Anti-skid and shock-absorbent rubber casing

Easy to operate focus knob

8x magnification, 21mm objective lens

Excellent light filtering

Large field of view

Suitable for kids and adults
Cons
Not waterproof

No instruction manual

It could be difficult to focus
Takeaway
It is not surprising how this device is part of today's best travel binoculars because of its outstanding performance, portability, and reasonable price. 
Unlike other inexpensive binoculars, you won't even have to worry that it would look like a flimsy toy, and it does well in providing a clear vision and sharp focus.
---
Why A Compact Binocular Is Essential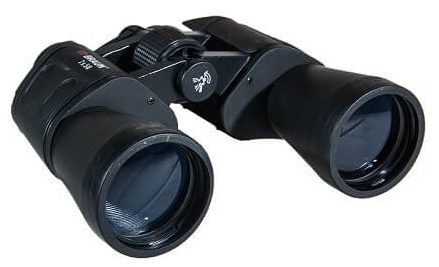 Among the most common misconceptions about binoculars is that compact binoculars are the same as pocket binoculars. 
While you will probably look for either of these two binoculars when you need something relatively light, pocket-type binos have narrower eyepieces and are less comfortable than compact binos.
On the contrary, compact binoculars come in various magnifications and are more appropriate for extended observations. 
They enhance the overall experience of expanding your vision, taking you into the action without moving a muscle.
Check out some of the advantages of using compact binoculars:
Portability
If you happen to own two binoculars, a standard-sized one and a compact one, you would most likely pick the latter if you need something easy to carry. 
Compact binoculars are considerably lightweight and will never slow you down when you're on the go.
Reasonable Cost
Compact binoculars are more budget-friendly than full-sized ones. Hence, it increases your chances of scoring the best mini binoculars that work within your budget. 
For a $100 budget or even less sometimes, you can find ergonomic models with at least 10×42 magnification capacity.
Optical Clarity
Having smaller lenses than standard-sized binoculars allows these compact binos to have better edge sharpness. 
Besides lens coatings, the phase correction enhances the image clarity and color. These prisms also correct the view orientation, whether horizontal or vertical, for a natural-looking view.
Choosing Binoculars By Purpose
There's an expansive range of optics ranging from different price levels nowadays, so you will sometimes check compact binocular reviews online to find which ones are the best. 
Nonetheless, the hunt for the best small binoculars can vary on your intended use.
Whether you're bird-watching, traveling, or hunting, the right pair of binos don't have to weigh a ton. However, choosing compact-sized binos does not mean that you should also lose the attributes of full-sized binoculars. 
You only need to identify your purpose to find specific binocular specifications to match it.
Several of the activities that will require you a good pair of binoculars are the following:
Bird Watching
For this activity, you will need a pair of binoculars that can endure dust, humidity, or the harsh environment of deserts and rainforests. 
This specific device will provide you with sharp and high-contrast images to have those gorgeous birds in focus effortlessly. These binoculars should also have an ergonomic construction, making them impeccable for birdwatching adventures.
Travel And Wildlife Observation
The outstanding combination of durability and portability is very crucial for this type of activity.
The animals are customarily distant during a safari adventure; hence, you will need binoculars that enable you to see them from a safe distance. It is also essential that your binoculars are easy to carry to make your travel an enjoyable and memorable experience.
A fine pair of binoculars will serve their purpose if you're heading out for some nature trip or visiting some historical places in the city.
Stargazing
Since this is a nighttime activity, you will need binoculars with the ability to perform well in dimly lit surroundings. 
Binoculars having a night vision feature help you see your subjects in the dark and at a significant distance. Especially with stargazing, where you only have a faint light in the sky, light transmission efficiency is more vital than a binocular's magnification feature.
Hunting
Hunting requires you to see your subjects clearly, even from a distance. Therefore, binoculars varying from 6x to 8x provide optimal magnification ideal for this kind of activity, while 10x magnification is more suitable for long-range viewing. 
Choosing the best hunting binoculars under $200 helps you identify your target and locate more animals hiding among the trees. 
Nature Watching
Equipping yourself with the best travel binoculars, like the best binoculars for safari, can get you closer to nature a lot easier than you can ever imagine. 
A wide selection of different binoculars may all look the same, but choosing the right one helps you focus on the local wildlife in a crisp, colorful view. 
You will need something with powerful magnification, image stabilization, and reliable construction, including a water-resistant capability to add to the enjoyment of nature spotting. 
Hence, it should be a piece of traveling equipment that fits any bag, tiny pouches without the additional weight.
General Use
Compact binoculars are indispensable pieces of equipment for many outdoor activities that help you get close to the action. They are perfect for viewing sports events at the stadium and for watching concerts too. Check out the best kid's binoculars and see more portable options in case you want one for kids. 
These binoculars are easy to store in your pocket or strap around your neck for easy access once the fun and action begin.
Learning Technical Jargons When Looking For Binoculars
When you go through different articles about binoculars, you will mostly encounter confusing terminologies. Understanding these jargons can be vital in making a sensible buying decision, so here are some of them:
Magnification Rating
Let's take 10x50, for example. The first number connotes the magnification, while the second number hints at the objective lens's diameter, typically in millimeters. When the first number increases, that means you will see your subject bigger, but then your field of view also gets narrower and harder to focus.
Similarly, when the objective lens's size increases, it means more light can get in, and your binoculars are bulkier and heavier. It also means brighter, better image quality.
Lens Coating
You will generally see these codes to describe lens coatings:
C:

It means that only a part of the surfaces come in a single-coating layer

FC:

It means that all lenses and glass surfaces have a coating layer

MC:

In this coating type, there are multi-layers of coatings on one or more of the lens surfaces

FMC:

This coating type means that all glass lens have multiple-layer coatings
Prism Type
There are two common prism types, well-known in compact binoculars jargon list:
Roof Prism
Binoculars with roof prism technology have an H-shaped design, and these are mostly the newer, costlier models that are also more compact. 
The design looks like two straight barrels, looking identical to a pair of telescopes conjoined together. Then the light enters, passing out of the prism in the same plane.
Porro Prism
Binoculars with Porro prism technology have an A-shaped design and are mostly the older and bigger models like some of the best affordable binoculars. This prism type is more famous for its exceptional performance, yielding better image quality at a budget-friendly cost. 
Porro-prism binos rarely have waterproof features and are mostly less durable, but never confuse it for being substandard.
Glass Grade
Among the most underrated binoculars' features is the glass grade in the prisms. They might vary in optical properties and price range, but both are representations of crown glass.
Here are the different prism materials:
Bak4 (Barium crown glass)
It is a widespread type of glass that could be more expensive but undoubtedly effective and the most preferred material.
Bk7 (Borosilicate glass)
With this glass, you will mostly see low light at the edges, and the view is a bit blurry and looks squarish with slight grey borders on the exit pupils. However, minimized image brightness becomes less noticeable in binoculars having large exit pupils.
ED Glass (Extra-low dispersion)
This glass type is also known as high density or HD, which corrects chromatic aberration or color fringing, resulting in high-contrast and sharp images. Unlike regular glass, it does not bend light.
Eye Relief
Eye relief illustrates the extent to which the binoculars can be kept from your eyes and still enable you to observe the entire field of view. 
The considerable distance between your eye and the eyepiece, commonly appearing in millimeters, is what you call eye relief. Additionally, the lack of eye relief causes problems for eyeglass wearers while using binoculars.
5-15mm: Suitable for normal viewing

12-15mm: Comfortable eye relief for those wearing eyeglasses
Trying out different binoculars will be the best way to find out the eye relief figure that is most beneficial for you. 
Don't just rely on eye relief specs in the description.
Often, what works for others may not work just as well for you, so you could very well try them on first before you decide.
Binocular Focus Systems
Achieving excellent image quality happens when you carefully think about the type of focus system you'd want your binoculars to have. You can focus your binoculars in two ways:
Center Focus
Modern binoculars have this focusing type of system since it's the most common and the most preferred among consumers. It helps adjust the field of view and focus an image for both eyes equally. The central control is responsible for the focus adjustment of both lenses.
Individual Focus
Unlike the center focus, this system is more straightforward, sturdier, and shows strong moisture resistance. It allows you to focus on each eye individually because each lens has a separate control. Some people refer to it as permanent focus or self-focusing.
Final Thoughts
After some careful analysis, I believe that Vortex Optics Diamondback is the best overall in this category of compact binoculars for its top-of-the-line performance, affordability, and portability. 
The Diamondback will be handy for hobbies that require spotting things at a distance, and it's perfect to use for all weather.
Nonetheless, if you need something of exceptional value but more affordable, then Hontry 10x25 Compact Binoculars are worth considering too. It has a sturdy construction and is optimum for an extensive range of other uses, making it worth every penny.
I hope that this comprehensive compact binoculars review will guide you in choosing the most suitable piece of equipment and give you years of pure enjoyment in your outdoor adventures.