Who doesn't love seeing little birds flutter and sing in their backyard?
Do you?
Well, I do. And if you're like me, you should get a birdbath for your backyard.
It's a no-brainer that solar-powered birdbath fountain kits are a better option than conventional birdbath fountains. They're pocket-friendly and good for the environment too.
After reviewing all the options carefully, we concluded that the SmartSolar 20633R01 Solar Birdbath is the best solar birdbath fountain out there.
However, it's not the only option. We've included other solar-powered fountain pump reviews as well, so you can choose the right one for your backyard.
 The 4 Best Solar Bird Bath Fountains And Pumps
1. SmartSolar 20633R01 Solar Birdbath – Best Overall
The SmartSolar 20633R01 Solar Birdbath is a top-notch solar birdbath option recommended by many bird enthusiasts. It boasts a minimal design and is constructed from glass-fiber reinforced concrete material that ensures durability and sustainability.
This solar-powered birdbath has a bowl depth of 1.3 inches, along with a water capacity of 1 gallon (enough to last two days at least). The color and design of this birdbath fountain make it the perfect addition to any neutral-toned backyard setting.
What's particularly interesting about this birdbath is that it's designed with a pump system that also operates under partial shades.
With SmartSolar 20633R01 you won't have to worry about your birdbath fountain running on cloudy days.
Just keep in mind that this SmartSolar Birdbath Fountain needs to be stored in a warm environment once the temperature drops, as it's prone to frozen damage risk.
Pros
Simple and compact design

Easy to install and clean

Concrete reinforced fiberglass construction ensures durability
Cons
Not shock or impact resistant

Will not work without sunlight
Takeaway
This elegantly designed solar bird bath fountain kit is an excellent choice for any backyard. It's sturdy, functional, and will add a touch of beauty to your space. It might not be the best choice for winters, but it was of great help for me during summers.
---
2. Sunnydaze 2-Tier Arcade Solar Fountain – Most Attractive
The Sunnydaze 2-Tier Arcade Solar Water Fountain is a classy yet modern solar birdbath that people can easily confuse for a decoration piece (at least I did at the first glance).
It's a heavy-duty solar bird bath fountain constructed from durable polyresin and fiberglass to ensure longevity.
This solar bird bath fountain features a two-tier system and a rustic design, which made me fall in love with it instantly.
It's compact but still highly functional, just like a full-size fountain.
The fountain can hold up to three gallons of water at a time, thus saving you the hassle of filling it up every day. It has a 23-inch diameter and is 45 inches tall.
The kit also includes a small, easy-to-install solar panel that can be mounted near the fountain or at a separate location that gets direct sunlight. This means you won't have to move the fountain around in hopes of sunlight; you can simply move the solar panel.
Pros
Two-tier design allows for better flow of water

Polyresin and fiberglass construction ensures durability

Comes with a small, easy-to-install solar panel
Cons
Heavy in weight; difficult to move around

Solar panel is small in size and might not generate enough power for a fountain
Takeaway
It's easy to see why this fountain is named the best solar birdbath fountain in many reviews. It's attractive, sturdy, and functional. Although it's heavyweight, I think the lightweight solar panel makes up for it. However, keep in mind that it's on the pricier side.
---
3. Solatec Solar Fountain - Best Budget Buy
The Solatec Solar Fountain isn't exactly a solar-powered birdbath fountain; it's a solar device that you can add to your existing birdbath to make the water float. It features durable, high-quality construction with an efficient and versatile design.
This compact device isn't just a solar birdbath; it can be used in small ponds, garden decorations, and for improving water circulation too.
What I particularly liked about this device is how easy it is to set up and move around.
All you need to do is place the solar panel in water, and it'll turn on automatically once the sunlight hits it. I think it's important to mention here that the light should be bright enough for the panel to switch on.
Although I used the panel for a few weeks only, I believe it wouldn't be wrong to say that this long-lasting, brushless pump can last for years on end - thanks to its solid design.
Pros
Versatile pump ideal for birdbaths, fountains, and garden decoration

Heavy-duty construction ensures durability

Has three heads for different water patterns
Cons
Not a steady fountain; just sprays water every couple of seconds

Doesn't have much pressure
Takeaway
This solar birdbath device is an option worth considering for all those who want to convert their conventional bird baths into solar ones. This solar device is the most inexpensive option on my list, so you won't have to worry about it putting a hole in your pocket.
---
4. OKMEE Solar Fountain – Value for Money
The OKMEE Solar Fountain is another one of the best solar-powered birdbath fountain kits with rave reviews. It's made from PET laminated solar panels that ensure long-lasting use in a harsh environment too.
This solar device is highly flexible and doesn't require any installation. It has an efficient solar panel that runs on 1.4W and takes about 3 seconds to start once it reaches a certain threshold of sunlight.
I was delighted to see that the kit has four different spray heads to create multiple water patterns. It's designed in a way to ensure that it gets maximum sunlight wherever it's placed.
What truly impressed me was the maintenance and portability of the pump.
Cleaning it is quick and easy, just like moving it from one place to another is, since the device doesn't have any plugs.
Pros
Compact and efficient device

Easy to handle and deal with

Beautiful design with four spray heads
Cons
Might shoot water out of the birdbath

Doesn't work under partial shade even
Takeaway
If you want a simple, low-maintenance solar birdbath fountain that doesn't cost an arm or leg, then this solar device is the right choice for you.
At a price tag of less than $30, it offers a number of features. Plus, you can use it in multiple places.
---
How To Choose The Best Solar Bird Bath Fountain
It's easy to get lost in the plethora of options available in the solar birdbath category, especially if you're buying one for the first time.
You might have read many solar birdbath fountain reviews in search of the best solar birdbath, but what these reviews won't tell you is the things you should look for in a birdbath. I've listed them below for your convenience.
But before that, here's one from a DIYer. Let's have a look at how he built a self-filling solar powered bird bath:
Material
Solar birdbaths are constructed using many different types of materials. If you're searching for a heated birdbath, then go for fountains made from fiberglass, polyresin, and concrete as these materials are durable and easy to clean.
Solar bird bath devices, on the other hand, are usually made from PET laminated material.
Size Of The Pump
Keep in mind that the size of your pump should match the size of your fountain, whether it is designed for larger birds or as a hummingbird bird bath. If you get a small one, it won't be enough to keep the birds entertained, whereas a large one will spill water outside the fountain.
There are other considerations too, such as the height at which it pumps the water.
Solar Panel Power
Solar bird bath fountains usually come with small solar panels. But if you plan on running the fountain all day long, then you're going to need a more powerful solar panel.
Similarly, if you get a large pump that circulates more water, then also you're going to need a larger solar panel. But keep in mind that a larger unit will be difficult to move around.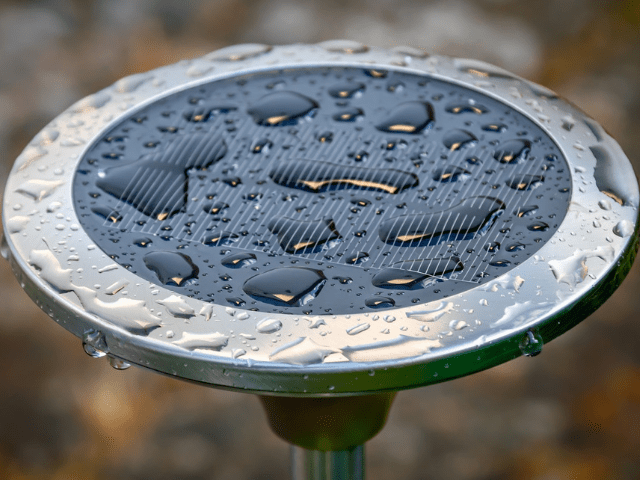 Final Thoughts
After browsing through multiple solar fountain pump reviews and testing a few of them myself, I've concluded that the SmartSolar 20633R01 Solar Birdbath is the best solar birdbath fountain - perfect for those who want something sturdy and durable.
This solar birdbath features a timeless design with a 1.3-inch diameter allowing for more space for birds and turning them into loyal visitors.
However, if you're looking for a solar device to turn your conventional fountain into the best solar fountain, then you should check out OKMEE Solar Fountain, one of the best solar-powered birdbath fountains kits that offer value for money.
We hope our solar birdbath review helps you find the best solar-powered fountain pump for your little friends!