I love seeing colorful birds fluttering and singing on my patio now and then. But I'm also well aware that some bird species can become a problem at times, and you feel the need to get rid of birds quickly.
Now...
If you've been a victim of bird wrecking, you might want to consider adding bird deterrents in your backyard.
Considering all bird species' safety in mind, we think that the Bird-X Stainless Steel Bird Spikes is the best bird deterrent that's widely available, too. If it doesn't seem to fit your requirements, check out below for other models of the best bird deterrents in this review.
Product
Details

1. Bird-X Stainless Steel Bird Spikes

Highly Effective

Functional Design
10 Feet Long
Can Cut Into Pieces
Stainless Steel
Easy To Install

Check Current Price

2. Dalen Gardeneer Scarecrow Horned Owl

Realistic Look

Simple, Yet Effective
Lightweight
Durable
Easy To Maintain
Works For Small Birds

Check Current Price

3. Izbie Z1 Ultrasonic Bird Repellent

Breakthrough Model

Covers 10 Meters
5 Mode Adjustments
Solar & USB
Can Harm Humans

Check Current Price

4. Bird-X Bird-Proof Gel Bird Repellent

Prevents Nesting

Transparent
Easy To Apply
Needs Reapplication
Birds Can Get Stuck

Check Current Price

5. Britenway Reflective Scare Tape

Hassle Free

100 Meters long
Can Cut Into Strips
Easy To Use
Ineffective When Dark

Check Current Price
The 5 Best Bird Repellents Reviewed
1. Bird-X Stainless Steel Bird Spikes - Best Overall
Using spikes to scare birds is an old-school yet effective technique to keep those little wrecker birds away, and is there any better option than the Bird-X Stainless Steel Bird Spikes? We don't think so.
Now, I know this isn't the most aesthetic bird deterrent to get rid of birds available out there, but its effectiveness beats all. It features a functional design with a flexible base, which impressed me the most. Having a flexible base means you can conveniently line in on uneven surfaces.
It's 10 feet long with approx 15cm long spikes, but you can adjust the length by cutting it into pieces so you can scatter them if you have a bigger area to keep more birds away.
What makes this bird repellent stand apart is that it's constructed from stainless steel, which means it won't corrode or decay in normal conditions.
Installing this bird spike deterrent is very easy. You can do it using nails, screws, staples via holes on the base, or outdoor adhesive glue. If secured properly, the spikes will hold their fort for long. There's hardly any chance that they'll fall off or get blown over because of strong winds.
The best part? These spikes aren't sharp and won't harm the birds in any way, making it a humane bird control technique.
Pros
Made from durable, non-corrosive stainless steel

Has a flexible plastic base that's easy to install and adjust

Hassle-free installation
Cons
Works on places only where it's installed
Takeaway
The Bird-X Stainless Steel Bird Spikes is one of the most effective bird deterrent products of all time. It's functional, flexible, and won't be easily affected by the weather. Overall, it's an excellent choice, especially for those who want to prevent birds in a small area.
---
2. Dalen OW6 Gardeneer Owl - Popular Choice
Like bird spikes, scare owls have also been used as an effective bird control technique for decades. The Dalen OW6 Gardeneer Scarecrow Horned Owl is one of the most sought-after models due to its simplicity and effectiveness.
Although it's a fake owl, it is a life-like plastic owl model that's about 40cm tall. As the owl is the natural enemy of various small birds, including pigeons and woodpeckers, having this realistic owl model will scare away all the birds from being a nuisance in your backyard.
The fake owl imitates the pose of a real owl perching on tree branches which means you can place it on fruit trees (or any kind of tree, actually) or large plants in your backyard.
I, for one, was truly impressed with the realistic look and feel of this plastic owl. Point to be noted; this is one of the best bird deterrents you'll find on the market.
The authentic colors, fierce eyes, and sharp beaks of these fake owls will certainly scare away the small birds without causing them any harm. It's a win-win situation.
Since the fake owl is made of plastic, it's lightweight and easy to move around. However, this also means that it gets blown over easily by strong winds. I secured it with some rocks, and this helped during the windy season.
Pros
Fake owls that look life-like

Lightweight and durable

Does not require deep cleaning
Cons
Gets easily blown over due to wind

Fake owls work for small birds only
Takeaway
This horned, life-like Owl is a great option for those who want something simple yet effective. It's lightweight, durable, and will add a touch of charm to your backyard or patio. Just make sure you secure it tightly with rocks and you'll be good to go.
---
3. Izbie Z1 Ultrasonic Bird Repellent - Premium Pick
If you're someone who prefers modern, up-to-date technology instead of the traditional methods, then the Izbie Z1 Ultrasonic Bird Repellent is an option worth considering. This bird repellant is considered a breakthrough model. It doesn't only prevent birds but also rodents, snakes, and other intruders from entering your backyard.
This bird repelling device uses a specific kind of sound and light to deter animals away. The sound and light are detected by birds as dangerous sources, and this forces them to fly away. The best part? It's completely cruelty-free!
The model comes with five different modes, ranging from lowest and highest sound and a flashing light.
I found mode three enough to scare away little birdies, but if the birds in your backyard don't budge on that and they still leave bird droppings (at least) before they fly away, then you can always bump up the sound and light.
The model can cover up to 10m of open area. If you use it in your backyard, then there's a slight chance that you'll find the sound bothersome. I didn't though, and my family's feedback was the same.
Pros
Deters a range of other animals besides birds

Has five different modes

Comes with a solar battery and rechargeable USB
Cons
Ultrasound rays can be harmful to humans
Takeaway
This is an excellent bird repellent device that'll help efficiently avoid that mess caused by birds every day. It's easy to install and doesn't require any maintenance. The device can cover up to 10m of open space. However, do keep in mind that it can be harmful to humans (especially babies).
---
4. Bird-X Bird-Proof Gel Bird Repellent - Value for Money
Another trending bird repellent device is the Bird X Bird-Proof Gel Bird Repellent. As the name suggests, it's a gel-like substance that makes the area sticky to prevent birds from roosting or perching on particular spots.
This bird repellent is the opposite of the ultrasonic bird deterrent discussed above. It doesn't deter birds from a distance; rather, it prevents birds nesting or from perching on places where the gel has been applied. It wouldn't be wrong to say that it's a caulk-like material.
What I particularly liked about this bird control technique is that since it's a transparent gel, I can apply it anywhere I want without ruining the look of my home.
The stickiness will probably make birds feel irritated, but it won't harm them in any way. The gel is made from polybutene, which is safe for birds, humans, and the environment. However, you'll have to keep an eye out for smaller birds like hummingbirds as they might get stuck on the gel and will have to be released.
The gel is easy to apply and will need reapplication after weeks (or a month), but keep in mind that it can catch bugs and small insects, so you might have to reapply it sooner.
Pros
Easy to apply gel

Won't ruin the look of your property

Totally effective and harmless for larger birds
Cons
Tiny birds might get stuck in the gel

The gel can trap unwanted pieces of stuff as well
Takeaway
The Bird-X Bird-Proof Gel is an option worth considering, especially for those who want something that's effective and doesn't ruin the look of their property. It's efficient, easy to use, and can be applied anywhere to avoid large birds from perching on a particular spot.
---
5. Britenway Reflective Scare Tape - Best Budget Buy
It's a well-known fact that birds are scared of reflective surfaces. Hence, many people use reflective tapes to scare away birds. If you'd like to explore this method, then the Britenway Bird Deterrent Reflective Scare Tape is a must-try for you.
This tape is a hassle-free way of efficiently protecting your home and trees from birds. It's nearly 100m long and has a 5cm width, which makes it large enough for a small backyard. Covering your backyard with tape might seem like a hassle, but it's not.
Hanging this tape in my backyard didn't consume much of my time and effort.
I cut the tape into small strips and fastened it on my trees' branches and the walls using adhesive tape.
You don't need to hang the tape on the highest spots to make it visible, but make sure it's in direct contact with the sunlight. Otherwise, the tape won't serve its purpose.
As per my experience, this tape does help in deterring birds away, but not every type of bird. Also, the tape isn't really of any use when there's no sunlight. So, on cloudy days, you might spot a pigeon or two in your backyard. But other than that, it's all good!
Pros
Reflective surface and flapping sounds effectively deter birds

Easy to hang in any spot

Can give a funky look to your pergola or arch
Cons
Doesn't work for all types of birds

Ineffective during the night time or on days with no sunlight
Takeaway
The Britenway Bird Deterrent Reflective Scare Tape is an effective and inexpensive bird deterrent. It does a great job of scaring away birds, but only when the circumstances are favorable. It's easy to hang up and take down, but you'll probably have to secure it with something as it can get blown over easily.
---
Factors To Consider Before You Buy
If you're buying a bird repellant for the first time, chances are that you'll get lost in the matrix of selection.
To make the selection process easier, I've made a list of factors that you should consider when buying a bird deterrent:
Safety of Birds
It's possible to chase unwanted birds away without causing them harm. You surely don't want to hurt those little fellas, am I right? Hence, look for bird control techniques that aren't fatal for birds. Understand the mechanism of the bird repellent and read the ingredients (in case of chemical repellents) to know if they're harmful or safe. We've also added a small section on bird deterrents that you should avoid below!
Human Safety
Besides bird safety, you also need to see whether the bird repellent is safe for the humans around - including yourself. Some bird deterrents - particularly bird sprays and bird repellent devices - can cause irritation and allergies. So, make sure you choose a human-friendly bird repellant, especially if the bird area mingles with the human habitat.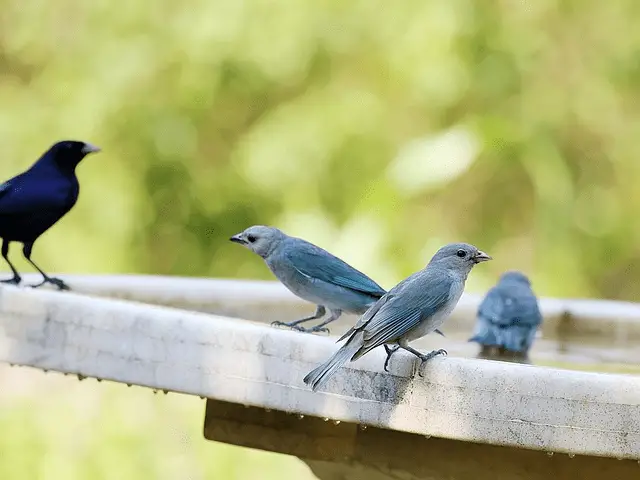 Effectiveness
Unfortunately, most of the bird deterrent devices and sprays don't work for all kinds of birds. For example, a bird repellent gel works well for pigeons, but can't scare birds like woodpeckers, who are relatively small. Therefore, it's best to identify the birds you want to avoid and then get a bird repellant accordingly to ensure maximum effectiveness.
Target Area
Some bird repellents are suited for small or cramped areas, while others are perfect for larger areas (say, a sweet cornfield). A reflective tape or scare owl can be efficient bird control techniques for a small balcony or backyard to keep birds away from trees, but for a large farm, you'll probably need an ultrasonic bird repeller device that can reach every nook and corner of the farm.
Aesthetic
A bird deterrent should not ruin the look of your home and buildings. Attaching spikes in every inch of your garden will surely keep the birds away, but it might scare your neighbors too. If your home's aesthetic matters to you (like me), then you should opt for a bird repellent that doesn't mess with the view of your house.
Durability
Bird deterrents aren't very expensive, but installing a new one every other month can be a hassle. A bird repellent isn't something that'll last for years, but with proper care, you can prolong its lifespan. Secure your bird repellant properly, keep it clean, and don't forget to refill the gel or re-spray the garlic extract after a sudden shower.
Budget
Last but not least - you also need to consider your budget when buying a bird repellent. Chances are that you'll have to replace your bird deterrents at least once a year, so avoid getting something too expensive. Also, keep in mind that a long-lasting technique is always a more cost-effective choice.
Which Birds Should I Be Wary Of?
Not all birds are harmful to your property. Having a healthy bird population can control pests and insects. Also, listening to birds singing and frolic around can be very relaxing, as can be seen in this video:
There are some birds that you don't want in your garden, though. These include blackbirds and crows. Such birds are beneficial for the most part, as they help control the insect population, but they also eat all your seeds and vegetables like lettuce and tomatoes. You certainly don't want this to happen, do you?
Bird Repellents That You Should Avoid Using
In this article, we've shared a few ethical methods of deterring birds from flying into your backyard or patio. However, there are some unethical ways of doing that too, which don't only scare birds but can also cause harm to the little birdies.
I've mentioned some of them below for your general knowledge. Please note that I don't recommend using these on your property. 
Hardware Screens
Hardware screens are like nets that are installed in gardens to prevent birds. I'm not a fan of this method as the birds can get stuck on the screen and get trapped or even strangled, resulting in a painful death.
Plastic Nets
Like hardware screens, birds can get entangled in plastic nets as well, and this can become a larger issue as the pest birds might end up harming your plants and crops while trying to free themselves.
Chemicals
Apart from pesticides, there are chemicals that you can spray on your crops or mix into the soil to deter birds. Most of the time, these chemicals are harmless, and their job is to make the birds not want the seeds or crops. However, unlike a bird deterrent, they can be life-threatening if the birds consume the contaminated crops.
You should steer clear of these methods at all costs.
The Bottom Line
After testing out and observing all the bird deterrents listed above, I've concluded that Bird-X Stainless Steel Bird Spikes is the best bird repellent out there. These bird spikes are perfect for those who want a functional and effective bird control technique that's bird-friendly and doesn't harm the environment, either.
However, if you're looking for something that isn't very expensive and offers great value for money, then the Bird-X Bird-Proof Gel Bird Repellent is second to our best bird deterrent. It's effective and safe for large birds too.
We hope that our best bird deterrent list with detailed reviews will help you make the right decision!