Let me guess, squirrels are ripping your bird feeder apart.
No, you're not dreaming.
They can use trees or anything else as a launching pad to raid your feeder.
But, when you squirrel-proof your feeder or hang it on a feeder pole, you're one step ahead of them. They'll not like it, but you're the boss.
Have you mounted it on a feeder pole?
We rounded up some of the best bird poles, and our top pick is the Ashman Premium Bird Feeding Station. Read on to find out why it's the best bird feeder pole system in the market.
Product
Details

1. Ashman Premium Bird Feeding Station

Versatile Features

Customizable
Easy Maintenance
W/ Water Batch
Several Hooks
Attracts All Birds

Check Current Price

2. Sorbus Bird Feeding Station

All-In-One Station

Tall Feeder Post
Has Perching Spots
Detachable Birdbath
Attracts More Birds

Check Current Price

3. Gray Bunny Deluxe Feeder Station

Five-Prong Base

Firm & Stable
Has Suet Cage
Easy Maintenance
Too High To Refill

Check Current Price

4. Gray Bunny Double Hook Metal Hanger

Cost-Efficient

Sturdy Prongs
Durable Metal
Double-Forked Hooks
Not Squirrel Proof

Check Current Price

5. Ashman Shepherd's Hooks

Kids Can Reach

Easy To Setup
3 Diff. Set Options
Lowest Priced
Too Short

Check Current Price

6. Beau Jardin Shepherd's Hook

Can Hold A Feeder

Thick Pole
Weather Resistant
Tall Pole
Not Squirrel Proof

Check Current Price

7. Wosibo Deck Hook

Appealing

Fence/Deck Use
Hangs 2 Feeders
Easy Setup
No Perches

Check Current Price
7 Best Bird Feeder Pole In 2023 - Reviewed 
1. Ashman Premium Bird Feeding Station - Best Overall
To take your birding experience to the next level, buy different bird foods and different bird feeders. Next, install an Ashman Premium feeding station to hang your feeders and watch as more varieties of birds visit your backyard.
It's our best overall feeder pole for many reasons.
First, you can install it near a window to draw birds to you for better viewing and easier feeder maintenance. It's easy to customize this feeder pole by adjusting the hooks' height, the tray, and the water bath.
It's so exciting to watch small birds bathing in the bowl as you listen to the chirps of other birds perched on the hooks. Kids can also help you refill the tray and feeders on the lower pole hooks.
Further, to have some order in your backyard, hang feeders for large birds on the top hooks and let the small birds use the bottom feeders.
Pros
About 6.8 feet above ground

Several feeder hooks

A water bath

Adjustable hooks

About 22 inches wide
Cons
Takeaway
Once you install a squirrel baffle on this feeding station, you'll not think about buying a feeder pole anymore. This one will feed all types of birds but keep squirrels away.
---
2. Sorbus Bird Feeding Station - Best Feeding Station
If you've tried everything you know, but birds still don't like your backyard, how about installing an all-in-one bird feeder stand? It'll draw birds by giving them so much to do when they visit.
Additionally, this Sorbus Feeding Station can hold more bags of seeds than a shepherd's hook. How? It has four feeder hooks, one mesh tray, and a bowl to use as a water bath.
You'll also attract more varieties of birds by adding foods for different birds. Plus, there's more space to perch, and the mesh tray can feed large birds that can't perch on your feeder pole.
Once you set it up and birds show up, your backyard will turn into an avian paradise that'll keep you and your family busy.
You can adjust the height of the feeders, and the water bath is detachable for regular cleaning.
Lastly, it's easy to assemble and manage. 
Pros
Can hold several feeders

It's a tall feeder post

Has perching spots for birds

Adjustable hooks
Cons
Takeaway
This heavy-duty feeder pole adds a practical feeding station with several hooks to hold your feeders. It's like a mall for birds: they feed, perch, and take a bath.
---
3. Gray Bunny Feeder Station - Best For Spacious Backyards
When you have a spacious backyard, you attract more birds. Hence, get a big feeding station. While the Sorbus Design above holds three bird feeders, this Gray Bunny design has hooks for four feeders plus a suet cage.
It's so versatile you'll have different wild birds flocking your backyard.
The suet cage is closer to the ground, so if you've been having a squirrel problem, you can use it to feed squirrels to keep them off your other feeders.
Finally, it has five base prongs, so it's firm.
Pros
Separate suet cage

Four hooks

For feeding diverse birds

Five-prong base
Cons
The feeders may be too high to refill
Takeaway
Feeding different wild birds can be daunting because the small birds have to compete with the large ones.
However, when using a feeding station, each bird can eat as much as it wants. Gray Bunny wants you to hang four bird feeders, fill a suet cage and a seed tray so that you can feed the number of birds you want.
---
4. Gray Bunny Metal Hanger - Best Multipurpose Pole
We ranked Gray Bunny Double Hook Metal Hanger as the best for multipurpose use because it comes in a pack of four double-forked poles.
Therefore, you can hang a few bird feeders and use some of the poles or hooks to hang flower pots, solar lanterns, or mason jars. They're so simple to install; no assembly.
Additionally, they are durable as they are steel poles with no plastic components. When you plant their base prongs in the ground, they are firm and sturdy to withstand any activity on your bird feeders. They support up to five pounds on either hook.
If you've spotted squirrels in your backyard, you might have a little situation when you install this pole as it's short.
It's about 29 inches (about 2.4 feet) from the ground, yet squirrels can climb even a feeder pole that is 42 inches tall (3.5 feet). 
Pros
Made of durable metal

In a set of four hooks

Double-forked hooks

Multipurpose hooks

Sturdy prongs 

Visually appealing
Cons
May bend from too much weight
Takeaway
I'd recommend this Gray Bunny set if your area is squirrel-free. The black coated steel hooks can boost your curb appeal, and they're multipurpose.
---
5. Ashman Shepherd's Hooks - Best Budget Option
Ashman has many feeder poles in the market, but this set has the lowest price. It's a set of four, eight, or twelve shepherd hooks to suit the number of bird feeders in your backyard.
These hooks are about 35 inches tall (about 3 feet), which can bring your bird feeder too close to the ground that squirrels feast there all day long.
However, this height is an advantage if you have kids and you'd like them to participate more in taking care of the feeders. They'll reach the feeders without standing on the tips on their toes.
Pros
Easy to install

Three set options

Budget-friendly
Cons
Too short to hang some bird feeders
Takeaway
Their height doesn't matter so much if you can squirrel-proof your bird feeder using a cage or other method.
---
6. Beau Jardin Shepherd's Hook - Best Simple Design
Beau Jardin Shepherd's Hook is a two-pack made of rust-resistant metal to ensure these poles serve your backyard for years.
Unlike some of the shepherd's hooks we have above, this one is 92 inches long (about 7.6 feet); thus, it's a squirrel proof bird feeder pole.
It's not only for bird feeders as it can hold a birdhouse that is up to 10 pounds in weight. The prongs you plant on the ground are also tall to offer firm support on a windy day. Further, as you plant them in the soil, they won't damage your backyard.
Since it has a hook for one feeder only, there are no obstructions to interrupt your birding experience. Nevertheless, some crafty squirrels may scale up the feeder pole, so you may need a squirrel baffle to stop them.
Pros
Thick metallic pole

Tall feeder pole

Rust-resistant metal

Holds up to 10 pounds

Withstands different weather conditions
Cons
Takeaway
Getting a feeder pole is the first step towards preventing predators from invading your bird feeder. This pole is tall, durable, and thick. You'll love watching birds from any corner of your backyard.
---
7. Wosibo Deck Hook - Best Deck Feeder Pole
If you feed birds from your deck, you can attach a feeder pole to it and hang your feeders. Wosibo's 37-inch feeder pole is a thick steel pole; hence, it's durable.
It has two hooks to support two feeders, which increases the number of birds you can feed at once.
Further, it's sturdy to withstand strong winds.
You can also hang it on a picket fence if you have no deck.
The installation process is easy; use your hands to tighten or loosen the nuts, and the pole is ready to use. 
Pros
Visually appealing

Mountable in several places

Simple design

Hangs two feeders

The deck offers sturdy support
Cons
No perches except on the hooks

May not feed large birds
Takeaway
You may not have a backyard on which to feed birds, but you can mount a feeder pole on your deck. Wosibo makes it possible, and the pole's installation process is easy.
---
In this bird feeder pole review, we've talked about three types of feeder poles - feeding stations, shepherd's hooks, and deck posts. Of these, the first two are the most common.
Let's differentiate them below:
A Feeding Station Or A Shepherd's Hook?
Let's discuss these two types of feeder poles separately.
First...
Feeding Stations
The benefits of using a feeding station are:
They support more bird feeders than a shepherd's post, plus other amenities like a suet tray and a water bath.

Using a feeding station brings order to your backyard as all your bird feeders hang on a single pole. 

Feeding stations have the recommended height of feeder poles.

They prevent further damage to your property caused as you plant several feeder poles in the ground.  

It's a wise investment because you'll only clean under one feeder pole, unlike when you have so many feeder poles planted in your backyard. 

You have only one place to focus when looking for birds.
The downside of feeder stations is the wastage of seeds, and a higher chance of contamination, as the seed tray is open.
Nevertheless, you can prevent this by cleaning the tray regularly. Moreover, pour food for large birds on it as they can feed without stepping on the food.
Shepherd's Hook
There are the benefits of using this type of feeder pole too, such as:
Cheaper than getting a feeding station, and they come in sets of 1,2, 4, or more.

They are shorter than feeding stations; thus, easier to refill.

They prevent seed wastage as you hang covered feeders.

They prevent congestion and commotions in your backyard.

They are more visually appealing.
Nonetheless, some shepherd's hooks are weak and short, and you can only hang one or two feeders on them. To counter these issues, hang light feeders only and squirrel-proof the pole to prevent squirrels as they add more weight to a bird pole.
Now you have seven bird feeder poles to compare, and you know the difference between feeding stations and shepherd's hooks.
But, before you go shopping, let's look at...
How To Choose A Feeder Pole
We've discussed features that differentiate one pole from the other such as height and the number of hooks. What do you do when you can't decide which feeder pole to choose? Here's how you can tell feeder poles apart.
Go For Squirrel Feeders With Baffles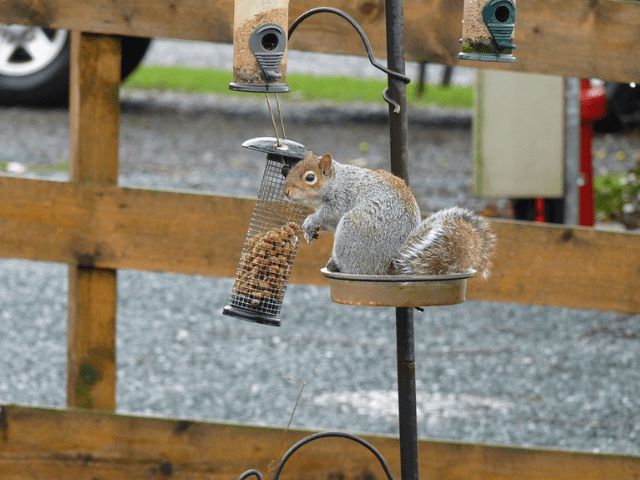 A bird feeder pole with a baffle is more efficient than one without, and I'll tell you why. First, when you buy a bird pole without a baffle, you'll incur an additional cost of squirrel-proofing it. Plus, it's more expensive to feed birds when squirrels and predators eat all your bird seeds.
A squirrel proof bird feeder pole is complete and ready to mount in your backyard.
Nonetheless, since there are good designs without a baffle, like the ones we have in this review, it should at least be easy for you to add a baffle. For instance, the bird poles should be tall so that a baffle is about 3-4 feet from the ground.
Function Is More Important Than Aesthetic Value
Therefore, look for durable, sturdy poles with enough hooks to hang your feeders. When buying a set of shepherd's hooks, like the 12-set Ashman Shepherd's Hooks in this review, have enough space for them in your backyard.
Remember, the closer a feeder pole is to a fence or a tree, the more likely a squirrel will raid it.
Additionally, the feeder pole should support the weight of several feeders without bending or falling over. The feeders shouldn't be so close together that birds have no space to perch.
Such problems arise when you plant shepherd's hooks too close. They may also occur when you forget to adjust the height of feeder hooks on your feeding station.
Easy Installation Saves Time
Lastly, when you're not squirrel-proofing your feeder pole with a baffle, planting it in the ground takes a short time. The easier the process, the fewer tools and technical know-how you need.
How To Squirrel-Proof Your Bird Feeder Pole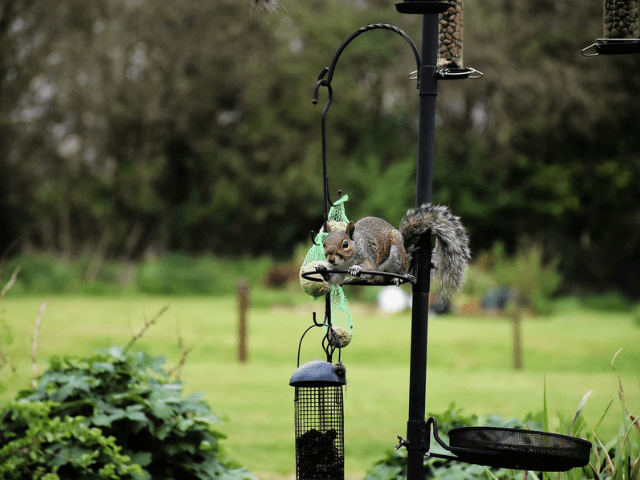 Some bird poles are squirrel-proof. Other feeder poles, like some in this review, require customizations or tactics to keep squirrels away.
Here are a few ideas:
The Location Of The Feeder Pole Matters
Squirrels and other animals reach your bird food by climbing the nearest trees or from the ground. Depending on the feeder design, you can suction it onto a window, hang it on a tree or attach it to your deck rail.
Or Instead, use a feeder pole for more control over predators. But, it should be about 8 to 10 feet away from branches, fences, or trees. Additionally, your bird pole should be tall because a bird feeder should be about four feet off the ground.
Attach A Baffle
A baffle adds a physical barrier to your pole to stop squirrels from climbing. You can attach it above the feeder, below, or use both types of baffles. The feeding stations we've discussed here are over six feet tall; hence, you can fit a baffle below the feeder.
Here's an idea on how to do a DIY baffle for your bird feeder.
Get A Squirrel-Proof Feeder
Maybe, the squirrel-proof bird feeder in your backyard will still attract squirrels even after installing a new feeder pole. It could be, your feeder is too easy to raid.
Change to a feeder that targets a specific bird species so that seeds don't fall on the ground and attract squirrels. For example, buy one with a feeding slot that fits tiny beaks only.
You can hang one feeder on each side, each targeting a different species. Alternatively, you can use one of the feeding stations in this review and feed squirrels separately on the bottom suet cage.
Reduce Fallen Seeds
Seeds scattered on the ground attract predators and other animals. To minimize this wastage, buy seeds without shells so that it's easier for birds to feed.
Also, consider having a separate feeder for each type of seed because when you mix them, birds may scatter them as they pick what they love eating.
Alternatively, place the feeder inside a tray such that bird seeds don't fall on the ground creating an accidental squirrel feeder buffet.
To conclude this review:
The Verdict
Bird feeding is addictive. Before you know, you have several feeders mounted in your backyard. The Ashman Premium Bird Feeding Station brings all your feeders together on one bird pole.
It's easy to install it as all you have to do is plant the prongs in the ground, adjust the feeder hooks, and hang your feeders. On top of that, you can squirrel-proof it. It's also taller and sturdier than the Ashman Shepherd's Hooks.
However, if you're working with a tight budget, pick the Ashman Shepherd's Hooks. There are sets of 2, 4, and so on.