Besides providing fresh, clean water and food supply, looking for the best bird houses is also crucial in attracting feathered friends into your yard. 
Here's why:
It will give them a welcoming environment; hence, they will keep coming back to your space and will most likely stay for good.
To help short-list your choices, we have gathered several of the finest bird houses available today. We included feature highlights and some essential tips to consider when looking for the best bird houses for sale. 
By the end of this article, you will discover what makes Woodlink Wooden Bluebird House our best overall product.
The Best Bird Houses Of 2021 Reviewed
Investing in a bird-friendly home is your first step in attracting the presence of these feathered friends. There's a greater chance of having at least one bird around the block for quite some time now, moving from one place to another in search of a secure shelter.
Choosing a superior quality bird house is a foolproof way of drawing a bird's interest to your home. 
However, there is a wide selection of bird houses in the market today that it can get overwhelming sometimes. So, here's the part where we make a seemingly daunting task simplified for your convenience.
1. Woodlink Wooden Bluebird House – Best Overall
The primary reason which made Woodlink Wooden Bluebird House our best overall is the use of natural red cedar. This material is well known for durability and high resistance to rotting and insects; durable enough to use outdoor come rain or shine. 
It's a classic-looking birdhouse that mainly attracts bluebirds by offering them a secure nesting place.
The entrance hole design allows you to see what's inside without disturbing the birds and comes with the perfect size that makes it impossible for predators to intrude. The sparrow seems to be an exclusion, which could be bothersome but nothing that a good sparrow deterrent can't fix.
It features an easy-slide front panel with a metal latch that provides ease of access when cleaning the interior. The songbirds will appreciate how this irresistible nesting spot offers excellent ventilation with its top air gap and base drainage hole. 
You can mount it on a wall or to a fence post with a bracket, although you might need a screwdriver to attach the birdhouse.
Pros
Sturdy, weather-resistant material

Naturally repels insects

Effectively lures bluebirds

Easy viewing and cleaning

Provides proper ventilation

Aesthetically appealing

Rustic design
Cons
Lacking a predator guard

Quite challenging installation process
Takeaway
Bluebirds are characteristically fun to watch, which makes them a favorite songbird of many people. If they're the type of birds you wish to attract into your yard; this bird house is undoubtedly your best option.
---
2. Nature's Way Cedar Wren House – Best Value
This handsomely looking birdhouse is very popular with house wrens and chickadees for offering them a safe shelter. It highlights a natural cedar construction, just like the first product, so you can expect it to have the durability that will last you for years. 
Among Nature's Way Cedar Wren House's best feature is having an entrance hole dimension that is well-suited for small birds but not for their predators.
Its compact, diamond shape structure with broader sides keeps young wrens comfortable while offering them ample space to grow. Additionally, the lightweight materials will help you clean it without difficulty and even has several air vents through the wall and floor openings. 
It notably gives the songbirds an ideal, healthy environment to raise their fledglings.
This birdhouse even comes with a rust-resistant hanging cable, so you can conveniently hang it in a tree in the middle or along the border of an open yard. This installment method is preferable for some wrens who appreciate an enclosed habitat. 
Complementing your outdoor space while providing optimal birds' optimal function makes this birdhouse a good value for your money.
Pros
Easy to clean

Maximum air ventilation

Vinyl-coated hanging cable

Inclusion of rust-resistant hardware

Clean-out doors for ease of cleaning

Compact and lightweight

Attractive for people and songbirds

Small entrance hole for predator protection
Cons
Lacks option for pole installation

No clear window for easy viewing of the interior

Not 100% weatherproof
Takeaway
Wrens are among the several species who like hanging bird houses, which makes this unit from Nature's Way such a steal for its price.
The black, sloped roof covering the natural cedar body accentuates the birdhouse's overall appeal, making it an eye-catching garden accessory while being an excellent nesting space for birds.
---
3. Perky-Pet Wren Home – Best In Durability
Get a front-row seat to an enjoyable bird-watching experience with this modern birdhouse from Perky-Pet. This fir-made birdhouse with a Dutch-style roof breathes new life into gardens and creates an inviting space for small birds passing through your yard. 
Fir wood is also an excellent material, amongst the strongest lumber, and ideal for outdoor use.
Besides its stylish look, this bird house has great functionality of withstanding any weather condition, including strong winds. 
It is built with longevity in mind, so you will most likely have decades of bird-watching satisfaction with this bird house.
This bird house specifically lures smaller birds like a wren who prefers a small entry hole to keep out competing nesters and predators. It requires no tedious installation process since the birdhouse is already pre-installed and inclusive of a rope you can use to hang the unit effortlessly. The natural tone also makes an attractive match for any type of surroundings.
Pros
Excellent fir material

Durable and built to last

No installation required

Stylish design

Perfect dimension for attracting small birds

Sloped roof for keeping the rain out
Cons
Hard to disassemble for cleaning
Takeaway
An adorable hanging birdhouse such as this makes it easier for birds to find a safe shelter. But birds would also want a clean nesting place, so you would also need to consider a birdhouse that allows you easy access for convenient cleaning.
However, a birdhouse that can last you for years and some other remarkable features would also be too hard to resist.
---
4. Birds Choice Purple Martins Birdhouse – Best Colonial Nesting Option
A vast majority of the purple martins rely on shelter mostly provided by humans. Consequently, an effective way to draw them to your lot is by putting up the best bird house that keeps them safe from changing weather and predators. It's the part where Birds Choice Purple Martins Birdhouse comes in as an irresistible option.
It's a condo-type multi-level house with different compartments leading to adjoining chambers to offer shelter to various birds in a small space. 
The combination of stainless steel and Aluminum construction works perfectly for this rust-free and durable birdhouse. These purple martins also prefer communal nesting, so this house with numerous rooms will naturally catch their attention.
This house's design supports the purple martins' preference for living in colonies while giving them a comfortable environment. It even comes with pole adapters for a simple and efficient installation process. 
Among its best features are the starling-resistant entrance holes and guard rails, to a sense of security, especially for the young martins.
Pros
Attracts purple martins

Accessible clean-out doors

Inclusion of pole adapters for ease of installation

Appropriately-sized entrance holes restricting predator entry

Expandable unit

Durable and long-lasting

More lightweight than wood
Cons
Moderate difficulty in gaining access to the interior

Requires assembly
Takeaway
The house features a white color with a reflective roof, making it less of a decorative addition to your yard, but it has a higher occupancy rate among the purple martins. A plain white color works best for heat reflection and attracting the martins effectively.
It is an excellent birdhouse for its price.
---
5.  Glitzhome Two-Tiered Garden Bird House – Best In Aesthetics
Today's birdhouses have gone a long way from the traditional boxed frame, just like this one from Glitzhome. It is an impressive way to start if you're trying to attract more birds into your yard. 
This brilliantly-detailed birdhouse features wood and metal construction with a distressed design that gives a cozy home to your feathered friends while accentuating your yard's overall look. 
It conveniently comes with a ring hole that you can attach to your preferred location for some pleasurable bird-watching. You'll surely appreciate the easy-slidable back panel that offers you a hassle-free cleaning of any leftover debris or twigs by the end of the season.
On top of all that, it has a metal roof that helps strengthen and protect its wooden house underneath while attracting smaller songbirds like sparrows, finches, and chickadees.
Pros
Attractive, well-detailed design

Matches any environment

Easy to mount

Ideal for small birds

Ring hole included
Cons
Not 100% weatherproof

Difficult to clean
Takeaway
Even with the addition of a removable panel, its compact size can still be challenging to clean. It is not entirely 100% weatherproof and may not be suitable for long-term use, which could be a deal-breaker for bird enthusiasts.
However, this might be ideal for those who prefer a decorative birdhouse to a fully functional one.
---
6. Audubon Going Green Wren House – Best Eco-Friendly Design
Audubon Going Green Wren House not only offers a brilliant way to provide shelter to neighboring songbirds in your area, but it also helps the ecosystem. 
This birdhouse features a recycled plastic lumber construction, creating a healthier, non-toxic environment for the birds. 
Aside from being highly resistant to water, mold, and bacteria, the birdhouse also has precise dimensions that encourage birds to raise their young.
The package comes with everything you need to get started with bird watching, like an easy-open front panel and a convenient design that allows easy maintenance. 
Moreover, it has a sloped roof to keep the interior dry, ventilation gaps for keeping it cool, and a drainage slot to prevent water accumulation at the base.
Its eye-catching aesthetic of green-stained roof on top of the housing with wood grain effect gives it a natural look and works well in luring wrens and chickadees. 
The minimalist detail makes a great addition to any outdoor space, and that's not all; it has adequate ventilation holes keeping the air inside fresh for your little visitors.
Pros
Environment-friendly materials

Sturdy and long-lasting

Easy-open front panel

Easy to clean

Spacious interior

Fledgling grip

Drainage slot

Replicating a natural lumber appearance

Easy to mount
Cons
Suitable for smaller birds only
Takeaway
All its features meet the standard of what an ideal birdhouse should be. It's also environmentally friendly, which makes it a suitable, healthier option.
The back slot design is impressive; it prevents moisture build-up that may cause molds and become a breeding ground for bacteria.
---
7. Tenforie Natural Grass Birdhouse – Best Budget Buy
As a bird lover, you can help your avian friends survive the outdoor elements by giving them a secure shelter like this birdhouse from Tenforie. It gives the birds a comfortable nesting spot away from potential predators. 
Putting one or several of these in your yard can be a lifesaver for these homeless birds, especially during bad weather.
Tenforie is among the best birdhouses that offer a more affordable way of having a secure spot for these lovely birds. It takes pride in an all-natural, environment-friendly construction, artistically handwoven in fine details. 
Small birds seeking protection from the cold or a place to lay their eggs find this natural-looking birdhouse very appealing, as it is both functional and attractive. Additionally, it features a drop shape and a hemp rope you can use for hanging it in sheltered locations where birds preferably build their nests.
Pros
Natural-looking nesting spot

Perfect shelter for small birds

More affordable

Durable

Rustic design

Matches any surroundings
Cons
Not weatherproof

Not detachable

Suitable only for small birds that roost alone

Difficult to clean
Takeaway
The best part of using this kind of housing is the convenient and cost-efficient way of putting up a bird shelter. However, you will need to hang birdhouses like this securely to prevent the wind from swinging them.
Keep an eye on the rope as well because sometimes they tend to unknot quickly.
---
Helpful Tips When Purchasing A Birdhouse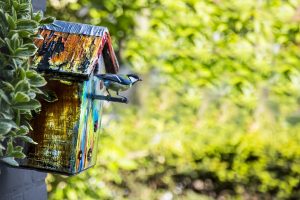 Before you decide on which birdhouse to purchase,  it is vital to understand that creating a welcoming environment for birds also means a safe surrounding for them. 
These birdhouses provide the bird's nesting needs in the absence of their natural habitat. You get one not just to lure birds but also if you'd like them to stick around.
There's a distinct nesting requirement for every bird species, but here are a few things you need to consider before the purchase:
Know Your Birds
A quality bird house includes having the right dimensions depending on the kind of birds you wish to attract. Also, certain bird species have a specific preference in housing style and other relevant details, so it's best to determine your audience before you make a decision.
Safety
Birds will appreciate having a safe spot where they can raise their nestlings securely. The entrance hole dimension means a great deal since having it too big gives easy access to predators and spying birds. 
On the contrary, an appropriately-sized hole for small birds to hop in and out without trouble and damage to their feathers would be the best option.
It's also best to stay away from birdhouses with perches adjacent to the entrance since it poses a danger of attracting predators. These birds will least likely use a birdhouse once they notice a threat to their safety. 
Easy To Clean
You need to clean the birdhouse after a season or after a fledgling leaves if you'd like the birds to keep coming back to it. To do so with ease, being able to access the interior is necessary. 
It would help to have a hinged or a swing-out panel like the Woodlink Birdhouse so you can clear it from twigs or any leftovers from the last resident.
Proper Ventilation And Drainage System
Birdhouses should have adequate air vents from the top to the sides to ensure optimal ventilation. It will prevent the birds from overheating, especially during the warmer season, and help you meet the birds' needs for comfort.
Look for a birdhouse with a slightly slanted roof or an overhang to avoid the rain from getting inside and risk drowning the occupants. If moisture has gotten into the birdhouse's interior, there should be drainage holes to eliminate water accumulation. Furthermore, a colossal overhang provides shade for the birdhouse during summer.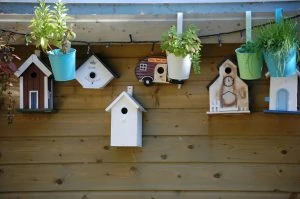 Bird Species Using Birdhouses
Most birds like to build their nests in different shapes and sizes. There are also some birds open to nesting in enclosed shelters like a birdhouse. It's always the best idea to be well-informed about which species use a birdhouse to help you prepare and allow you to use your time wisely. Here are some birds using birdhouses:
Woodpeckers

Owls

Chickadees

Swallows

Bluebirds

Finches

Warblers

Flycatchers

Sparrows

Thrushes

Nuthatches

Wrens
The Right Birdhouse Varieties For Different Birds
Bluebirds 
These birds prefer box-type houses with small holes and a large roof. They don't like having perches near the entrance holes as it makes them vulnerable to predator attacks.
Chickadees And Wrens
They are very particular about hole sizes, preferring an enclosed shelter with a horizontal entryway that is large enough to fit them and near protective shrubs. It is essential for them to feel safe before nesting in a house.
Purple Martins 
These are bird species fond of nesting in colonies; hence, the suitable birdhouse for them is a multi-level apartment in an open space.
Robins
They prefer to nest on a shelf-like structure in a location away from prying humans.
Woodpeckers
These birds like their houses on high tree trunks where there is enough sunlight.
Sparrows
Just like the wren, sparrows also prefer enclosed shelters having small holes near shrubs.
Blue Jays and Doves
These birds like shelf-nesting rather than using birdhouses.
Owl
Owls like having their houses on a tree trunk or someplace farther in the woods.
Effectively Attracting Birds To Your Birdhouses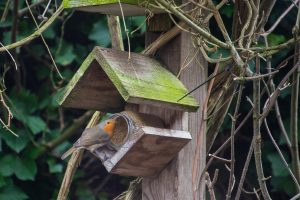 Nesting Location 
Birds have different preferences in their nesting location, although one of the things they consider before moving in is safety. Some birds like open fields, while some like their house near the woods. You need to consider specific nesting requirements per species, so you can try researching birds in your area to get a birdhouse that will meet their needs.
Ensure Safety 
Place feeders in a safe area where no potential predators can reach them while they're most vulnerable. You may also utilize some deterrents to keep these predators away from your birdhouses.
Suitable Design
Just like how important it is to know the kind of breed in choosing a nesting location, the same thing goes when picking a birdhouse design. It all depends on what birds you aim to lure or what birds are specifically around your area. Consider the bird's size to ensure a well-suited entrance hole.
The Right Birdhouse 
Different birds have different housing preferences, so it is vital to choose the right kind of birdhouse depending on your potential visitors. Small birds will generally prefer tiny houses, while some birds will need more room.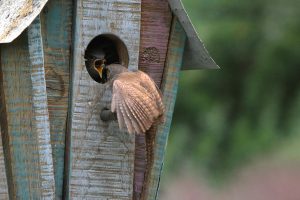 Final Thoughts
You need to understand that it's not a requirement to be the outdoorsy type before you get to enjoy the pleasures of birdwatching. 
With the wide selection of birdhouses nowadays, Woodlink Wooden Bluebird House stands out to be our best overall because of its durability, impressive features, and ease of use. 
Additionally, Nature's Way Cedar Wren House provides the best value because it takes pride in immensely remarkable features while enhancing your outdoor space's look. 
It will seem overwhelming to create an inviting shelter for your feathery friends at first, but the crucial things you need to consider are relatively simple. 
I'm sure that with unwavering patience, thoughtful planning, and hard work, your home will be a welcoming haven for birds in no time.